The Adlers: Live at the Drive-In
San Francisco Opera
By:
Victor Cordell

-

May 09, 2021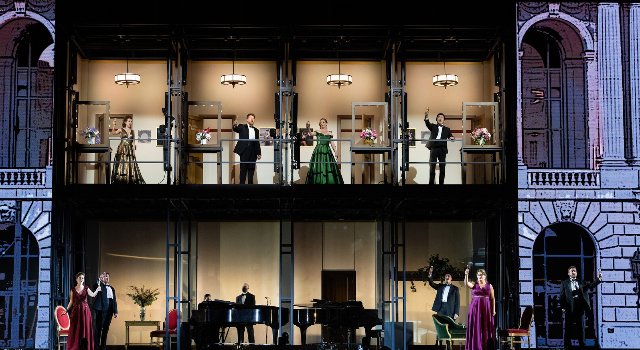 The experiment continues. San Francisco Opera broke new ground with their production of "Barber of Seville" – live performances of an opera at a "drive-in" with music delivered by FM radio to patrons seated in their vehicles. Now the company's resident artists, the Adler Fellows, are giving their annual concert series at the same venue, the beautiful and versatile, Frank Lloyd Wright designed Marin Center. With the Fellows' talent, they could delight an audience by performing anywhere. In this case, they sing from the same purpose-built stage as "Barber", which comprises a repurposed set originally designed for the company's "Fidelio." That production was cancelled due to the pandemic. In addition to viewing the singers in the flesh, large projection screens provide close ups.
The hour-long program consists of sixteen musical numbers written by almost as many composers. Appropriately, signature opera pieces dominate, with memorable music that suits this type of event, supplemented by a mix from other domains.
Highlights of the evening are very much determined by the subjective ears of the listener. One that is almost universally appreciated is the gold standard of tenor-baritone duets, "Au fond du temple saint" from Bizet's "Les Pêcheurs de Perles." Its heightening drama of two men loving the same woman, with the slow crescendo leading to sensational melodies and harmonies are passionately delivered by Christopher Oglesby and Timothy Murray.
Another vocal extravaganza is well known outside the opera world as well. In "Der Hölle Rache kocht in meinem Hertz," better known as the "Queen of the Night aria" from Mozart's "Die Zauberflöte," the lady with dark intentions screeches her vengeance. Elisa Sunshine makes the daring coloratura number pop with its thrilling high-pitched "ah-ah-ah-ah-ah-ah-aaah" sequences. Like other artists, Sunshine had to deal with the weather, but she blew away the audience while the blustery wind blew her dress a bit sideways.
The other rat-a-tat number that gets the toes tapping rapid fire is from outside the opera realm, but penned by the great Gioachino Rossini. "La Danza" is a southern Italian folk tarantella from the composer's "Les soirées musicales." Zhengyi Bai brightly sings and charmingly conveys its conviviality.
Of course, sublime finds a significant place on the evening's menu, with some of the most beautiful melodies from all of opera, each sung with great artistry. Among those, Anne-Marie MacIntosh and Simone McIntosh (alert – there are no typos in those surnames) take on the haunting barcarolle "Belle nuit, ô nuit d'amour" from Offenbach's "Les Contes d'Hoffmann" with luminous delight. Also, Esther Tonea and Simone McIntosh's ethereal voices shimmer in the subtle dual melodies of "Cosa mi narri…Sull'aria," from Mozart's "Le Nozze di Figaro."
Christopher Colmenero is earnest and expressive in his rendition of the affirming "Freunde, das Leben ist Lebenswert," from Lehár's "Giuditta." Perhaps the warmest, richest voice is that of bass Stefan Egerstrom who sings "Some enchanted evening" from Rogers and Hammerstein's "South Pacific." Each of the several remaining offerings from Verdi, Puccini, Bellini, Gounod, and others add to the program and display the Fellows' substantial gifts.
Because of social distancing restrictions, performers are separated into the cubicles of the set – two levels, each constituted of several defined spaces. Thus, shoulder-to-shoulder ensembles and celebratory hugfests are not doable this year. That limitation, plus the absence of audience applause (though glowsticks that are provided to the audience were waved after numbers and there was plenty of horn honking at the end of this evening's performance) takes a little edge off the ambiance of the event. Although recitals are usually given in formal dress, the overall effect of the concert would be enhanced by dressing in costumery appropriate to each number. Also, though cost may be a prohibitive factor, a fuller sound more akin to an operatic performance would come from adding three or four strings to the piano accompaniment. Nonetheless, the Adler Fellows are renowned throughout opera, and the high-quality performances expected of them are very much present.
"The Adlers: Live at the Drive-In" is produced by San Francisco Opera, directed by Jose Maria Condemi, and plays at Marin Center, San Rafael, California, with one remaining performance on May 13, 2021.
Courtesy of Cordell Reports.