The Belle of Amherst
This Time in Front of a Live Audience.
By:
Aaron Krause

-

May 09, 2022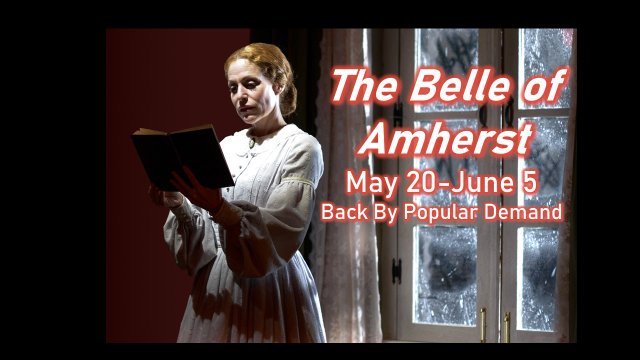 When Margery Lowe starred as Emily Dickinson last year in a filmed theatrical co-production of William Luce's 1976 Broadway play, The Belle of Amherst, the performer lacked her scene partner.
Fortunately for Lowe, the partner will be back when she soon reprises her role as the poetess in Luce's one-character play. Strike that; The Belle of Amherst is a two-character play. Specifically, the characters are Dickinson and the audience.
While audience members do not have a speaking role in Luce's play, they are nevertheless active participants in the drama — and Lowe's scene partner. Specifically, audiences portray invited guests to Dickinson's home. During the play, set between 1845 and 1886 in Amherst, Mass., Dickinson (1830-1886) tells them about her life. In fact, Lowe said she has a "very specific idea" of who the audience is and why Dickinson needs to share her life story with them at that particular time.
Audiences can try to fill in those blanks after they attend the live, in-person production. The presenting theater company is Palm Beach Dramaworks (PBD). Due to popular demand, PBD will remount The Belle of Amherst from May 20-June 5 in PBD's intimate theater on Clematis Street in West Palm Beach. Last year, the filmed co-production of The Belle of Amherst represented a joint effort between PBD and Actors' Playhouse at the Miracle Theatre in Coral Gables. At the time, audiences and performers could not share the same space due to the pandemic.
"You have no idea how thrilled I am," Lowe said about her chance to perform for a live, in-person audience. "I'm so excited I could burst."
While an intimacy between Lowe and audiences may have existed on screen, the performer said she thinks that the connection will be stronger this time around. That is because an immediate, powerful exchange between performers and audiences happens in live theater. In particular, within the same, shared space, audiences react to the characters' dialogue and emotions. Those reactions, in turn, affect the actors' performances, which further influences audience reaction, and so on.
In fact, Lowe said her performance on film last year now feels like a dress rehearsal for this year's live, in-person production.
PBD Producing Artistic Director William Hayes, who is directing Lowe, agreed that the big difference this time around will be the live, in-person audience.
Dickinson "wrote about what she knew and about what intrigued her," reads text on emilydickinsonmuseum.org. "A keen observer, she used images from nature, religion, law, music, commerce, medicine, fashion, and domestic activities to probe universal themes." Specifically, those themes include the wonders of nature, the identity of the self, love, death, and immortality.
"Sometimes with humor, sometimes with pathos, Dickinson writes about her subjects. Remembering that she had a strong wit often helps to discern the tone behind her words."
If you were to search for Dickinson on the Internet, you may come across a serious-looking woman dressed in black. However, the poetess one encounters in Luce's play is charismatic, playful, and even mischievous. And, unquestionably, she is an extrovert. Also, we learn that Dickinson made a choice to mostly stay at home. And it was not because she was a hermit who was scared of the world.
In last year's filmed production, Lowe shined as Dickinson, believably making her fun-loving, romantic, and charismatic. In addition, Lowe credibly conveyed her character's vulnerability, sadness, and other darker emotions.
Actually, The Belle of Amherst does not mark Lowe's first time portraying the poetess. She also played Dickinson in Joseph McDonough's comic fantasia, Edgar & Emily, in April 2018 at PBD. Hayes directed that production as well. But that play was not really about Dickinson or writer Edgar Allan Poe, Lowe said. Instead, McDonough's broad and comedic piece explored what might happen if two artists met in real life. In reality, Dickinson and Poe never met.
Lowe and Hayes have been working together on productions for more than 15 years. As a result, the rehearsal process has featured a give-and-take dynamic, Hayes said. For instance, he has remained open to suggestions from Lowe about her character, while Lowe has remained open to direction.
"She understands Emily like the back of her hand," Hayes said, adding she arrived to the first rehearsal for the upcoming production having memorized all of her lines. Also, Lowe recalled all of her blocking from the filmed production.
Hayes also said that Lowe has "great instincts with comedy." In fact, he added that Lowe has the comedic instincts of Lucille Ball. So, if Hayes directs Lowe to act in a certain manner to achieve a comedic effect, he trusts her if she says it will not be funny.
Hayes also said that Lowe, a radiant red-headed, brown-eyed performer, thoroughly conducts research.
"She does as much work as a director typically does," he said. And, "she's really been hungry for an audience for a long time."
In several days, they will see her live and in person. An audience is "the ingredient that has been missing all along," Hayes said. "They're very much part of the play."
Palm Beach Dramaworks' remounting of The Belle of Amherst will run from May 20 to June 5 in the intimate Don & Ann Brown Theatre, 201 Clematis St. in West Palm Beach. The show's running time is about two hours and 15 minutes. For more information, go to palmbeachdramaworks.org, or call (561) 514-4042.