Boston Cyberarts Gallery
Here and Back Again by Dennis H. Miller
By:
Cyber

-

May 10, 2021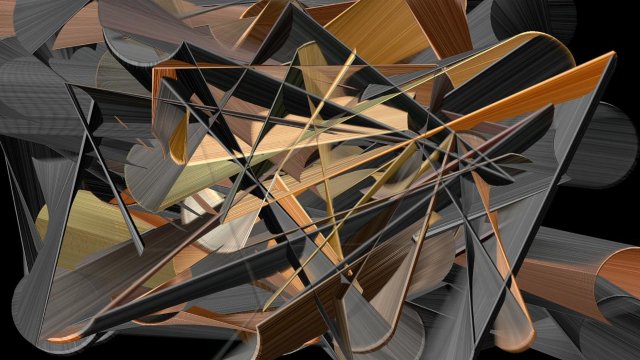 While the physical Boston Cyberarts Gallery interior remains closed due to COVID-19, we are organizing a series of art events and exhibitions to be seen from outside the gallery.
The Window Show
is an ever-changing art exhibition in the Boston Cyberarts Gallery windows taking advantage of two of the strengths of our space, numerous windows facing the street and the stream of foot traffic due to the proximity of the Green Street T stop.
Beginning Saturday, May 29th and running through Sunday, June 27th, Boston Cyberarts is excited to present
Here and Back Again
by Dennis H. Miller on view in the windows of Boston Cyberarts Gallery 24-hours a day, 7-days a week.
Here and Back Again
is a solo retrospective of the fourteen main audiovisual works that Miller composed from 1998-2018 while teaching at and with support from Northeastern University, Boston. As seen through the gallery windows, the work is presented silently, accentuating its bold and mesmerizing graphic display.
In each work, Miller attempts to create a unique relationship between sound and picture while exploring different processes of image and audio synthesis. For example, his piece,
Point, Line, Plane – 3 Short Works after Kandinsky
incorporates advanced particle systems, such as those used for Hollywood special effects;
while
R.G.B.: 3 Chromatic Studies
, uses fluid-dynamics systems more often employed for engineering and scientific purposes.
Miller has also explored a wide variety of sound synthesis and processing techniques, including sound file convolution, physical modeling, and frequency modulation (FM) synthesis. Using both off-the-shelf software and custom routines he developed,
Miller's music serves as an equal partner to the images,
with the two media often working in tight synchronization, and at other times, operating entirely independent of one another.
Miller's computer-generated, graphical images, which are also featured in the show, are highly colorful, abstract renderings. They were created using several software applications that allow the artist to balance total control with complete chance. Often fanciful, at times moody or dramatic, these images are a major part of Miller's creative output over the past ten years. In addition to being presented in previous public shows and used for magazine covers, they have appeared in two main texts:
Sonic Graphics: Seeing Sound
(Woolman, Rizzoli Press, 2000), and
Art of the Digital Era
(Wands, Thames and Hudson, 2007).
Though this solo exhibition highlights the aesthetics of Miller's visual style, his works with audio can also be heard at
www.dennishmiller.com
Dennis H. Miller
received his Doctorate in Music Composition from Columbia University in 1981. From 1981 to 2018, he was on the Music faculty of Northeastern University in Boston. His mixed-media compositions combine original music and computer-generated animation and illustrate principles drawn from music composition applied to the visual realm.
Miller was the founder and principal curator of the Visual Music Marathon, which screened over 200 fine-art animations at 24-hour festivals in Boston and New York (2007 and 2009). His audiovisual compositions have been presented in over 30 countries in venues as large as soccer stadiums as well as in more intimate galleries, festivals and other exhibits.
Miller currently lives with his wife in farm-country (west-central) New Jersey, where his main activities include astro photography, super-macro photography, learning to play the kora (a West African harp) and caring (part-time) for his five grandchildren.
ABOUT BOSTON CYBERARTS GALLERY
The Boston Cyberarts Gallery supports and encourages experimentation in the arts through exhibitions, events, educational programs and collaboration with like-minded groups in an effort to foster the development of new practices in contemporary art making. Located in the Green Street station on the MBTA's Orange line in Jamaica Plain, the Boston Cyberarts Gallery is the only art space located in a train station in the country, and also the only independent art organization in Massachusetts focusing on new and experimental media. With an interest in technology based, innovative combinations of sculpture, installation and live performance, the Boston Cyberarts Gallery brings together members of the new media community as well as the general public, supporting emerging and established artists alike.
BOSTON CYBERARTS, launched by George Fifield in 1999 with seed funding from the Massachusetts Cultural Council, is an umbrella for several ventures - the Boston Cyberarts Gallery, Art on the Marquee at the Boston Convention and Exhibition Center and the Harbor Island Welcome Center Screens in Boston's Greenway Conservancy.
Cyberarts encompasses any artistic endeavor in which computer technology is used to expand artistic possibilities - that is, where the computer's unique capabilities are integral elements of the creative process in the same way that paint, photographic film, musical instru­ments, and other materials have always been used to express an artist's vision.
Boston Cyberarts is grateful for the support of many generous individuals and institutions, including the National Endowment for the Arts, the Massachusetts Cultural Council and the Massachusetts Convention Center Authority.
What:
The Window Show: Here and Back Again
When:
Saturday May 29, 2021 – Sunday June 27, 2021
Where:
In the windows of the Boston Cyberarts Gallery,
141 Green Street, Jamaica Plain.
Located inside the Green Street T Station on the Orange Line