Met Opera Ends Season with a Bang
Alagna Sings Cyrano
By:
Susan Hall

-

May 11, 2017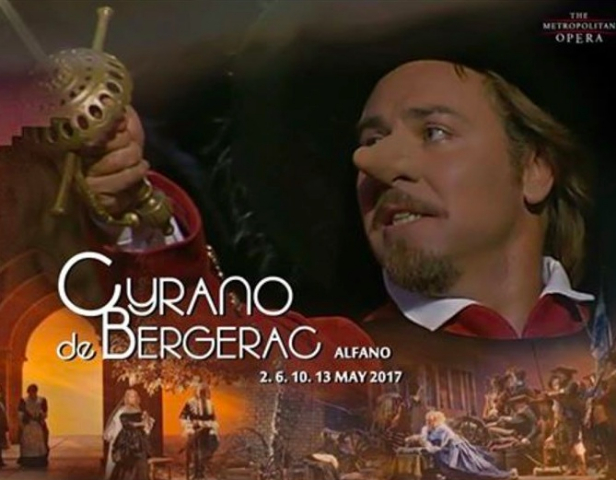 As the season winds down at the Metropolitan Opera, three productions are ear- and eye-catching. All have been praised, although reservations abound about Der Rosenkavalier. Others have commented that Cyrano de Bergerac by the Italian composer Franco Alfano is not sufficiently advanced musically. Flying Dutchman brought in the Met's new music director, Yannick Nezet-Seguin. He may be the first conductor who received flowers on stage – from members of the Met Orchestra.
A vote of confidence in the Met was given by its recently retired Assistant Manager, Sarah Billinghurst Solomon and her husband, whose fortune was made in the pharmaceutical business. It is worth noting that this fortune was created through doing well by doing good. Solomon had a family member who suffered from depression and he imported a Danish drug that worked remarkably well on this disease.
The production that the Solomons financed leaves a lot to be desired. Der Rosenkavalier is an opera that turns ugly as it progresses. The orchestral music and the singers' music does not.
In the current production, we have huge canons facing us in the second act, ugly as the sin they represent. They fill the home /office of an arms' manufacturer whose daughter is marrying up into aristocracy. Sophie, the daughter, is lovely and Erin Morley creates her character with beautiful notes and a charming presence. Morley is often placed at the lip of the stage and her voice carries well throughout the House.
Rene Fleming's farewell to the role of the Marchallin, which has been one of her signatures, was particularly touching. The Marchallin has to give up her lover, realizing that sooner rather than later he will depart because she is so much older. Her story brackets the opera and draws in the audience.
Strauss and Hofmannsthal's opera requires special attention to the relationship between the orchestral music and the singers. Clearly the conductor Sebastian Weigle kept the orchestra soft and low when Fleming sang with her now smaller but still exquisite voice. Yet for other singers, no attention was paid to this crucial combination. The orchestra often drowned out singers. If their voices were sufficiently big or had an edge, they were frequently directed to sing from the back of the stage and were barely audible. I was sitting at a high altitude, but this is universally considered the best sound in the house, so I was not challenged by an unfortunate location under the boxes' eaves. Only Matthew Polenzani, on stage for less than three minutes singing Strauss' beautiful aria written to show Strauss could write Italian-style, was comfortably presented. For opera fans looking forward to the HD broadcast, it is possible that the unfortunate flaws in balance will be overcome technically.
Strauss is always interested in the relationship between words and music. Capriccio is his outright discussion of the issue. Music wins in that opera, but in his other operas, that is not the conclusion and there is no excuse for missing the singers and their words. In a recent preview of a Met Opera production, we learned that the union of orchestra and singers happens very late in the rehearsal process. This leaves the conductor, who becomes responsible for the show in the last week before going live, with a very short time frame to do a difficult job.
Cyrano may be a less than musically advanced opera, but it is so satisfying. It is old-fashioned in the very best sense of that word. A bumpy start on all fronts moves progressively to the most delicious story, a perfect combination of drama, orchestration and superb performance. We embark on a passionate journey of discovery.
Entering the Paris Opera at the stage door, a picture of the young Roberto Alagna faces you. He has given so much to opera and for so long. Once, when other singers were discussing what to do when your voice went sour and wobbly, all agreed that they returned to Mozart for help, Alagna smiled: "Oh maybe that's my problem." He is such a natural and loves to sing so much that he does not face the usual problems, except when he occasionally stretches too far. He is a generative force for the heart of opera as a human experience.
Alagna is a perfect fit for the role of Cyrano. He is a singing actor. He uses his consummate tool, words, to woo the beautiful Roxanne, providing a voiceover and then ghost writer for her handsome but dull suitor.
Roxanne, sung in a career launching role by Jennifer Rowley, becomes increasingly entranced by the words. In this tale that has the qualities of a fairy tale, Cyrano falls more and more deeply in love as he writes one and then two letters a day. Roxanne too falls more deeply in love with the words full of feeling, but mistakes their author. She comes to feel that even if the author were ugly, she would be swept.
Fifteen years after the death of the her husband, for whom Cyrano subbed, she listens to Cyrano read his final letter to her. In Don Giovanni, you always wonder why the targeted woman does not recognize the difference between tenor and baritone. Roxanne sings: "I recognize your voice. I have heard it before." She knows the difference between her husband and Cyrano. She realizes, as she holds the dying Cyrano in her arms, that he is the man she has always loved.
The opera's music is lovely. It underscores the story and as conducted by Marco Armiliato works well with the singers. If the music is not as advanced as other opera composers', it is luscious, perfumed and thoroughly delightful.
Opera is a form of many pieces. When they are woven together, in this case, the set and production by Francesca Zambello with the singing and orchestra, opera makes its case. The Metropolitan Opera's Cyrano de Bergerac is a finely wrought tapestry of music, singing and set.