The English Concert at Carnegie Hall
Harry Bicket Delights with Handel
By:
Susan Hall

-

May 11, 2022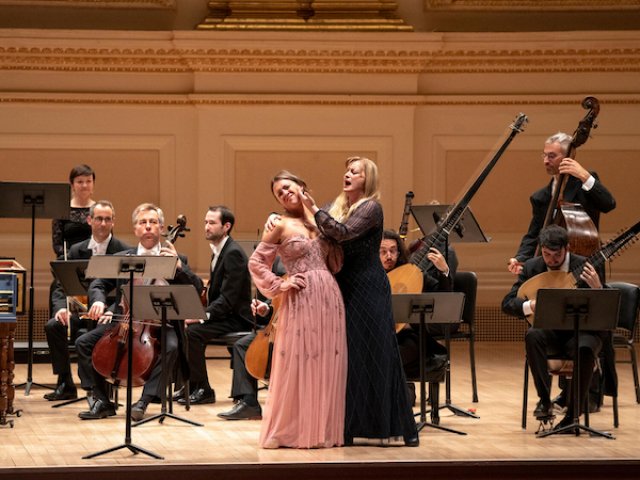 Long before Richard Powers wrote the mega bestseller Overstory celebrating man's relationship with trees, Handel wrote one of the most beautiful arias in the history of song. The cruel King Serse (Xerxes in Plutarch) opens the opera named for him with an aria celebrating a tree's understory, its shade. Emily D'Angelo, a glorious mezzo who has graduated from Cinderella's Prince to a role as King this season, was masterful in her presentation of this love song to a tree. To be sure, it's a bit weird. So too the tangled love relationships in this opera.
As he sings his love song, Serse hears Romilda singing and instantly falls in love with her voice. A perfect touch in sung drama, like Roxane falling for her cousin Cyrano's words in straight theater.
Handel had been very ill before he wrote this opera. After recovering in a German spa in Aachen, he came back roaring to write. The first audiences for Serses did not like the Italian combination of tragedy and comedy. The opera bombed in London, yet has been a hit for the last hundred years. Contemporary audiences are entranced. The complex tangle of relationships matches daily bulletins from the entertainment world.
Romilda, who happens to be Serse's brother Arsamene's beloved, has a sister, Atalanta, who, realizing that her sister loves Arsamene, decides that she will too. She's a witty troublemaker. (The sisters are daughters of Serse's general, Ariodate.) Suddenly, into the mix comes Amastre, who has been jilted by Serse; disguised as a man, she has come to either win him back or wreak havoc. A comic character, Elviro, is Arsamene's servant. And so on.
Carnegie Hall hosts Harry Bicket and the The English Concnert annually. The beauty and entrancement of Handel's music is no secret to their audiences. This year's Serse ws no exception.
Bicket and The English Concert have a special gift in bringing out the drama in Handel's music. Handel was not only a gifted librettist. His arias are small dramatic masterpieces. His draw is on first blush the sheer beauty of his music. Drama too is in the music's service at every moment.
The Maginot lines have been drawn in opera performance. For company's like the Metropolitan Opera,, a stunning set by Franco Zefferelli satisfies audiences.?? Singing can be, and often is, dreadful. Modern audiences are satisfied as they visual savor sets.
Yet opera produced for its music flourishes without expensive sets. In the Serse performance, most singers were off book. Those capturing the intermittent humor of the piece add physical gestures to their gorgeous voices. The performance entirely satisfied in its beautiful, the rich voices and the performance of the orchestral ensemble directed by Bicket at the keyboard.
Lucy Crowe (Romilda) is a Handel specialist we do not hear often enough stateside. The magical combination of Carnegie Hall's acoustics and Crowe's voice give the impression that her notes surround you, and invade every nook and cranny of the Carnegie decor. Crowe is thrilling, full of feeling and color as well as purity of tone. From the first time we (and Serse) hear her, we are enthralled. She opens mocking the King's love for a tree, signaling that she is both full of feeling and funny.
The broadest comic character, Elviro (William Dazeley), dashes down one of Carngie's central aisle, grasping a tatty bouquet of flowers. Breaking the fourth wall works with its abundant humor.
Daniela Mack has a lovely top register in the castrati role of Amastre, engaged to Romilda. A general in Serse's army, she is furious when Romilda chooses someone else. Mack can convey rage in every note. Her performance has deep emotional resonance.
Handel makes this musical chairs version of 'capture the girl' clear in a way that words cannot. Romilda's younger sister, the funny clever Mary Bevan sings her heart out in the role. The fluid beauty of her lines and a natural dramatic sense combine to create an eye- and ear-catching performance.
The singer/players on the Carnegie stage thoroughly enjoyed themselves, whether they were in the throes of unsuccessful romance, or making fun of their fate.
Harry Bickett is a miracle maker at the harpsichord, playing and holding it all together with gesture and beat. His orchestra is superb, capturing the drama that Handel so cleverly wrote in his music as well as his arias. Handel liked the orchestra and used it with gusto. As a melodist no-one surpassed him, and he had a particularly acute ear for color and balance.
This music is best heard in an acoustical marvel like Carnegie.