The Little Foxes in Chicago
Hellman's Play at Goodman Theatre
By:
Nancy S. Bishop

-

May 15, 2015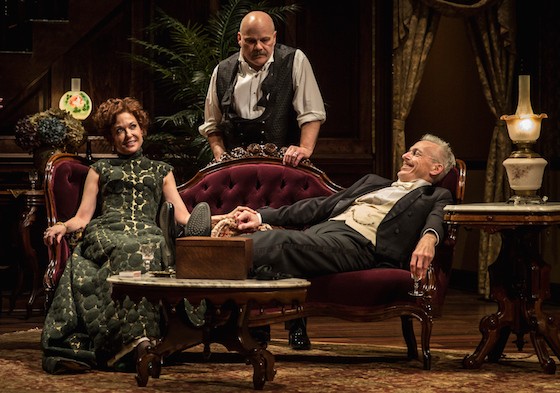 Most people look at Lillian Hellman's 1939 play, The Little Foxes, as a play about a dysfunctional family battling over sex, money and property. You know, the kind that made Steppenwolf Theatre famous. But this one is being staged at Goodman Theatre and it's a sumptuous setting in every way, not one of those stories about grungy, downtrodden people.
My opinion, however, is that this is really a play about the economy. Hellman sets it in 1900 when the South was dying after the failure of Reconstruction, whose planners had hoped that the region would turn into a new industrial power. That didn't happen. (In fact, slavery was detrimental to the southern economy. It inhibited manufacturing and technological innovation as well as the growth of cities.) And Hellman wrote the play in 1939 when the impact of the Depression on people and society was much on the mind of Hellman and her audience members.
Goodman's excellent new production of The Little Foxes, directed with style by Henry Wishcamper, stars a galaxy of Chicago's finest actors and surely resonates with some of the current discussions about racism, sexism, domestic abuse and income inequality. If you have a drink with friends after the show, those topics probably will be part of your post-play discussion.
The Little Foxes is the story of the Hubbards, a Southern family that made its money on cotton. But the veneers of wealth and breeding are getting thin. Father left his estate to the two brothers--Ben (Larry Yando), the oldest, the business leader, and Oscar (Steve Pickering), and none to his daughter Regina (Shannon Cochrane) because she was, well, she was a girl. So Regina married rich (her husband, banker Horace Giddens, is played by John Judd) and Oscar, the second son, married Birdie (Mary Beth Fisher) to get his hands on her family's cotton plantation, Lionnet. Oscar is a well-dressed thug who inflicts physical punishment on sweet Birdie.
As the play opens, the Hubbard family is entertaining a visitor from Chicago. William Marshall (Michael Canavan) is an industrialist looking to make an investment in the South to take advantage of cheap land and cheaper labor. (This is a precursor to the mid-20th century movement of manufacturing to the union-free South.)
The Hubbards, Ben says, "learned the new ways and learned how to make them pay. They work. They are in trade. Hubbard Sons, Merchandise. Birdie's family, for example, look down on them. But to make a long story short, Lionnet now belongs to us." The Hubbards are now ready to work with an investor to "bring the machine to the cotton, not the cotton to the machine."
The family fights begin when Marshall leaves. How will the shares of the investment be divided? How will the cash payment of $225,000 for their controlling interest in the new mill be made? They are short Regina's $75,000 share and need it from her husband, who suffers from heart disease and has been at Johns Hopkins in Baltimore for months. Horace must come home now and deal with the financial question, Regina says, and sends her daughter Alexandra (Rae Gray) off to Baltimore to bring her father home. Oscar suggests that Alexandra and his son Leo (Dan Waller), who works at Horace's bank, are a marriage match, despite being first cousins. (He's devising a way to consolidate the family's money.)
When Alexandra returns with Horace, the battles escalate. Everyone is looking forward to future wealth from the new mill, but Horace won't contribute to the project. Furthermore, he'll change his will, he says, but Leo and Oscar think they have found a devious way to get Horace's funds. In the end, of course, no one really wins.
The title of The Little Foxes is drawn from the Old Testament Song of Solomon: "Take us the foxes, the little foxes, that spoil the vines: for our vines have tender grapes." Hellman's plot, based on her own Southern family story, isn't subtle but her dialogue sparkles and bristles and the Goodman actors perform it with vigor. The cast of 10 is uniformly excellent.
The Hubbards' Victorian living room--a lavish setting of dark woods and silken fabrics--is created by Todd Rosenthal. There's a staircase and landing on the left side and the dining room to the rear behind glass doors, where family members can be seen dining. Jenny Mannis' costume designs feature elegant gowns for the women, suits and dinner wear for the men in all three acts. Original music and sound design by Richard Woodbury is most notable for the ominous but striking string compositions at the end of each act.
The Little Foxes runs 2 hours and 45 minutes with two intermissions. The play continues at Goodman Theatre, 170 N. Dearborn St., through June 7. Performances are Wednesday through Sunday at varying times. Tickets for $25-81 can be bought online or by calling 312-443-3800.
Reposted courtesy of Nancy Bishop and Gaper's Block.