Blockbuster Planned for Cape Ann Museum
Edward Hopper & Cape Ann: Illuminating an American Landscape
By:
CAM

-

May 16, 2023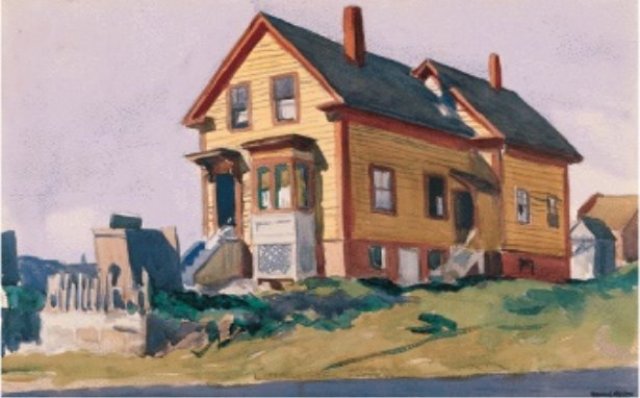 The Cape Ann Museum proudly announces the opening of "Edward Hopper & Cape Ann: Illuminating an American Landscape" in 2023, an exhibition of the critically acclaimed American artist during a turning point in his life and career when he came to Cape Ann from 1923-1928.
This major exhibition is the first dedicated to Hopper's formative development on Cape Ann, marking the pivotal summer of 1923 when Edward Hopper and his future wife, Josephine "Jo" Nivison, visited Gloucester. Edward Hopper & Cape Ann opens on Hopper's birthday, July 22, 2023, runs through October 16, 2023, and is presented in collaboration with the Whitney Museum of American Art, the major repository of the Hoppers' work.
"This inaugural partnership with the Whitney Museum of American Art as a leading national institution is a first for the Cape Ann Museum," said Cape Ann Museum Director Oliver Barker. "Edward Hopper & Cape Ann marks the centennial of the summer of 1923 when Edward Hopper created watercolors that earned his first critical acclaim and laid the foundation for future success as one of the greatest 20th century American landscape painters."
The exhibition features 66 works including paintings, drawings, and prints brought together from the Whitney Museum of American Art, the Brooklyn Museum, the Museum of Fine Arts, Boston, National Gallery of Art, The Philadelphia Museum of Art and 28 other institutions and private lenders to tell the story of Hopper's formative years when he experimented with his painting technique, met his future wife, and embarked on a legendary career. The exhibition includes 57 works by Edward Hopper, seven by Jo Hopper, and one by their teacher Robert Henri.
This once-in-a-generation exhibition, and the accompanying 224-page catalogue published by Rizzoli Electa, are curated by nationally recognized curator and former museum director, Elliot Bostwick Davis, PhD. "Despite painting in Gloucester in 1912 and in Maine for six more summers, Hopper initially struggled to find a distinctive artistic voice," writes Davis. "Hopper understood that Gloucester, familiar from his earlier trip in 1912, was perhaps his last chance to make a name for himself as a painter at the age of 41. By 1923, he was supporting himself as an illustrator and etcher; his only painting sale had occurred over a decade earlier."
Edward Hopper (1882-1967) visited Cape Ann initially at the invitation of his friend and fellow painter, Leon Kroll (1884-1974), and produced his first oil painting outdoors in the United States during that trip. The Whitney Museum is lending Hopper's five oils painted in Gloucester in 1912, including Briar (sic) Neck, Gloucester (1912); Tall Masts (1912); Italian Quarter (1912); and Gloucester Harbor (1912). The exhibition will mark the first time these works have ever been shown together on Cape Ann.
Hopper was seemingly drawn to Cape Ann for its ease by train from New York City and by the legendary light that captivated other artists - such as Fitz Henry Lane (1804-1865), William Morris Hunt (1824-1879), Winslow Homer (1836-1910), John Sloan (1871-1951), Theresa Bernstein (1890-2002), William Meyerowitz (1887-1981), and Stuart Davis (1894-1964) among others. On Cape Ann, Hopper decided to paint various maritime scenes and portrayals of sunlight on houses.
In 1923, Josephine "Jo" Verstille Nivison (1883-1968) was an established artist, as well as an amateur actress and dancer, whose paintings had been accepted by the Brooklyn Museum, exhibited at prestigious Manhattan art galleries, and were included in a forthcoming exhibition in London and Paris. Although Hopper and Nivison knew each other from painting experiences and studies with artist and teacher Robert Henri, they met again in Gloucester and began painting together during early morning excursions where Nivison urged Hopper to paint with easy-to-transport watercolors instead of equipment-laden oils. Nivison's beloved cat, Arthur, who traveled with her to Gloucester that summer, brought them together, when Hopper found him wandering Gloucester's back streets and returned him.
Hopper took Nivison's advice during their joint painting excursions. The result was Eastern Point Light (1923) followed by 17 more watercolors over eight weeks that summer including Deck of a Beam Trawler, 1923; Portuguese Church, Gloucester, 1923; House in Italian Quarter (1923); and The Mansard Roof (1923).
After Nivison and Hopper returned to New York in the fall of 1923, she lobbied for Hopper's work to be included alongside her own in the second major biennial devoted to American watercolors at the Brooklyn Museum. The curators selected six of Hopper's Gloucester watercolors and the Museum eventually purchased The Mansard Roof (1923) for $100. This first sale of a painting by Edward Hopper in over a decade was a major turning point in his career, thanks to Nivison and the influence of their time together on Cape Ann.
By 1924, Hopper hoped Nivison would return to Gloucester with him for another summer of painting. She wanted to return to Provincetown where she enjoyed the camaraderie of fellow artists and theatrical types. In the end, she agreed on one condition: that they marry that day, July 9, 1924. The wedding took place and the couple returned to Cape Ann for their honeymoon and another summer of painting together. They remained married for 43 years.
"Hopper gives us an extraordinary opportunity to tell Gloucester's story as a significant and influential place for artistic inspiration and growth," Barker said. "The exhibition in exploring this concept of place as a creative catalyst, thanks to Elliot Davis, also recasts Jo Nivison's role of model and muse to the producer of Hopper's distinctive style, from the time of their courtship on Cape Ann in 1923 to the last painting to leave his easel in 1965. It's a remarkable story that we cannot wait to share."
Cape Ann Museum's exhibition follows the Whitney Museum's Edward Hopper's New York, which opened Oct. 19, 2022 and ran through March 5, 2023, featuring Hopper's paintings around the city he called home for 60 years (1908-1967).
Another major aspect of the Cape Ann Museum exhibition is the accompanying 224-page catalog, published by Rizzoli Electa in hard and softcover editions. This publication, which shares the exhibit's title, Edward Hopper & Cape Ann, tells the largely ignored but significant origin story of Edward Hopper's years in and around Gloucester, Massachusetts – a period and place that imbued Hopper's paintings with a clarity and purpose that had eluded his earlier work. The book description reads: "the success of Hopper's Gloucester watercolors transformed his work in all media and set the stage for his monumental career."
This important partnership with Rizzoli Electa marks the first time that the Cape Ann Museum has sought an outside book publisher to design, produce, and distribute an exhibition catalog. "We could not be more thrilled with this significant collaboration and the beautiful edition Rizzoli has created," Barker said. The book will be distributed nationally and internationally and is available at the Cape Ann Museum Store which is also the exclusive vendor of the soft cover edition.
Edward Hopper & Cape Ann will be on view at the Museum's Downtown Campus in Gloucester and is accompanied by a robust six-part lecture series as well as a day-long symposium to be held on Saturday, September 30, 2023. Full lecture details and symposium speakers were announced in March 2023.
In preparation for Edward Hopper & Cape Ann the Museum during the 2022-2023 school year has been working with every eighth grader on Cape Ann to create original student work returning Hopper's gaze through their own windows. A View from My Window (which had been on view April 1 – May 14, 2023) incorporated panes of plexiglass from each student, creating a visual array of sites around Cape Ann as seen by the students who live there. The Museum is also offering two walking tours of Hopper's Houses around Gloucester, featuring sites that Hopper painted while here.
Timed- entry tickets will be required and go on sale at www.capeannmuseum.org on June 1, 2023. Admission, which includes both Edward Hopper & Cape Ann and general Museum entry is: Adults $23; Cape Ann Residents, Seniors, and Students: $18; Youth under 18: Free.