Taubman Museum of Art
Opened in Roanoke, Virginia in 2008
By:
Susan Cohn

-

May 19, 2015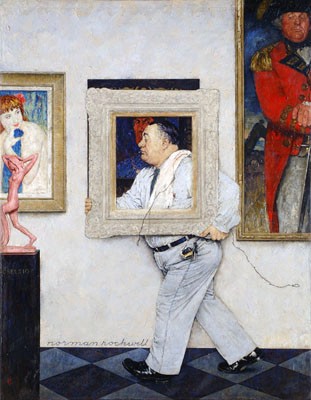 AN ARTISTIC JUNCTION IN THE BLUE RIDGE: TRADITION AND INNOVATION MEET AT THE TAUBMAN MUSEUM OF ART IN ROANOKE, VIRGINIA.

The Taubman Museum of Art occupies a dramatic, 81,000-square-foot geometrically oblique building just across from Roanoke, Virginia's historic Marketplace Square. Designed by Los Angeles architect Randall Stout and completed in 2008, the museum, with its swooping and soaring metal roof, is a dramatic architectural presence that has established itself as a major force in the life of Roanoke's thriving arts community.

Taubman Museum Executive Director Della Watkins said, "The Taubman Museum of Art, with its gorgeous, iconic building and inspiring programs and art, is an engaging social, educational, and cultural organization that is fast becoming a vital part of the fabric of the Virginia's Blue Ridge."

HIGHLIGHTS OF THE COLLECTION.

The Taubman's historic focus has been on American art, and "Reunion," a choice selection of its collection, evidences the breadth of its holdings. Standing in just one spot in the main exhibition gallery, a visitor may, for example, see John Singer Sargent's grand, larger than life (over seven feet tall) Portrait of Norah Gribble (1888), capturing the society beauty before tragedy befell her; The Brown Bomber (1938) by Robert Riggs, showing the electrifying boxing victory of Joe Louis over Max Schmeling; and Norman Rockwell's Framed (1946), with its whimsical comment about the interior life of museums. Other signature works on view until June 27, 2015 include objects by Thomas Hart Benton, Thomas Eakins, Susan Macdowell Eakins, George Inness, Judith Leiber, Winslow Homer, Robert Henri, and John Henry Twachtman. Reunion compactly indicates the range and diversity of the museum's paintings, sculptures, works on paper, and decorative pieces.

Deputy Director of Exhibitions Amy G. Moorefield said, "Featuring more than 50 works from the museum's permanent collection, Reunion focuses on reuniting our visitors with some of the most compelling and historically significant works from the Taubman Museum of Art's holdings. Many of the works included in Reunion are destination pieces that people travel great distances to view, but of late have been in storage or loaned to other museums. Half of the work presented is light sensitive works on paper, meaning that a number of pieces will be rotated in and out, giving viewers a chance to see new work periodically through the run of the exhibition. From tiny couture handbags by Judith Peto Leiber to the Framed painting by Norman Rockwell, there is something for everyone to see in Reunion."
MUSEUM PARTICULARS.

The Taubman Museum of Art is named in honor of Ambassador Nicholas F. Taubman and his wife, Jenny, who were its largest donors. From 1969-2005, Ambassador Taubman served as President and CEO of Roanoke-based Advance Auto Parts, the largest retailer of automotive replacement parts and accessories in the United States. General admission to the museum remains free courtesy of that company. The Taubman Museum of Art is located at 110 Salem Ave. SE, Roanoke, VA. For more information, call 540-342-5760 or visit http://www.taubmanmuseum.org.
THE WALLS HOLD HISTORY AT THE HOTEL ROANOKE.

The 1882 Tudor Revival Hotel Roanoke, owned since 1989 by the Virginia Polytechnic Institute and State University (Virginia Tech), is a visual, cultural, social and architectural landmark that has played an important part in the city's social history. A frieze of painted canvas panels three feet high extends for 66 feet around the three sides of its lobby. The installation, painted by German-born WPA mural artist Hugo Ohlms in 1938, includes nine scenes from Virginia's colonial history: "The Landing at Jamestown 1607," "The Baptism of Pocahontas," "The Marriage of Pocahontas," "The First Representative Government in America 1619," "The Surrender of Lord Cornwallis at Yorktown 1781," "William and Mary College," "Patrick Henry's Address 1765," "Women Arrive at Jamestown 1619," and "Virginia's Signature Hospitality." Virginians of different periods are depicted in the hotel's gracious Palm Court murals by A. Karoly and L.P. Szanto entitled "The Virginia Reel," "The Quadrille," "The Waltz," and "The Minuet." The Hotel Roanoke, at 110 Shenandoah Ave., is connected to downtown Roanoke by a pedestrian bridge.
ROANOKE ART BY NIGHT.

A "gallery crawl" takes place the first Friday of every month among art galleries in Downtown Roanoke. Check out the map on the event's website (www.roanokeartbynight.com) or pick up a brochure at any gallery. Among the shops is The Market Gallery at 23 East Salem Ave. SE, a cooperative gallery of 30 award-winning southwest Virginia artists, exhibiting contemporary paintings, hand-pulled prints, mixed media, photography and pottery. www.marketgalleryroanoke.com.

Susan Cohn is a member of Bay Area Travel Writers; the North American Travel Journalists Association; and the International Food, Wine & Travel Writers Association. She may be reached at susan@smdailyjournal.com. This story first appeared in the San Mateo Daily Journal.