Barbara Hannigan at the Ojai Festival
From The Rake's Progress to a Crazy Girl Suite
By:
Susan Hall

-

May 21, 2019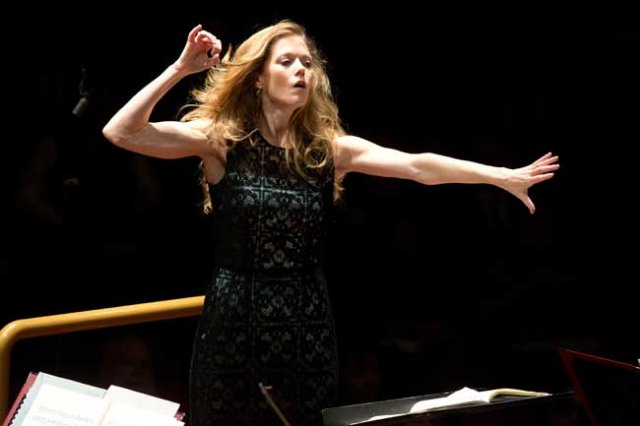 What makes the Ojai Festival in California unique among festivals? Its Artistic Director continues year after year. Each year a different Music Director is chosen. That person curates the festival as through-performance. You are led by the music on a journey full of surprises. Relationship between the works unfolding is more important than an occasional shooting star.
The Ojai Festival is held annually for four too-short days, this year from June 6th to 9th. Thomas W. Morris, a percussionist and former CEO of the Boston Symphony Orchestra, has been artistic director for sixteen years and will give way to Chad Smith, chief operating officer of the Los Angeles Philharmonic, in 2020. Smith will continue to serve with the L.A. Philharmonic during his time at Ojai. He will work closely with Matthias Pintscher, the Ojai Music Festival's music director in 2020.

Morris is known to the Berkshires for his years with the BSO. He has an ear and an eye for special talent. Barbara Hannigan is a treat for him to work with in his last season. He notes that Hannigan is a star performer who will always take risks. She is also a superb mentor and always finds time for up and coming performers in her Equilibrium program.

Hannigan is actually a triple threat. She is a premiere singer on the opera stage, where she is currently making Alvin Berg's Lulu her own. A conductor of groups large and small (we heard her with the Juilliard Orchestra earlier this year), she is also a committed incubator of talent. Led by Ojai Talks director Ara Guzelimian, public conversations include Mentoring for the Future with Hannigan, My Ojai Adventure with Morris, and The Ludwig Vision with members of LUDWIG. All of Hannigan's many aspects and interests will be on display at Ojai.
Ojai was a place treasured by early refugees from Hitler's Germany. Arnold Schoenberg, Stravinsky, Thomas Mann and Greta Garbo made their way to Los Angeles and Hollywood. They were attracted to Ojai's beauty 75 miles away. Who knows who you might rub shoulders with in 2019?
John Zorn is being celebrated by the performance of many of his compositions. The gods and ancient heroes in the Finnish epic Kalevala are the inspiration for Zorn's Jumalattaret¸ a cycle of songs which Hannigan sings with Stephen Gosling at the piano. Rites of Passage, the second of the three concerts, features the Equilibrium singers in a celebration of folk cultures through music. In Gerard Grisey's last work, Quatre Chants pour franchir le seuil, Hannigan sings four meditations on life at the threshold of death.
The JACK Quartet will be in residence, as will Ludwig, a Dutch group Hannigan often performs with in Europe. A concert performance of Stravinsky's The Rake's Progress with Equilibrium talent conducted by Hannigan is offered. Oliver Knussen will be amply honored.
Morris points out that anyone who has succeeded in the music world has music deep within her. For singers and conductors of opera, song seems so deeply embedded that emerging phrases have just the right dynamic emphasis. This is certainly the feeling you get listening to Hannigan conduct and it is thrilling.
Who knows where this musical journey will lead? To Ojai Festival!