Robert S. Cox UMass Archivist at 61
Built on Activism and Papers from W.E.B. Du Bois to Ellsberg
By:
Charles Giuliano

-

May 21, 2020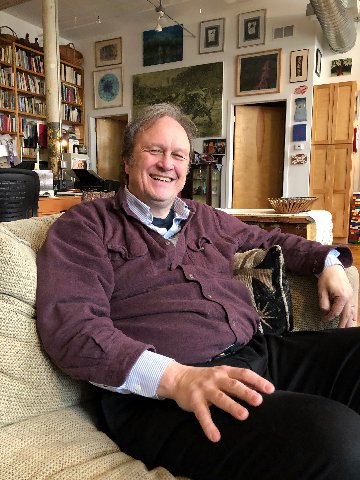 Robert S. Cox UMass Archivist at 61
Built on Activism and Papers from W.E.B. Du Bois to Ellsberg
In the past few years, I exchanged phone calls, e mails, and a studio visit with the amazingly diverse and wildly enthusiastic archivist Robert S. Cox. Our mutual interests intersected in issues of activism and social justice including the arts. In that domain he appeared to know everything and everybody.

The collection is anchored by the papers of W.E.B. Du Bois. As a bookend he was proud about the recently acquired archive of activist and Nixon-era whistleblower Daniel Ellsberg. Both on line and as a destination the archive on his watch the collection ranks in the top tier.
Cox was particularly helpful when I was compiling images for my 2019 book "Counterculture in Boston: 1968 to 1980s." The archive made available images by former Cambridge Phoenix photographers Jeff Albertson and Peter Simon. He told me that the collection has work by some 80 photographers from journalism to fine arts.

What follows is a press release from UMass Amherst.
Robert S. Cox, head of Special Collections and University Archives (SCUA) at the UMass Amherst Libraries for the past 16 years, died May 11 after an extended illness. He was 61 years old.
After being hired by UMass in 2004, Cox began strategically building on the university's archival strengths in the history of social activism and organization, anchored by the papers of W.E.B. Du Bois. He recognized and fostered connections with activist communities, engaging individuals and groups in dialogue about the benefits of archiving their materials, from intentional communities and advocacy organizations, to disability and civil rights campaigns.
"Rob's tireless dedication to building a vast set of unique, connected and coherent collections, particularly those which add to the historical and present-day conversation about social change, have distinguished the UMass Amherst Libraries," says Dean Simon Neame. "The collections here are a magnet for scholars and students, and will be for generations to come."
Cox, who referred to himself as a middling kid from the orchards of central California, said he never lived a logical life. By the age of 25, he observed that he had "racked up addresses in at least six states and one territory, and by 45, the numbers had grown to four master's degrees and a Ph.D." An author, archivist and historian, Cox viewed himself as a recovering paleontologist, reluctant molecular biologist, former cowboy and would-be New Englander who finally landed in Amherst. Many others remember him as a leader, teacher, mentor and beloved friend.
Many of the important collections that Cox and his team brought to UMass were generously donated as a result of his personal relationships. His tenure is responsible for 75 percent of the materials currently held by SCUA. Notable examples include:
Regularly recognized for the scope and quality of their work, the SCUA team under Cox won a Verizon Foundation grant in 2009 to digitize the Du Bois Papers, setting the stage to found the Du Bois Center. His vision for building a community of scholars was integral in the winning of an Andrew W. Mellon grant in 2016 to expand the fellowship program through the center and further the impact of Du Bois's legacy; most recently, his team has been digitizing disability rights-related collections under a grant from Council on Library and Information Resources.
Cox began his extraordinary array of studies in higher education when he landed at Haverford College outside of Philadelphia, where his Quaker roots were awakened. There, he earned a B.S. in geology and played rugby. Next was Penn State for a master's in paleontology. He spent 1990 through 2003 in Michigan, earning from the University of Michigan a master's in Library Science, a master's and Ph.D. in history, and an MFA in poetry. He felt it had been an "amazing privilege to work at places where I felt I was fumbling from geology to paleontology to molecular biology," and ultimately elsewhere, "in places where it always seemed that a kind word uttered in passing at just the right time could open a door to a new world."
While at Michigan, he was introduced to archival work through an internship at the William L. Clements Library and moved into professional roles including Curator of Manuscripts and Photographs. Using collections largely at the Clements, he wrote a dissertation on American spiritualism in the 19th century. It was published by the University of Virginia Press in 2003 as "Body and Soul: A Sympathetic History of American Spiritualism."
In 1998, he took a position at the American Philosophical Society in Philadelphia, eventually becoming Keeper of Manuscripts and Director of Scholarship and Technology.
In addition to archival organization and American Spiritualism, Cox published on the Lewis and Clark expedition; Quaker "missions" to the Seneca Indians; the history of photography, the history of sleep, and several culinary history books: "New England Pie: History Under a Crust; A History of Chowder: Four Centuries of a New England Meal;"and "Massachusetts Cranberry Culture: A History from Bog to Table."
Throughout his career, Cox worked with hundreds of students on independent study and internship projects in history, digital history and archival studies. At UMass, he taught courses on the history of religion in the History Department and in archival management at both UMass and the Simmons College School of Library and Information Science.
He made good on his word when arriving at UMass to reach out to departments and colleagues across campus to engage with SCUA and partake of its materials. In a 2005 interview, Cox observed, "We want to spread the word that we are here for all students and faculty to use. We are, essentially, stock boys in an intellectual Kmart."
Among those he leaves are his wife, Danielle, and their daughter, Phoebe, with whom he lived in Easthampton. Donations in his memory may be made to the Robert S. Cox Special Collections Fund. An on-campus celebration of his life is expected to occur at a later date.