Tony Nominated Revival of Carousel
Josh Henry Dominates as Bill Bigelow
By:
Karen Isaacs

-

May 22, 2018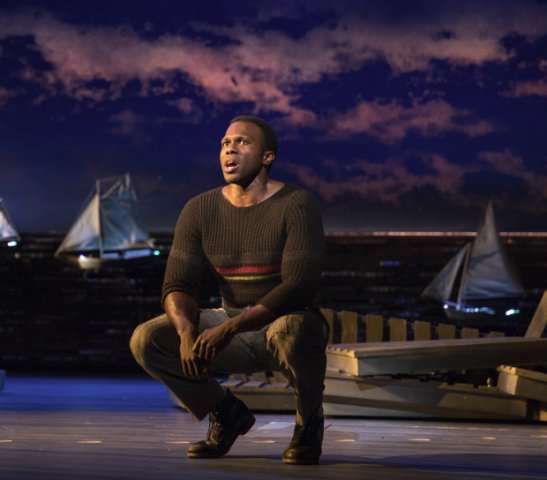 Josh Henry is known to aficionados, but after his stunning portrayal of Billy Bigelow in the revival of Carousel, he will be familiar to a wider audience.
Henry is so dominant that multiple Tony winner Jessie Mueller slides into the background as Julie Jordan. It doesn't help that opera diva Renée Fleming, as Nettie, and Lindsay Mendez, as Carrie Pipperidge, outshine her.
Jack O'Brien has directed this revival with choreography by Justin Peck.
Carousel, the second of great Rodgers and Hammerstein musicals, has a problem for today's Me Too audiences. Billy verbally and physically abuses Julie. Late in the second act, she seems to defend it. O'Brien has handled the problem with understatement. You cannot eliminate some indication of physical abuse, but it is minimized. Vintage lines by Julie that seem to condone it have been removed.
If you have never seen the show or the movie it is based on a play, Lilliom, by Ferenc Molnár. Rodgers and Hammerstein moved the show to the late 19th century Maine coast. Bigelow is a handsome carnival barker whom the girls flock around. In this factory town, where many girls work at the mill under the strict rules of the owners, Julie and her friend Carrie have visited the carousel several times where Julie has noticed Billy.
One evening they actually talk and she willing stays with him. This will mean losing her job since she will be locked out of the company owned boarding house. They quickly fall in love. Carrie is also in love but with a more reliable and steady, though perhaps boring, Mr. Snow. He plans to become the owner of a fleet of fishing boats and a sardine cannery.
Compared to the sexy but poor Billy, Mr. Snow is a better prospect as a bread earner and husband.
Marriage, however, does not suit Billy. He's fired because his boss, Mrs. Mullin, wants him for herself. She assumes that girls won't be attracted to a married barker. He can't find work, but Julie's devotion, understanding and love grates on his nerves.

Jigger, a sailor friend with a criminal past, suggests holding up a ship owner when he delivers salaries to the captain. Desperate, Billy decides to go along as Julie has just announced that a baby is on the way.
Overall, this is a straightforward revival of the play with exceptions. Lines are deleted where Louise (Billy and Julie's daughter) says that she was hit but it didn't hurt; it felt like a kiss. Also cut are Julie's lines "It is possible, dear – fer someone to hit you – hit you hard – and not hurt at all." In this production, Billy's slap seems almost like a tap though the audience gasped.
The second change is more problematic. The Starkeeper is a character that Billy meets in heaven. In this production he is played by the fine actor John Douglas Thompson who shows up through the play. He is seen in the very beginning. Later, when Billy and Jigger are planning the robbery, he sits between them on a park bench. Unless you know how he is, you may be puzzled by what he is doing in these scenes. Even if you know the character, you may wonder why the director has him appear so often.
Josh Henry is the standout performer in this show. His Billy is physically imposing as is his singing. You can see why the young girls at the mill would be smitten. This makes it harder to understand his attraction to Julie as played by Mueller. She has spunk to defy social and, initially, to risk her job to stay with him but it doesn't come across. She seems an unequal partner in their relationship.
As Carrie Pipperidge, Lindsay Mendez scores with her numbers, particularly "Mister Snow." You can overlook that, at times, she looks too old for the young Carrie. If the humor is sometimes too broad, at least she grabs your interest. Alexander Gemignani makes a fine Mister Snow; sure of himself and later on both pompous and uncharitable. The duets with Carrie are lovely.
Renée Fleming is a younger Nettie Fowler than we usual see in productions of Carousel. But that brings vitality to the role. Of course, her legendary voice is remarkable for show-stopping standards "June Is Bustin' Out All Over" and "You'll Never Walk Alone,"
Amar Ramasar is menacing as Jigger, but the role has also been given increased attention by choreographer Justin Peck, so he becomes more of a presence.
Peck's choreography has wonderful moments – the ballet is excellent – but at other times the moves seem to have no relationship to the location of the show or its characters.
Outstanding elements of the production are the scenic design including projections by Santa Loquasto and the lighting by Brian MacDevitt.
Carousel is always a musical that many will find emotional, almost a tear-jerker. In this production it is hard not to succumb to these feelings. The plot is designed to convey that particularly with the last two songs, reprises of "If I Loved You," and "You'll Never Walk Alone." They emphasize the romance and tragedy of the story.
Carousel is at the Imperial Theatre, 249 W. 45th Street. Tickets are available through Telecharge
Posted courtesy of Two on the Aisle.