Les Liaisons Dangereuses at Raven Theatre
Adapted by Christopher Hampton from Novel by Pierre Choderlos de Laclos
By:
Nancy S. Bishop

-

May 26, 2015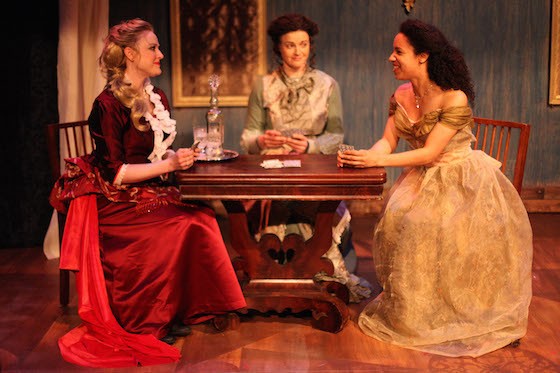 AstonRep takes on the challenge of the slashing wit and amoral sexual tensions of the French drama Les Liaisons Dangereuses, in its new production at Raven Theatre. The play, adapted by Christopher Hampton from the 1782 novel by Pierre Choderlos de Laclos, was set in France, just before the 1789 revolution. AstonRep translates it to 1917 pre-revolutionary Russia, where the aristocracy was considered equally decadent and susceptible to revolution.
The script is notable for the scintillating dialogue and cruel sexual tricks devised by its two leading characters, the Marquise de Merteuil (Sara Pavlak McGuire) and Vicomte de Valmont (Robert Tobin), who conspire to seduce and humiliate three people for their own amusement. McGuire is a devious and beautiful trickster, able to switch from kind and helpful to evil and demonic, as the situation requires. Tobin is almost her match as Valmont, but I really wanted his character to exhibit more menace. He is almost too, dare I say, nice.
The rest of the cast delivers the deliciously clever dialogue adequately as Merteuil and Valmont plot and carry out their various seductions and reversals. Director Charlie Marie McGrath could energize her cast to move the 2.5-hour play along more briskly. Act one, in particular, is overly long at almost 90 minutes.
Jake Meyer is a sly treat as Azolan, Valmont's valet, dressed in a Russian military uniform, and speaking Russian-accented English. Emilie, a courtesan played by Taylor Bostwick, is the only other character who seems to be Russian. Ann Marie White, as the restrained and devout Madame de Tourvel, and Emma Ladji as young Cecille, are Valmont's targets. The young Chevalier Danceny (Tim Larson), who was first charmed by Cecille, is Merteuil's prey.
The script and production are the same as earlier versions in most every way, with the addition of a few Russian place names and the two characters with Russian accents. The playbill doesn't mention the era and geographic setting (or any of the scene locations) that AstonRep has chosen, so that some playgoers might be puzzled about the use of Russian nomenclature in what is otherwise a French drama. Also Brittany Dee Bodley's costumes, although beautiful creations, create a mood of 18th century aristocracy: 1780s Paris, not 1917 Moscow. The director's concept of setting the play in Russia is intriguing but the time travel doesn't work.
Director McGrath does a credible job in using the small space of Raven's west theater to advantage. The scene changes on Jeremiah Barr's set are handled deftly. Two sets of curtains screen off the playing space and create a front-of-curtain space for a few scenes, such as the sweet opening scene where Danceny gives a violin lesson to Cecille, done totally In mime.
Hampton's adaptation was first staged in London in 1985 and on Broadway in 1987, before being produced as a film in 1988. Dangerous Liaisons was a memorable film, starring John Malkovich as the sinister, sensual Vicomte de Valmont and Glenn Close as the beautiful, scheming Marquise de Merteuil. Malkovich's performance (even though I haven't seen the film in years) was probably too much on my mind as I watched AstonRep's production. In addition, the title character in Steppenwolf Theatre's 1996 production of The Libertine by Stephen Jeffreys was eerily similar to Valmont. Malkovich played that part with relish too.
AstonRep will stage Les Liaisons Dangereuses through June 21 at Raven Theatre, 6157 N. Clark St. Performances are Thursday-Saturday at 8pm and Sunday at 3:30pm. Tickets are $20 and can be purchased online or by calling 773-828-9129.
Reposted from Gapers Block courtesy of Nancy Bishop.