David Henry Hwang Musical Soft Power
World Premiere at The Ahmanson Theatre in LA
By:
Jack Lyons

-

May 29, 2018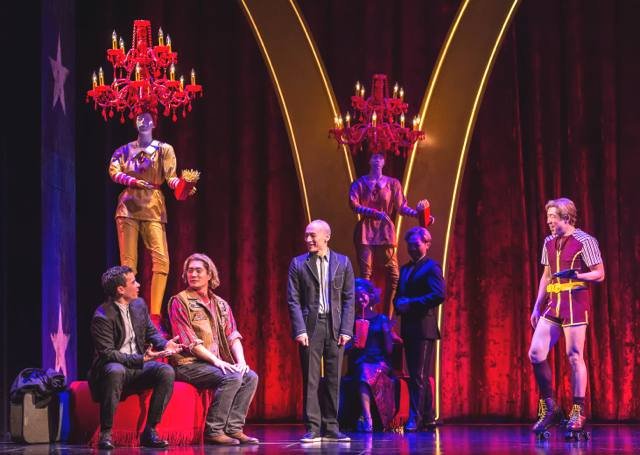 The American Theatre is in a state of flux and has been since the millennium arrived. Satisfaction is the enemy of innovation, growth, and thinking outside the box. America for all its creativity, eagerness for new shiny objects and ideas, however, is quite comfortable in its various creative arts ruts.
According to German writer and dramatist Bertolt Brecht, "The role of the arts should not be limited to just holding up a mirror to society, but be a hammer with which to shape it". Controversial? Yes. Today's playwrights and writers are churning out creative work that your fathers and grandfathers would not necessarily approve. This is the internet/digital age. Communications and information comes to the creative table quickly and changes just as quickly. One has to be constantly plugged in to be relevant.
Playwright David Henry Hwang's newest musical play "Soft Power", now enjoying its world premiere on the stage of The Ahmanson Theatre, Los Angeles, is an excellent example of readdressing the domination of White culture of the West to the rising prominence and influence of Asian societies along the 'silk roads' of the East. Hwang is a prolific American-born playwright of Chinese ethnicity.
Trying to explain the two act plot of Hwang's brilliant comedic and insightful, think-piece is complicated but not inscrutable. It's a little akin to Winston Churchill's famous quote of trying to untangle the philosophy and the politics of the Russian government to a fellow politician. "Russia is a riddle, wrapped in a mystery, inside an enigma. It's complicated, but there is a key." One 'key' is the collaboration of Jeanine Tesori and Mr. Hwang as co-creators, with Ms. Tesori's wonderfully evocative musical score and additional lyrics that so beautifully captures the spirit of the East and then blends it with the culture of the West.
Playwright Hwang, who penned the Tony-winning production "M. Butterfly" (1988) and Drama Desk nominated "Yellow Face" (2007) and the delightful comedy "Chinglish" (2011), among others, challenges his audience to confront and accept the idea that the planet has more than one alpha-male dominating culture and society. In many ways, the musical goes against a self-image that most Americans hold dear: rugged individualism and American exceptionalism.
"Soft Power" is a deliciously directed musical by Leigh Silverman, who infuses her mainly Asian cast with high energy performances, especially from the ensemble performers. For those who follow Mr. Hwang's career arc, they will note the echoes in this stellar production reminiscent of his delightful 2011 comedy "Chinglish". That story featured a love affair between an American business executive and a female Chinese government official while he was on a business trip in China. Ms. Silverman directed "Chinglish", as well.
Both plays explore the language and cultural gaps between Chinese and Americans; a frequent theme in Mr. Hwang's body of work, however, this time the romantic algorithmic connection deals with Zoe, an American woman (Alyse Alan Louis) and a Chinese gentleman (Conrad Ricamora), both of whom are the possessors of wonderful singing voices. Ms. Louis belts with high energy in in Act One leading the ensemble in a series of hilarious musical numbers that allude to America's current political machinations and explanations without ever referring directly to the current inhabitant in charge. The name is self-evident based on the hoops and hollers, and the laughter emanating from the audience. Remember, it's a musical comedy – depending, however, on one's political leaning.
Conrad Ricamora as Xue Xing, reflects not only his personal philosophy, but that of China's aspiring new role in global politics. In the play, they eschew raw military or hard power, preferring the label of practitioners of 'soft power'. They prefer to influence world opinions with trade, political ideas, and peaceful non-military solutions as a way of becoming the new world leader. Mr. Ricamora , renders a terrifically polished, stylish, understated performance, as the avatar of Chinese ambitions in the future.
There is a third major character in this highly entertaining production: None other than that of David Henry Whang himself. The actor who portrays Mr. Hwang on stage is Francis Jue who delivers a solid, empathetic, portrayal as the quasi-narrator of the musical. I would humbly submit that perhaps, Mr. Hwang is a fan of the great movie director Alfred Hitchcock, who always inserted an image of himself as character into every film he made. However, it's not that unusual in Mr. Hwang's case. He was a character in his 2007 play "Yellow Face", playing himself.
In Act Two, the stage heats up again with the performance of Ms. Louis. This time she's playing Hillary Clinton. Yes, that Hillary Clinton! It's a dynamite performance by a consummate singer/ actor/ dancer at the top her game. No more spoiler alerts from me, but remember it is a political comedy/parody production and should be experienced in person. Director Silverman gives her skilled cast the green light to go full speed ahead, which they do in spades. The standing ovation at the curtain call lasted for over a minute. I checked my watch. It was richly deserved.
On the reality check aspect of the overall production, I would submit that the political comedy lacked subtlety at times, and had a tendency to hit one over the head with a hammer, making sure we got the bit and the metaphor. It may be a bit sophisticated or too on-the-nosey for some, but the audience on opening night definitely got it.
The Ahmanson Theatre is the proper sized house and stage that gives Scenic Designer David Zinn plenty of leeway in delivering a performing space for this excellent production to breathe. Supporting cast members include: Billy Bustamonte; Jon Hoche, Kendyl Ito; Austin Ku; Raymond J. Lee; Jaygee Macapugay; Daniel May; Paul Heesang Miller; Kristen Faith Oei; Maria-Christina Oliveras; and Geena Quintos. Well done all.
In the technical department led by director Silverman whose impeccable timing throughout the evening keeps the audience riveted and fully engaged. The costume designs of Anita Yavich, and the lighting design by Mark Barton flood the Ahmanson stage with color and light becoming a visual feast for the eyes and the ears, along with the Sound Design of Kai Harada. The high-octane choreography of Sam Pinkleton keeps everyone on their toes under the musical baton of Music Supervisor Chris Fenwick.
'Soft Power", makes for a splendid evening of music, dance, and comedy that performs at the Ahmanson Theatre and runs through June 10, 2018.
Posted courtesy of Desert Local News.