Hancock Shaker Village Phase One
Campus Access as of June 4
By:
Shaker

-

May 29, 2020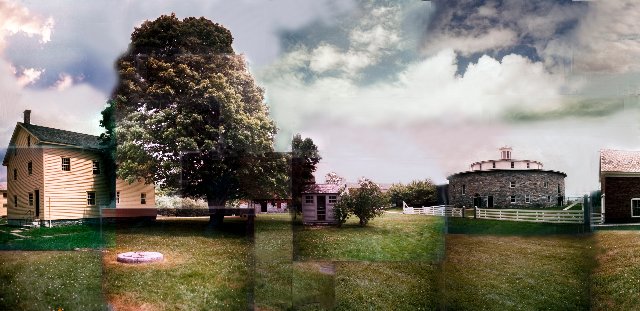 —Wishing you could visit the baby animals on the farm?
Today Hancock Shaker Village announced a controlled and limited opening on Thursday, June 4 as part of Massachusetts Governor Charlie Baker's Phase 1 initiative. The Village will open only its outdoor spaces—including its beloved baby animals in outdoor fenced-in areas—to the public Thursdays through Sundays, 10 am–3 pm. This schedule will be in place at least through June, as the Village plans for a full reopening in Phase 3.
Leaders of the iconic living history museum have been working for weeks on a reopening plan with new measures in place to ensure the safety of visitors and staff. Such health and safety measures include online and timed ticketing, guest capacity limits, one-way paths to control guest flow, clearly designated distance markers ranging from 6 to 10 feet, enhanced cleaning protocols, more hand sanitizer stations, and COVID-19 training for all staff. Visitors will be required to pre-purchase timed admissions, available online at hancockshakervillage.org or by phone at 413.443.0188. Members are always free, but must reserve a timeslot prior to their visit. Guests and staff are required to wear face coverings.
"The health and safety of our community remains our top priority," said Director Jennifer Trainer Thompson. "With guidance from Governor Baker, we are looking forward to once again welcoming visitors and continuing our mission of connecting people to the Village and the stories of the Shakers."
The museum has been offering virtual programs such as a stream on YouTube of a dance performance by Reggie Wilson and Fist and Heel Performance Group in the Round Stone Barn and virtual talks with authors and Shaker collectors. The Village also expanded its social media presence, offering programs such as Facebook livestreams from the farm and popular Zoom with Baby Animals sessions. Amid the COVID-19 pandemic, the Village also made the decision to plant its 5-acre vegetable garden, which supports a 65-member CSA and provides 15% of its crops to local families in need.
"We know people have been eager to visit the farm when it is safe to do so," said Thompson. "Self-guided discovery has always been important to the museum experience here, and with baby animals, the trails, the architecture, and the gorgeous gardens, we'll offer what has always been a hallmark of the Village: an inspiring, holistic experience."
While the historic barns and all buildings remain closed until Phase 3 begins—July at the earliest— baby animals may be visited outdoors in newly constructed pens and fenced areas that allow for ease of viewing and social distancing. Although visitors will not be able to touch the animals, get into the pens, or go inside the Round Stone Barn, they will see many adorable baby goats, sheep, and calves up close, plus donkeys, cows, and Veruca the 1400-pound pig. "The piglets have been holding out on us," said Thompson, noting that one of the pregnant sows is expected to deliver next week.
For the first phase of opening, in addition to seeing baby animals, guests can walk the paths through the 20-acre historic village near the gardens, and hike the one-mile, accessible Farm & Forest Trail through the woods. The trail offers fascinating information on signs posted along the way, such as anecdotes about sugar maples and herbal remedies, a brief history of how a limestone quarry (the remains of which can be viewed in the woods) was used to build the Round Stone Barn, and a description of how sheep's wool was spun, dyed, and woven into cloth.
To enrich the visitor experience, the Village will provide maps and information about the historic buildings and heirloom gardens. "Window shopping" will be available, allowing shoppers to view goods for sale in the windows of the Brick Poultry House and place orders for curbside pickup. (A sample of items for sale can also be viewed on Village's website.)
While these have been challenging times, Hancock Shaker Village remains committed to its mission of preserving the Shaker legacy. The oldest working farm in the Berkshires, the Village is home to a variety of livestock. Throughout the closure, the livestock staff has been at the Village every day providing healthy diets, enrichment activities, veterinary care, and the human interaction the animals experience when the Village opens.
"It's been hard to see all these adorable baby animals and not be able to share them," said Thompson, who noted that 2020 is the 60th anniversary of the museum dedicated to the utopian sect who arrived from England in the eighteenth century. "As the weather turns nice, we know people are eager to get outdoors. Hancock Shaker Village is fun, but it's also a comforting place. We have thought long and hard about how to welcome our visitors safely."
Admission is free for members and children ages 12 and under, $20 for adults, and $8 for youth ages 13–18. Admission will be limited in accordance with state guidelines, and no indoor or outdoor seating will be provided. Bathroom facilities will be extremely limited. Visitors should think of this as an outdoor experience. A complete list of new safety measures is available at hancockshakervillage.org.
"Know that when you are ready to visit the baby animals," said Thompson, "they will be here to joyfully greet you."