MASS MoCA Business Opportunity
Call for Proposals
By:
MOCA

-

Jun 01, 2022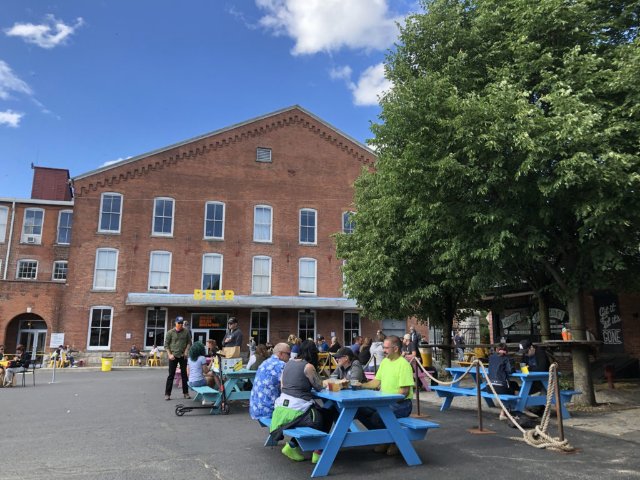 Join a thriving community of entrepreneurs, artists, and businesses located on the MASS MoCA campus in downtown North Adams, MA. As the largest contemporary art museum in the country, MASS MoCA is not only a destination for culture-loving audiences from around the globe but a stimulating center for creativity and commerce in the region. The ventures filling the MASS MoCA campus are destinations unto themselves, from stunning artisanal crafts and exceptional commercial galleries to delicious local brews and the best tacos around. Will your business be the next must-visit locale?
MASS MoCA is inviting concepts for the old Sprague Electric Company guardhouse at the main entrance of the MASS MoCA campus located on Marshall Street in North Adams, MA.
Key details about the space (most recently the home of A-oK Berkshire BBQ):
1,500 square feet of interior, first-floor space
1,200 square foot patio
Opportunity to apply for license to serve alcoholic beverages
Arrangement to access existing commercial kitchen equipment and associated infrastructure is optional. Monthly rent and lease terms will be negotiated with selected tenant.
Innovative and viable ideas that sync with MASS MoCA's vision for campus and community development will be shortlisted by July 1. Those submitters will be invited to view the space and submit a detailed business plan.
By June 20, please submit your concept to guardhouse@massmoca.org and please include:
Your amazing idea!
Your background and experience in the concept you are proposing
Why your business would both thrive at MASS MoCA and contribute to our unique and growing enclave of businesses and community gathering places.
Email guardhouse@massmoca.org. No phone calls, please.