The Monteverdi Trilogy at Boston Early Music Festival
Biennial festival puts on more concerts than you could possibly attend.
By:
David Bonetti

-

Jun 02, 2015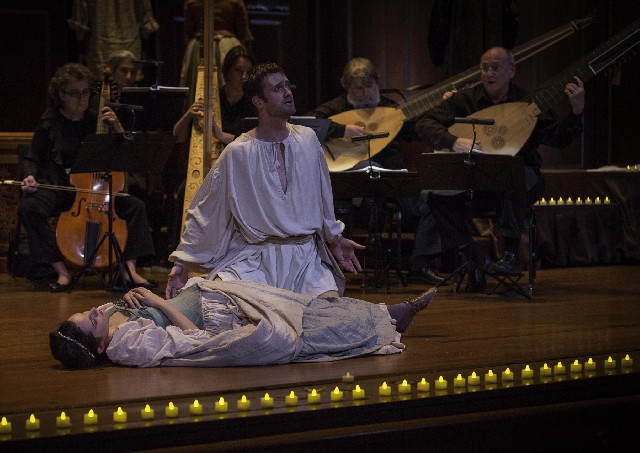 "Invention and Discovery"
Boston Early Music Festival
June 7 to 14 in Boston at various venues
June 20 & 21 in Great Barrington at the Mahaiwe Performing Arts Center
www.bemf.org (617-661-1812)
With its esteemed colleagues the Handel and Haydn Society, Boston Baroque, Boston Camerata, Blue Heron and other groups, the Boston Early Music Festival has made Boston the early music capital of America. Although it presents concerts throughout the year, every two years with its Festival, the BEMF goes all out, making Boston, for an eight-day week, the early music capital of the world.
This year's edition, the 18th since its founding in 1981, is the BEMF's most ambitious. Although the days will be filled from morning to late evening with early music groups from all over the world, the focus of the biennial festivals is always on what the BEMF calls its "Centerpiece Opera," a fully staged opera, often rare, exquisitely costumed and directed according to historical precedents, featuring some of the world's great vocal soloists in the Baroque repertory. What makes this year different is that the BEMF is presenting three operas as its centerpiece, all three surviving dramatic works by Claudio Monteverdi (1567-1643), opera's first great composer.
Being promoted as "The Monteverdi Trilogy," the BEMF is not letting it rest at that. It is also performing Monteverdi's "The Vespers of 1610," Monteverdi's greatest sacred work. Indeed, in its brochure, the BEMF asserts that "it was perhaps the most audacious and ambitious musical work Europe had ever produced and would help to usher the transition from the Renaissance into the Baroque."
It would be fair to say, even with all the other offerings on hand, that this year the BEMF is putting on a stand-alone Monteverdi festival, and you could enjoy it that way – four major works by the most important composer of his time in one week. What could be better than that?
Only one of the operas, "Il Ritorno d'Ulisse in Patria" (1641), is new to the festival. The other two, "Orfeo" (1607), the earliest surviving opera that still commands the stage, and "L'incoronazione di Poppea" (1643), Monteverdi's final work in the genre, written when he was 75 years old, have been produced previously by the festival, "Orfeo" in 2012 in its off-year Chamber Opera Series, and "Poppea," as a Centerpiece Opera in 2009.
The three operas reunite the team that has proved so adept at recreating Baroque opera's grandeur and passion, often leavened with generous portions of low humor and flashes of magic: festival music directors lutenists Paul O'Dette and Stephen Stubbs, stage and set director, Gilbert Blin, costume designer Anna Watkins, orchestra concertmaster Robert Mealy and executive producer Kathleen Fay, the BEMF's intrepid executive director. And among the casts assembled are some outstanding singers from the past – soprano Amanda Forsythe, tenor Aaron Sheehan, soprano Mireille Asselin, tenor Colin Balzer, tenor Jason McStoots, bass-baritone Christian Immler and soprano Teresa Wakim, as well as some singers new to the festival, most notably Australian countertenor David Hansen.
There are many people who have been waiting all year for this week. And even some who have been waiting two. It must be gratifying to the BEMF that so many of the performances are already sold out.
"We've been blown away by the advance tickets sales for the Monteverdi," BEMF spokesman Brian Stuart said, noting that they'd never had so many sold-out dates in advance before.
Stuart also somewhat counter-intuitively played down the ambition of presenting the trilogy. "There was discussion about what to do for the Centerpiece in 2015, and it was decided to do "Ulisse," doing over six years all three of Monteverdi's operas. And then Stephen (Stubbs) said, 'Would it be too radical to do all three at once?' We'd already done "Orfeo" and "Poppea," so that meant we'd only have to do "Ulisse" from scratch." Stuart said that since there is a triumvirate in the production team, it allowed Paul O'Dette with the help of early music specialist Ellen Hargis to prepare "Poppea," while Stubbs and Gilbert Blin could concentrate on "Ulisse."
The operas this year will be put on at the B.U. Theatre on Huntington Avenue, just around the corner from the New England Conservatory's Jordan Hall, where most of the official BEMF programs will be presented, so those who want to attend the late night shows at Jordan Hall, which start at 11 p.m., won't have to race across town after a 4-hour opera production from the Cutler Majestic Theatre, where the BEMF did its centerpiece operas in the past. "The B.U. Theatre is a perfect space for us," Stuart said. "It has capacity, but it's not too big." And the acoustics and sightlines are excellent.
The BEMF is known for resuscitating operas that have been lost or forgotten like Johann Georg Conradi's "Ariadne," Agostino Steffani's "Niobe: Regina di Tebe" and last year's "Almira," Handel's first opera, which is scarcely ever done. Monteverdi, whose operas are regular staples at opera houses all over the world, has long since been rediscovered. So doing his works, although they are among the earliest – and greatest - survivors in the genre, is a deviation from the BEMF's tradition. I asked Stuart if the festival will be moving in a more mainstream direction in the future.
"We remain strongly committed to discovering new works and bringing them to the stage," he said, adding that the 2017 centerpiece will be something rarely produced. He wouldn't tell me what, but said it would be revealed in the festival's program book. And he did say there was a discussion of doing another work by Steffani at some future date.
If you're too late to get a ticket to "Orfeo" – there are none left – not to worry: the festival is jam-packed with other concerts, along with symposia, demonstrations and an exhibition and sale. Highlights among the performances are the appearance of Jordi Savall and his Hespèrion XXI, this year appearing with the Mexican folk group Tembembe Ensamble Continuo in an exploration of music inspired by the "discovery" of the New World; Benjamin Bagby and Sequentia, which will be presenting music from the court of Charlemagne; violinist Monica Huggett and bass Harry van der Kamp playing vocal music from 17th century Germany; Concerto Soave playing 17th-century Italian music; Stubbs and O'Dette in a concert featuring 20 lutenists; Juilliard415 & Royal Academy of Music, conducted by Masaaki Suzuki, in a program of music by J.S. Bach; and the BEMF Chamber Ensemble playing dance music, put into practice by the BEMF Dance Ensemble, in a celebratory final night program.
That's not to mention the organ and keyboard mini-festivals and the more than 90 fringe festival concerts going on in churches and concert halls all over town.
For the full schedule, with venues and times, go to www.bemf.org.
Readers in the Berkshires will want to hear about the BEMF's annual excursion to Great Barrington after the festival winds down here. In the past it has brought the Centerpiece Opera to the Mahaiwe Performing Arts Center. This year instead it will bring two programs – the Chamber Series production of "Orfeo" and the "Vespers," giving western Massachusetts early music lovers the opportunity to hear Monteverdi in both secular and sacred modes.
(And let me clue you in: hearing Aaron Sheehan as Orfeo is as sweet as it gets in early music.) Stuart said the BEMF is thrilled to go to the Berkshires, which it has been doing for more than a decade. "We have an enthusiastic audience for early music there."