Morning After Grace by Carey Crim
Senior Moments at Shakespeare & Company
By:
Charles Giuliano

-

Jun 02, 2018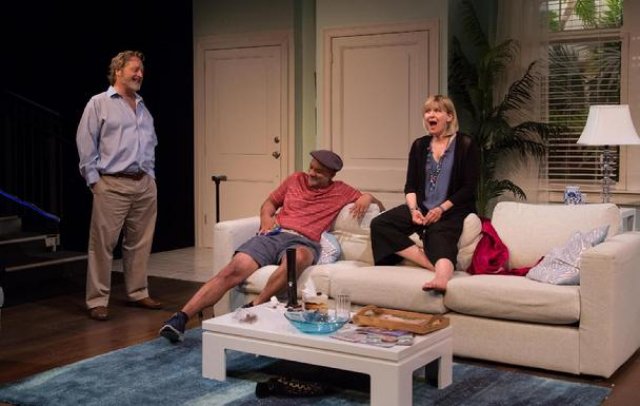 Morning After Grace
By Carey Crim
Directed by Regge Life
Set Patrick Brennan; Costumes, Stella Schwartz; Lighting, James W. Bilnoski; Sound, Iain Fisher
Cast: Steven Barkhimer (Angus), Corinna May (Abigail), Kevin Vavasseur (Ollie)
Elayne P. Bernstein Theatre
Shakespeare & Company
May 24 to July 15
One might deconstruct the title Morning After Grace by Carey Crim on stage through July 15 at Shakespeare & Company.
It is indeed morning and first light (designed by James W. Bilonski) in the nicely detailed studio apartment (designed by Patrick Brennan) in what appears to be an upper middle class, gated community for Florida seniors.
Awkwardly, Abagail (Corinna May) carefully untangles herself from sheets on the sofa. She is tactfully disengaging from the snoring Angus (Steven Barkhimer) a man she hooked up with the night before. There is evidence that the romp entailed heavy drinking.
Looking about, with a sheet wrapped like a sarong, she can't find her clothes. It implies that the evening of passion was somewhat frenetic.
Allow us to return to the conundrum. Morning may also imply mourning. Inadvertently, she had attended the wrong funeral. There was a mixup on the date and, what the heck, she opted to stay rather than make a fuss. The deceased was Grace and the events that ensue for the fly-by-night sex partners may imply a fall from. The playwright has given a loaded name to the woman we never see but is key to the arc of a comedic drama that ensues.
When Angus awakes he is suffering a massive headache as does she. There is talk of remedies from drugs, which she never indulges in preferring cayenne, and whatever works for him.
Opening a closet full of dresses she asks if he is a transvestite. Which is cool with her. It seems she holds three master's degrees including one in grief therapy. That training gives her the upper hand in the shenanigans that follow and includes a neighbor Ollie (Kevin Vavasseur) who limps in.
The abrasive, moody and argumentative Angus proves to be an attorney. Here we can run the laugh track of lawyer jokes and clichés. But a good one, if that is possible, for his renowned pro bono work. As events lurch forward he may or may not have redeeming qualities. That dichotomy is held out until the last possible moment.
At an enervating pace, with occasional comic nuggets, the essential facts get established. After some guessing she admits to being 62 and he chimes in at 70. The clothes belong to his deceased wife who drowned. For him their tryst was revenge sex for his discovery that she had been cheating. She, it is eventually revealed, had sex on the anniversary of her divorce. It had been a long time and in fact she enjoyed it.

The senior moment of all this is post-menopausal sex. People are living longer and better lives. With the pill it is possible to reignite passion and libido. Nowadays, it's not just kids who are hooking up. But, one might hope, elders behave more responsibly.
The premise of Crim's play is, well, not really. What happens when the old lady you wake up with is just that? Nowadays, arguably, 62 is the new 52.
How Ollie fits into all of this is mostly clumsy and ineffectual. A tall slender man in seemingly good shape, in contrast to the paunchy Angus, he is a former Detroit Tigers baseball player. But, it seems, a closeted one. He lives with James with whom, based on calls he won't take, there is a quarrel.
The playwright has inflicted Ollie with a cane. It becomes an unfortunate metaphor for a stilted character played with a limp by Vavvaseur. He is not alone in miscues and blown lines. A week after opening night that shouldn't be the case.
May is a skillful actress but too much responsibility falls on her to keep the plot on track.
You sense that Crim's play is better than the production we attended. There is potential in the premise of the play but director, Regge Life, failed to provide the pace and comic timing to hold our attention through two acts.
There were, to be sure, compelling moments. In the first act, coached by the therapist Abagail, the closeted Ollie performs a psychodrama. He rehearses coming out to his 92-year-old father who may live with the gay couple. Angus is enlisted as the father, and with some malice, screws up rather than play along.
In the second act there is a role reversal and Angus vents his rage at Ollie as a surrogate for Grace. Even Abigail, it ensues, has issues to resolve.
Typically, the audience matched and exceeded the age of the characters. In presenting this play that may have been a programming motive. It did create a level of synergy. Based on audience response they enjoyed connecting with like minded characters.