Larry Kramer at 84
Writer/activist Fought for Response to AIDS Crisis.
By:
Aaron Krause

-

Jun 02, 2020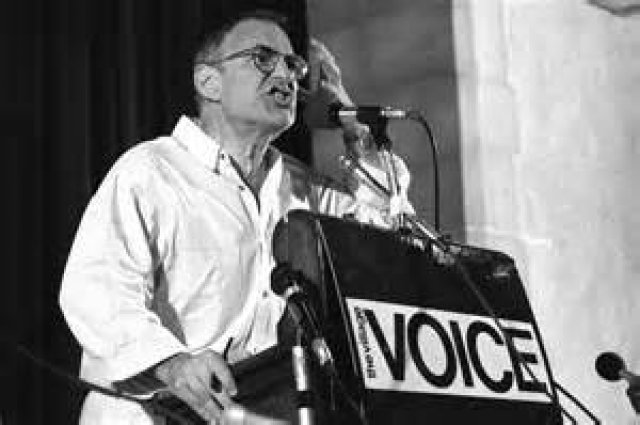 Larry Kramer, a fiercely passionate playwright, screenwriter, and advocate whom many credited with jump-starting the response to the HIV/AIDS crisis in America, has died in Manhattan. He was 84 and less than a month from his 85th birthday. His husband, David Webster, said pneumonia caused Kramer's death on May 27.
In one of his last interviews, Kramer said he was writing a play partially about Covid-19. However, he added that he might not live to finish the piece.
"It's about gay people having to live through three plagues," he said from his Greenwich village apartment. The plagues: H.I.V./AIDS, Covid-19, and the human body's decline. Specifically, Kramer was referring to a broken leg he sustained last April after falling in his apartment. He lie on the floor until his home attendant arrived hours later.
But during his younger and stronger days, Kramer stood up to government officials and others about the need to combat AIDS/H.I.V.
Kramer committed to advocacy work in July 1981 following an outbreak of Kaposi sarcoma. It's a form of cancer that health officials eventually attributed to AIDS. At the time, however, what we now know as HIV/AIDS was a mysterious illness among gay men.
As Kramer's associates and gay friends began dying of the illness, Kramer sought a solution. He'd apparently had enough of bureaucratic, medical, and political inaction. And so, Kramer brought like-minded people together to formulate a strategy to combat the disease. The group officially became the Gay Men's Health Crisis in early 1982.
From the start, Kramer's relationship with the group was uneasy. He soon grew impatient with what he viewed as group members' political timidity. By contrast, Kramer grew a reputation for aggressive and accusatory rhetoric. He aimed it at government and corporate entities, attributing the rapid spread of the epidemic to their inaction and apathy. In addition, Kramer penned a 5,000-word editorial in a gay publication. In the article, the advocate and artist blasted the National Institutes of Health's apparent unwillingness to release funding for research. Kramer also targeted then New York City Mayor Ed Koch. Specifically, he blasted the mayor's perceived apathy toward the outbreak, the unfairness of health insurance protocols, and what Kramer characterized as the irresponsible sexual behavior of other gay men.
Kramer resigned from the Gay Men's Health Crisis after the group didn't invite him to a meeting between members and Koch to discuss the disease. In fact, group members objected little; they considered him a loose cannon. For instance, Kramer reportedly referred to Koch, as well as other government and medical officials, as "murderers." One such person was Anthony Fauci — the same doctor widely considered today as a trusted and knowledgeable figure in the fight against Covid-19. Fauci is an American physician and immunologist. He has served as the director of the National Institute of Allergy and Infectious Diseases since 1984. Around that time, Fauci invited AIDS activists to participate in NIH proceedings. Previously, health officials barred the activists from the meetings.
At a community meeting in March 1987, Kramer called for more direct action. That resulted in the birth of the AIDS Coalition to Unleash Power. The organization used protests and demonstrations to raise awareness about HIV/AIDS and combat forces hindering the development of effective treatment. ACT UP rapidly grew in numbers.
Kramer was born on June 2, 1935, the second son of a lawyer and his wife, a Red Cross official. The family spent Kramer's childhood in Mount Rainier, Md. The family moved to Washington, D.C. in 1950. Three years later, Kramer began studying at Yale University. He experienced a rough start to school. For instance, during his first semester, he attempted suicide. Others reportedly alienated him due to his homosexuality. Later in the school year, Kramer experienced his first homosexual relationship. It was a brief affair with a German professor. Ultimately, Kramer discovered a niche in the glee club and appeared in campus theater productions. Meanwhile, with the help of family members, Kramer started receiving psychoanalytic treatment. Later, he would credit those sessions with saving his life.
Kramer graduated from Yale with a bachelor's degree in English in 1957. Following college, he served in the U.S. Army Reserves for six months before obtaining a position in the mail room of the William Morris Agency in 1958. Six months later, Kramer became a teletype operator and copywriter at Columbia Pictures. After studying with Sydney Pollack at the Neighborhood Playhouse and a stint at the Cambridge Drama Festival, Kramer returned to Columbia. This time, he examined the viability of scripts and books that the studio might option for screen adaptation.
In 1961, Kramer moved to London to set up a story department for Columbia. He helped in the production of such films as Lawrence of Arabia (1962), and Dr. Strangelove; or, How I Learned to Stop Worrying and Love the Bomb (1964).
In 1965, United Artists hired Kramer as an assistant to the president of the company. Soon, he assumed the role of associate producer on Here We Go Round the Mulberry Bush (1968). Kramer adapted the script from Hunter Davies' novel of teenage sexual experimentation. Then, Kramer produced and wrote the screenplay for Women in Love (1969), an adaptation of the D.H. Lawrence novel, directed by Ken Russell. For his work, he received an Academy Award nomination for best adapted screenplay. Kramer's final screenwriting effort was a musical adaptation (1973) of an earlier movie (1937) based on James Hilton's Lost Horizon (1933). With help from his brother, Arthur, a successful lawyer, Kramer invested the proceeds. This allowed him to concentrate on his own writing.
Kramer settled in New York City in 1972, where he turned to theatrical drama. His first produced play was a piece about four college friends, three heterosexual and one homosexual. However, the play did not earn favorable reviews. A disappointed Kramer then decided to write narrative fiction. He penned the controversial novel Faggots. It centered on a middle-aged gay man's search for love amid the pleasure-seeking aura of 1970's New York City. The novel ultimately was a critical and commercial success. However, both gay men and social conservatives criticized it. The former found fault with the novel's nihilistic assessment of gay, sexual, and romantic behavior. Meanwhile, social conservatives decried the piece for its graphic depictions of homosexual intercourse.
Among Kramer's later works, he wrote about his experiences as an AIDS activist in the play The Normal Heart (1985). The piece centers on Ned Weeks, a vitriolic activist whose lover is dying of AIDS during the outbreak's early years. The largely-autobiographical play won the Tony Award for Best Revival of a Play in 1911. In addition, the 2014 HBO adaptation won an Emmy Award for best television movie. Kramer later penned a sequel, The Destiny of Me (1992). It depicted Weeks' own battle with the disease. (Doctors diagnosed Kramer with the HIV virus in 1988, though the virus never developed into AIDS.
Kramer's other works included Just Say No: A Play About a Farce (1988). In it, Kramer targets President Ronald Reagan. The then president's inattention to the AIDS crisis resulted in its unnecessary escalation, according to Kramer.
In 1996, Kramer received the American Academy of Arts and Letters Award for Literature. Five years later, Kramer underwent a liver transplant necessitated by a hepatitis B infection.
The 2015 documentary Larry Kramer in Love and Anger chronicled his life and career. Also, "PBS News Hour" includes a segment looking back at Kramer's life. You can watch the video at https://www.youtube.com/watch?v=2D-IXWdYn5M.
Among those was spoke to ABC News in the aftermath of Kramer's death was Fauci.
"This is a very, very sad day," he said. "It's the passing of a true icon. I had a very long and complicated and ultimately wonderful relationship with him over more than three decades. We went from adversaries to acquaintances to friends to really, really dear friends. He would not hesitate a second to blast me publicly even though the night before we were having dinner together and having fun together. He's just an amazing guy. I took it in the right spirit."
Meanwhile, New York City Mayor Bill de Blasio referred to Kramer as "Fearless."
And Hamilton creator Lin-Manuel Miranda wrote on Twitter, "Don't know a soul who saw or read The Normal Heart and came away unmoved, unchanged. What an extraordinary writer, what a life. Thank you, Larry Kramer."
Actor Zachary Quinto said on Instagram, "Today we lost a titan, a warrior, an unflinching iconoclast."