Arthur Miller's All My Sons
On Broadway at Roundabout Theatre
By:
Karen Isaacs

-

Jun 04, 2019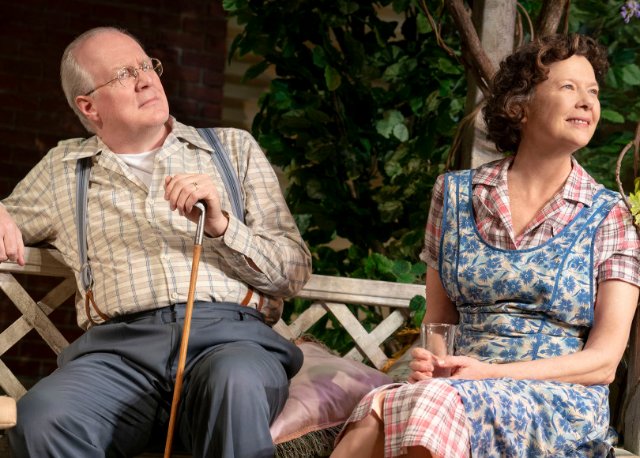 Tracy Letts, Annette Bening and Benjamin Walker are giving terrific performances in the Roundabout Theatre's production of Arthur Miller's All My Sons.
I'll admit that I have always liked this play and have seen a number of fine productions.
Written before Death of a Salesman there are some common themes with that classic: father and son relationships in particular but also how "the system" can wear down basically good men and cause them to violate their values and ethics.
In this case, the father is Joe Keller who, with his partner Steve Deever, owned a manufacturing company which during WWII produced cylinder heads for military airplanes. After a number of planes crashed (27), it was discovered that cracked heads had been certified and delivered by the company. While both Keller and Deever were charged and found guilty, Keller had put the blame on Deever and served only a relatively brief prison term. Deever is still in jail.
The sons are multiple: Chris, the younger son who has returned to the Midwestern town and is working in the company. But there's also Larry, the older son whose plane went down in Asia during the war and is still MIA. Plus there's Steve's son, George Deever, now a lawyer. The family had moved away (they had lived next door), but George is bitter that his father took the fall; he suspects Joe had more to do with the certifying of the cracked heads than his father.
Then there is Kate Keller, Joe's wife who is absolutely convinced that Larry is still alive and will return. After all, almost daily the papers are reporting similar cases of military men being found safe and sound.
When Larry's former fiancée, Ann Deever arrives at the house – at the invitation of Chris – Kate hopes to find an ally to her convictions. She believes that the reason Ann has not gotten engaged or married is because she, too, is waiting for Larry. But Chris has invited her home to propose.
We see the threads and the questions. What really happened in this pleasant suburban neighborhood? Is there more to Kate's conviction than just deluded hope? Will she ever accept Chris and Ann's relationship? Now that Steve is getting out of jail, what is next? Is Joe right that the neighbors have forgotten all about the incident?
As an early work of Miller's, the influence of Ibsen is very clear. You only have to be familiar with An Enemy of the People or Ghosts to see parallels. Some moments are melodramatic and the symbolism can be obvious; a tree planted in Larry's honor is struck down by lightening as the play begins.
Yet the play illuminates the questions of how we respond to pressure and the pursuit of success while keeping true to our principles. Or perhaps it is more about how humans can justify their actions, no matter what they are. As a play written just after the WWII, the public was trying to come to grips with the idea that so many "good" and "moral" people went along with so many atrocities. (This play was written a year or so before the classic short story "The Lottery" by Shirley Jackson, which also mines the idea of how we succumb to evil).
Even if the production was not outstanding, the play itself is worth seeing and pondering.
But this production is excellent. The three main characters – Tracy Letts as Joe, Annette Bening as Kate and Benjamin Walker as Chris deserve the accolades they have received. Each has mined the character so that the subtext is revealed. Letts and Walker are totally believable as father and son. I noticed that their body language was similar in the subtle way that happens in life. Bening presents a very strong Kate; sometimes Kate is played as almost deranged; here it is clear that this Kate is the glue is holding the family together.
Francesca Carpanini as Ann at times is confused by the swirling unspoken emotions and expectations in the family.
The one weak spot in the cast is George Deever who arrives like a deus ex machina to start the day of reckoning. As performed by Hampton Fluker at times it seemed as though he was in an entirely different play. His style was so opposite. The fault for this must lie with the director, Jack O'Brien.
Otherwise, O'Brien has a done a fine job in keeping this full-length play moving. It may start a bit slow but once Letts, Bening and Walker enter, the energy and involvement ramps up.
Douglas W. Schmidt has created a perfect backyard of a 1940s suburban neighborhood house with adjoin backyards. Natasha Katz and John Gramada's lighting and scenic designs, respectively help establish this almost-idyllic mood. Jane Greenwood's costumes reflect that late 1940s fashion.
All My Sons is at Roundabout's American Airlines Theatre, 227 West 42nd Street. The production has been extended through June 30. Tickets are available at Roundabout Theatre.
Courtesy of Two on the Aisle.