Curtis Stewart Erupts at Merkin Hall
Kaufman Music Center Produces Ecstatic Music
By:
Susan Hall

-

Jun 04, 2023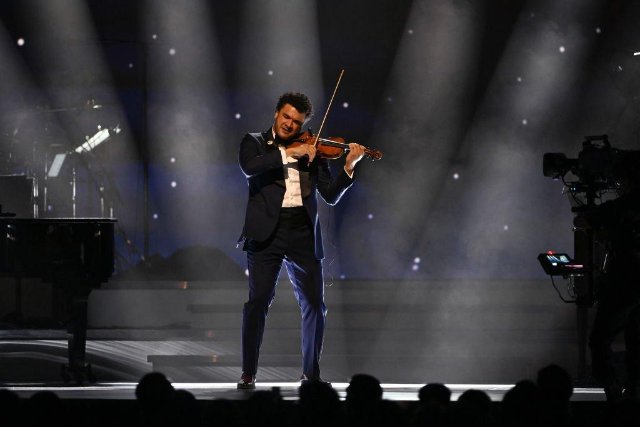 Curtis Stewart is a man for all seasons. He took over Merkin Hall at the Kaufman Center this week.
It was an ecstatic evening, part of the Ecstatic Music series Kaufman Music Center co-presented with New Sounds hosted by the venerable John Schaefer.
Stewart was joined by Aaron Diehl, the Harlem Quartet, Mazz Swift, and musicians from the Kaufman Center's Special school. Many young musicians contributed to a splendid string orchestra, standing!
The program was as eclectic as Stewart is, but at its heart was the notion, probably first developed by Claire Chase and possibly Franz Liszt before her (if we can rely on The Who's Roger Daltrey in Ken Russell's film Lisztomania) that music, the instrument, and the body are one.
A musical expression arises from technical perfection learned in institutions like the Eastman School of Music (which Stewart attended) and Oberlin (Rhianna Giddens' alma mater). These young people will not be tied to traditional performance. Instead, they give full throttle to their complete selves: their histories, their feelings, their personal musical colors and textures Audiences respond. The gift we are receiving is so fulsome.
This notion may be at the root of our response to the human voice, which can never escape its origins. Sound and body are one when an artist sings. And this one-ness is what Stewart is about. He gives us not only heart and soul to fall in love with, but his entire self wrapped up in his voice, and in his violin, no longer a separate vehicle, but an appendage of his being. Rhiannon Giddens and her banjo do this too. As an audience member, you sense that the gift you're being given is complete and then some.
Stewart is introducing a new record volume Of Love, which honors his mother her and contributions to music and especially to his being and his music. He tended her as she slowly died of a brain tumor. He sang at the very moment the great composer Kaija Saariaho was dying of a brain tumor in Paris, one of the serendipitous tributes that this complete spiritual immersion offers.
Selecting videos of Elektra Kurtis Stewart biking in the park with her violin case gripping her back, a broad smile crossing her sunny face, we begin to sense her presence. She speaks of the roots of music in folk traditions, and her son has picked up on these. His shoe can be percussion. His body movements rock.
Some have objected to Stewart's nomination for Emmys in the classical category, but if the classical form is to survive, it needs advocates like him (and Giddens and Chase).
His friend Aaron Diehl performed Oscar Petersen's Hymn to Freedom and David N. Baker's Deliver My Soul on the piano, in duet. Diehl is classically trained and you can hear it. Yet he has breached the barriers to incorporate jazz in gorgeous rhythms and tones. His quiet helps us listen more closely.
While Philip Glass has talked about his friend the piano, an instrument he treats with the greatest courtesy, never placing a drink on its body, always respectful, Diehl joins his instrument, melding his movement and the gentle gesture of his hand turning his iPod page on its rack.
Stewart traveled back in time in the second part of the program. Yet the music propels us forward. His violin led the assembled string orchestra in his Embrace, a world premiere American Composer Orchestra commission. Selections from Samuel Coleridge-Taylor's Negro melodies followed. The program concluded with his adaptation of Joseph Bollogne's Knight music.
It was a triumphant evening of music in Merkin Hall.