After All The Terrible Things I Do At Calderwood
Self-Loathing and Acceptance Emotionally Wrestle
By:
Mark Favermann

-

Jun 05, 2015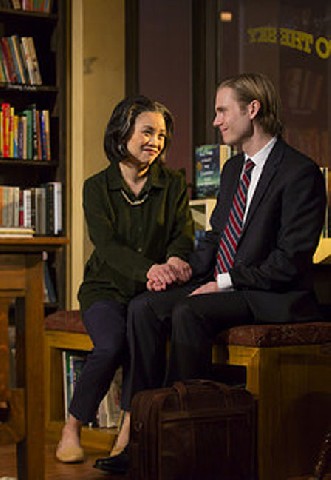 After All The Terrible Things I Do
By A. Rey Pamatmat
Directed by Peter DuBois
Featuring Tina Chilip as Linda and Zachary Booth as Daniel. The Creative Crew: Clint Ramos, Scenic and Costume Design, Lap Chi Chu, Lighting Design and M.L. Dogg, Sound Design.
At the Calderwood Pavilion At the Boston Center for the Arts (BCA) in Boston's South End
Presented by the Huntington Theatre Company
May 22 to June 21
Approximately 1 hour and 45 minutes with no intermission
Sometimes personal pain not only has individual connections but has universal implications as well. This is true of The Huntington Theatre Company's current production of After All The Terrible Things I Do is an example of this. The play by A. Rey Pamatmat is a penetrating dialogue between two troubled individuals who are more alike than different. It is a theatrically emotionally draining experience. This is not a simple story to watch.
The story is not very pretty. A young gay white man brings his personal baggage to his interview and later conversation with his older Asian woman boss. She in turn discusses the loss of her only son as a teenager. Their baggage gets tossed around, painfully opened and quite intermingled.
Also, using the bookstore and books as connective devices, the narrative is underscored by literary references and a lot of allusions to the work of Poet Frank O'Hara, a favorite of Daniel.
The play is full of the poignancy and problems of growing up and being an adult gay in America. These are expressed in personal detail by Daniel's descriptions of own trials and tribulations. Initially, Linda's previous generation's prejudices and actions even homophobia act as a counter weight to Daniel's life-story. However, this soon changes, and the two wrestle emotionally with their lives and loves. The two are quite connected.
The acting is very solid. Zachary Booth as Daniel fills the character. Tina Chilip's Linda seems a great fit as well. However, the playwright has given more gravitas to the Daniel character than even an intellectually gifted 22 or 23 year old warrants. Young college grads are not usually so deeply introspective or at all too self-aware. The character feels imbued with too much . The Linda character seems more two dimensional and less well-developed even though she is probably in her 40s and has led a much more complicated life.
Each of the two actors do the best that can with what they were given to work with. This is probably due somewhat to the skill of the Huntington's Artistic Director Peter DuBois who has beautifully choreographed this difficult dance of denunciation, denial and eventual acceptance.
The story takes place in a beautifully rendered, comfortable small locally-owned bookshop. The usual wonderful Huntington Theatre crafted set was created by Clint Ramos. This setting with its exposed rooftop is a major character in the narrative itself. The set not only showcases the actors brilliantly, but embraces and often emphasizes the narrative seamlessly.
Though provocative, this play could use a bit of playwright reworking. Perhaps, Daniel should be older? And certainly Linda could be better formed?
However, there are many good things expressed by this show. The often thoughtless pain and deep suffering caused by individuals and society are shared by the characters often stunningly with the audience.