Master of Puppets
World Premiere at Legacy Theater
By:
Karen Isaacs

-

Jun 06, 2023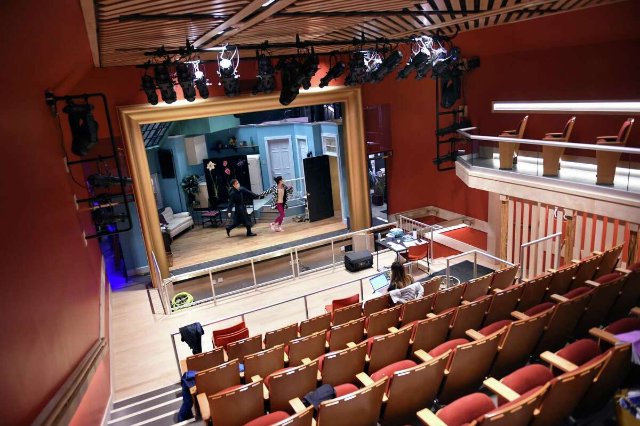 Vince and Linda McMahon should be getting royalties from the world premiere play, Master of Puppets, now at the Legacy Theater in Stony Creek through Sunday, June 11.
This very uneven work owes much to their bio — the two main characters, Victor and Delia Kragston are very similar to the McMahons. Victor started WWI – a professional wrestling empire; Delia was an integral part of running the operation until she was forced out by Victor and decided to enter politics. Delia badly lost a race for Governor and, during the play, is running for the US Senate.
Master of Puppets suffers from problems that afflict many new works. It doesn't know what it wants to be or what it wants to say. Is it a comedy? Satire? A thriller? It tries to be all of these, which results in uneven shifts in tone.
Act 1 is more comedy/satire than anything else. While Act 2 becomes a rather confused revenge story that tries to misdirect us once too often.
Is this a story of corporate/business hardball? A story of marriage and loyalty?
Besides Victor and Delia, the characters include Rainy Dayes, a washed-up wrestler who is now Victor's right-hand man; Ted – the TV executive who has hesitations about re-signing the league to a new contract; Jace Powers – the newest "star" with blond hair and baby face; and Leonard "Reaper" Barnett, the older star who is one hit away from a health catastrophe.
Yes, there is a puppet – or rather mannequin in the show. For some unexplained reason, the puppet is the writer who scripts the shows. To add some gratuitous offensiveness, the puppet is a Jewish gay man in a wheelchair. Victor makes numerous comments that are cringeworthy. In act two the mannequin is manhandled by a rival group. This is one element that definitely needs rethinking.
Act one could more effectively set up the crosses and double-crosses that occur in Act 2. In reality, the play which runs just over two hours with intermission, could be reduced to a tighter 90 minutes or so.
The scenic design by Jamie Burnett (who also did the lighting) is effective, though it did require much moving of elements during the play. Adam Jackson's sound design sets the mood for the scenes in the wrestling venues.
Direct Gabe McKinley has assembled a cast with multiple professional credits. At times they are stymied by the problems in the script. Kurt Fuller brings the most verisimilitude to his role as Victor. It is not surprising; he played opposite Hulk Hogan in the film No Holds Barred, produced by Vince McMahon!
Amanda Detmer as Delia does what she can with a role that seems very confusing. When a character's actions totally surprise an audience, it is a sign that something is missing in either the script or the performance. Michael Bobenhasuen as the baby-faced Jace, brings the necessary swagger, while Joshua Heggie as the "Reaper" conveys the despair.
Michael Hogan as the abused but loyal Rainey Dayes does the best he can with a role that seems to veer from "dumb jock" to "wily mastermind."
The night I attended, the audience loved it, but it was clear that many had relationships with those involved with the production.
For information or tickets, visit LegacyTheatreCT.org.
This content is courtesy of Shore Publications and zip06.com