Parade Returns to Broadway
Rave Reviews and Sell Out Crowds
By:
Edward Rubin

-

Jun 07, 2023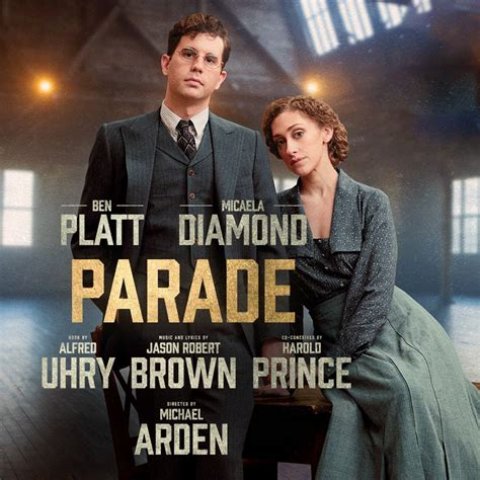 Alfred Uhry's musical Parade, co-conceived by Hal Prince with music and lyrics by Jason Robert Brown, is now playing to sell-out crowds and rave reviews, and back on Broadway after 25 years (for a limited run through Sunday, August 6) at the Bernard B. Jacobs Theatre in New York City.
A long time in coming, Parade took its first Broadway bow at Lincoln Center Theater in 1998 under the direction of Harold Prince where it won a Tony Award for best score and book. It ran for 39 previews and 84 regular performances.
In a major reworking in September of 2007, Parade, directed and choreographed by Rob Ashford at the Donmar Warehouse in London, opened to positive reviews. As one critic noted, "the Donmar production establishes Parade as an ambitious, musically daring piece that deserves praise attempting to intertwine the political and the personal."
Crossing the pond to stateside, Parade, directed by Michael Arden, made its second U.S. bow to glorious reviews at New York City Center's Encores series in November 2007. Lionizing the musical, the New York Times wrote, "City Center's gala production delves further into America's history of racism, antisemitism, violence, and justice delivers the best-sung musical in many a New York Season."
Set in Atlanta in the year 1913, Parade follows the real-life story of Leo Frank, a Jewish Northerner from Brooklyn who was accused in the sexual assault and murder of Mary Phagan, a 13-year-old girl who worked at a pencil factory where Leo was the superintendent. The telling of this story begins on the same day that the city of Atlanta is celebrating their yearly Confederate Memorial Day.
Giving an atmospheric hint of what's to come, the musical opens with the Brown's song "The Old Red Hills At Home." Here we are greeted by a young newly enlisted Confederate soldier (Charlie Webb) bidding goodbye to his girlfriend as he goes off to the Civil War. Jumping forward we meet this same soldier (Howard McGillin), now 50 years older, minus one leg and having no lingering regrets in having fought for the purity and truth of his Georgia's way of life, singing that he'd "Gladly give his good right leg again."
The calling card stars of this musical are Ben Platt, who won a Tony in 2017 for Dear Evan Hansen (playing Leo Frank), and Micaela Diamond, as Lucille Frank, Leo's Southern Jewish wife (she made her Broadway debut in The Cher Show in 2018). While both actors gift us with stellar 2023 Tony-nominated performances, it is Parade's crazy quilt of supporting cast members in star-making roles that require frequent turnings on a dime and give the leads a serious run for their money.
The second star of the show and rightly so belongs to Dane Laffrey's ingenious three-tier set which effectively whisk both actors and audience to a myriad of scattered Atlanta locales. Here we get to visit the pencil factory's office, the courtroom where Leo's trial is taking place, a chain gang working on a railroad, a ballroom at the governor's mansion, the prison cell where Leo is incarcerated and ultimately to the gallows where Leo meets his end.
Parade covers the years 1913 from the day of Mary Phagan's (Erin Rose Doyle) murder, which galvanized both the city of Atlanta and the country, through the two tortuous years of Leo Frank's rigged trial, false witness testimony and failed appeals to his 1915 lynching by an angry crowd of violent antisemitic, Jew-hating Atlantans.
Still hurting from losing the war to the North, and disagreeing with Atlanta's Governor John M. Slaton's (Seth Allen Krill) commutation of Frank's death sentence to life imprisonment, Frank was dragged from his jail cell and hung, no doubt by many of the same White Georgians who chanted "hang 'im, hang 'im, make him pay," outside the courthouse during Frank's trial. Still proclaiming his innocence, Frank ends his life by singing "Shema Yisrael" ("Hear, O Israel"), a prayer that serves as the centerpiece of Jewish religious practice and devotion.
Act One sets the scene as we meet the major players interested in furthering their own careers. They band together to intimidate, threaten, and force the Franks' household maid (Minnie McKnight), the young girls who work at the pencil factory (Ashlyn Maddox, Sophia Manicone, Emily Rose DeMartino), the factory janitor (Eddie Cooper), as well as the madam of a local brothel into giving false testimony during the trial. Even Mary Phagan's good friend George "Frankie" Epps (Jake Pedersen), the last one to see Mary Phagan alive, is called on to replay their last meeting.
Jumping on the bandwagon in both acts, each hellbent on bringing down Leo Frank, are reporter Brent Craig (Jay Armstrong Johnson), Tom Watson (Manoel Feliciano) the publisher of The Jeffersonian, an antisemitic Christian newspaper, and district attorney Hugh Dorsey (Paul Alexander Nolan).
After Micaela Diamond sings the extremely moving song "You Don't Know Him" which extols the virtues of Leo – it comes in the middle of Act One – she is left to face the ugliness of Brent Craig (Jay Armstrong Johnson), a sleazy reporter. At first sweet talking her, he ends by telling her "You're sayin' he's decent, you're sayin' he's honest, but you're not sayin' he's innocent."
Act Two opens with the song "A Ramblin' and a Rolling" in which Angela (Courtney Carter) and Riley (Douglas Lyons) – two Black workers at the governor's mansion – sing "I can tell you that this as matter of fact/that the local hotels wouldn't be so packed/if a little Black girl had been attacked" – the point being that if the victim had been a Black girl, nobody would have cared.
Still in jail during most of Act Two, Leo and his wife appear to go through a sea change. His only hope to getting out of jail, rests on the shoulder of his wife who is fighting hell for a retrial. Here Diamond delivers a show stopping song "This Is Not Over Yet." When all of her efforts fail, Leo and Lucille appear to fall deeper in love.
In one strange surreal scene, seemingly coming out of nowhere, one is lead to thinking maybe Leo really did murder little Mary after all. Here Leo, in a frenzied performance recounts the before, during and after "if he did" testimonies, the same ones used against him during his trial.
Another highly unusual and unexpected directorial conceit had Ben Platt sitting quietly holding his head in his hands during the play's entire intermission. Of course, this sets the audience to thinking.
Not told during the play, Lucille was only 27 when Leo died. Born in 1888 she died at age 69 in 1957, 42 years after Leo's murder. Lucille never remarried but stayed in Atlanta the rest of her life. working at various stores. Till the end, she continued to sign her name Mrs. Leo Frank. In her will she stipulated that he remains not be interred next to her husband. Instead, according to her cousin, her remains were secretly buried between the graves of her parents at the Oakland Cemetery in Atlanta.
Leo, who sang "How Can I Call This Home," a song early in Act One about never belonging in Atlanta got his wish. He is buried in the family plot at Mount Carmel Cemetery in Glendale, New York.
For those theatergoers who are unable to attend the Broadway performance of Parade, a wonderful and intimate 2012 filmed one-set (2 hours and 9 minutes) production at the Wallace Bruce Theater in Santa Cruz, CA, minus the Broadway back screen historical projections of Sven Ortel can be viewed on YouTube.
Cast: Cast: Ben Platt (Leo Frank), Micaela Diamond (Lucille Frank), Alex Joseph Grayson (Jim Conley), Sean Allan Krill (Governor Slaton), Howard McGillin (Old Soldier, Judge Roan, Paul Alexander Nolan (Hugh Dorsey), Jay Armstrong Johnson (Brit Craig), Kelli Barrett (Mrs Phagan), Courtnee Carter (Angela), Eddie Cooper (Newt Lee) Erin Rose Doyle (Mary Phagan), Mandel Feliciano (Tom Watson), Danielle Lee Greaves (Minnie McKnight), Douglas Lyons (Riley), Jake Pedersen (Frank Epps)
Technical: Scenic Design: Dane Laffrey, Costumes Design: Susan Hilferty, Lighting Design: Heather Gilbert, Sound Design: Jon Weston, Production Design: Sven Ortel, Hair and Wig Design: Tom Watson, Production Stage Manager: Justin Scribner, Music Coordinator: Kimberlee Wertz
Parade runs 2 hours and 30 minutes with one 15-minute intermission. Directed by Michael Arden, book by Alfred Uhry, and music and lyrics by Jason Robert Brown, the musical officially opened on Thursday, March 16, 2023 and is currently running through Sunday, August 6, 2023 at the Bernard B, Jacobs Theatre, , 242 W. 45th Street in New York City. For tickets click here, or call Telecharge at 212-239-6200.