LA Dance Project Visits Charleston
More Coverage of Annual Spoleto Festival USA
By:
Sandy Katz

-

Jun 08, 2016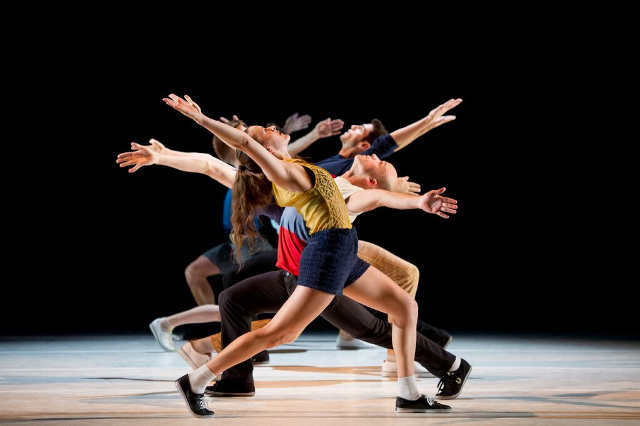 The L.A. Dance Project dancers performed with modern contemporary music and demonstrated their classic ballet-style mesmerizing the Spoleto Festival audience. They used all the moves that make watching dancers so enjoyable.
The six dancers were joined by two more dancers for the last piece. Exhausting rehearsals paid off with a dance group that doesn't miss a beat. The group of dancers performed three sets, 20 minute each, with 20 minute intermissions. The segments included: Murder Ballades, Harbor Me and Hearts & Arrows. Each of the three pieces stood on its own and sent individual messages through fanciful and graceful moves.
Murder Ballades was choreographed by Justin Peck to the score of Bryce Dessner with costume design by Peck. Anticipating a very athletic segment, the six dancers were dressed in sneakers and casual summer clothes with shorts and tops. The dancers twisted, turned, leaped, went to the floor, and performed precision antics depicting dark connotations of murder, yet the backdrop on stage was pleasantly colorful.
Among the young and talented dancers one young lady, a graduate of Juilliard School, Julia Eichten who struck me as particularly special. Her brunette pony tail seemed to keep swishing around and coordinate with her dancing in a most enjoyable way.
Coincidentally, during the first intermission, a lovely woman asked if I was reviewing this performance and I answered yes. Then she came by again to strike up a conversation by telling me she was Julia's mom here to see her daughter perform. She was on her way back to Minnesota from Florida. She didn't need to bribe me into writing about her daughter because I showed her on my writing pad that I already acknowledged Julia out as special.
The other dancers included: Stephanie Amureo, Laura Bachman, Anthony Bryant, Aaron Carr, Morgan Lugo, Nathan Makolandra, Robbie Moore, and Lilja Rachelle Ruriksdottir.
Harbor Me was choreographed by Sidi Larbi Cherkaoui to the music of Extension, Park Woojae Geomugo. This music sounded agonizing like a Yiddish kvetch. The stage was mostly dark with slight illumination from lights filtered through smoke. The dancers spent lots of time rolling around on the floor in geometric pattern wrapping around each other. This movement upstaged the dancers because the lack of lighting was a distraction and made it difficult to see the actual performance.

The finale was a fun-filled dance presentation by choreographer Benjamin Millepied, founding director of L.A.Dance Project. He used the music of Phillip Glass who has been featured for many years at Spoleto Festival USA. This time we heard String Quartet no. 3 "Mishima" as the music that projected the group into mini outbursts of dance energy/ They were coming on and off stage in a blink of an eye. The dancers had individual and duet and ensemble segments that complemented their assets. Whimsical, cute costumes accentuated their flips and splits.
This ambitious and remarkable company took Spoleto Festival USA by storm.Y'all come back!