The Father by Florian Zeller
West Coast Premiere at North Coast Repertory Theatre
By:
Jack Lyons

-

Jun 10, 2018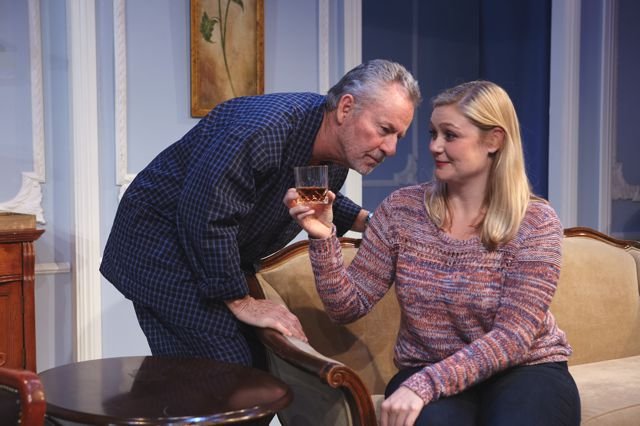 In the world of theatre and its artistic kissing-cousins cinema and television, everything begins with "the word" (both Biblically and artistically). Good creative writing can elevate performances to greater moments on stage when those words rest in the creative hands of gifted trained actors.
North Coast Repertory Theatre (NCRT) Artistic Director David Ellenstein, has a penchant for selecting plays that challenge, yet still entertain, his savvy, sophisticated audiences, donors, and supporters. Case in point is the West Coast Premiere production of "The Father", from the pen of French writer and playwright Florian Zeller now on stage at NCRT that is skillfully directed by Ellenstein.
Zeller's latest play, a tragic/comedy with a translation from multi-award winning Tony and Oscar playwright/translator Christopher Hampton, practically guarantee's one an evening of stimulating quality theatre. Hampton does all the translations for French/Iranian playwright Yasmina Reza of "Art" and "God of Carnage" fame, as well as Zeller's plays.
Director Ellenstein has gathered a wonderful cast that breathes life into Zeller's on-the-nose play of a subject matter that has been vexing societies for millennia: Dementia and now, how we as a 21st century society, are beginning to come to grips with end-of-life issues; that ultimately come to everyone on the planet.
Now before you turn the page and tune out. Wait. You will be depriving yourself of a life-affirming opportunity to not only to learn, but to enjoy as well from this splendid production and cast. There is humor in all of life's endeavors. It's hiding in plain sight. We just need to confront and embrace life in all its binary forms, ie, happy and sad. Good and bad, right and wrong, love and loss; after all we're only alive for nanoseconds on this turbulent blue orb spinning away toward the never ending expanding universe.
Broadway and film star Frank Langella won his third Tony playing Andre, the father of the play's title. His take was to play him as a man dealing with anger management issues trying to beat the rap, so to speak. That's merely one actor's darker vision. It's not thankfully, the only way to tell Andre's story of what's going on in this non-linear, flash forward; flash backward, comic-tragedy play on stage at NCRT.
Audiences of NCRT's production catch on quickly to the reason of Andre's behavior. His speech is peppered, mainly with bewilderment, not anger, which to me is part of the beauty of live theatre. Not only is every production new or fresh. No two performances are exactly the same every night. Actors tend to be constantly peeling the onion to its core as a way of finding the hidden character barriers and nuances in their performances as they search for that perfect theatrical moment.
The performance by journeyman actor James Sutorius, is a triumph of timing, introspective analysis, and a delivery that rings true, as well as poignant. It's a star-turn performance richly nuanced and deserving of the standing ovation that he and the entire cast received on opening night.
The story in short, set in Paris, in the present, centers around Andre (Sotorious) who is sliding ever so quickly into his dementia, to the concern of his daughter Anne (a caring but frustrated Robyn Cohen), who realizes that her father can't be left alone to live by himself any longer. He accuses his visiting health-care worker of stealing his watch, which Anne always finds in his secret hiding place where he keeps his valuables. He doesn't recognize his son-in-law Pierre (Mathew Salazar-Thompson), anymore and repeatedly asks Anne what is this man doing in his apartment? Dementia patients can't grasp the reasons why they're in a strange situation in the first place. To them everyone else is confused.
These are poignant trip-wire moments and behavior that some members of the audience will no doubt recall in their own families and those of relatives and friends. I can attest to that on a personal basis. Solid support from Jacque Wilke as Laura, Shana Wride as The Woman, and Richard Baird as The Man, is the icing on the cake of this stellar production.
As usual, resident set designer Marty Burnett, and resident lighting designer Matt Novotny provide a sleek, beautiful Paris apartment set, which magically become different rooms and a hospital room which is then splashed with lights of muted white and hues of blue; very Parisan. The costume designs of Elisa Benzoni, are appropriate and functional. The sound design by Melanie Chen Cole is spot-on. Kudos for selecting chello music, which is so appropriate. Prop designs by Holly Gillard complete the creative team led by director Ellenstein. Aaron Rumley stages manages this excellent production.
"The Father", performs without an intermission at about 95 minutes, at North Coast Repertory Theatre, in Solana Beach, CA and runs through June 24, 2018.
Posted courtesy of Desert Local News.