Hauptmann by John Logan in Chicago
Lindbergh Baby Killer Trial at City Lit Theater
By:
Nancy Bishop

-

Jun 12, 2016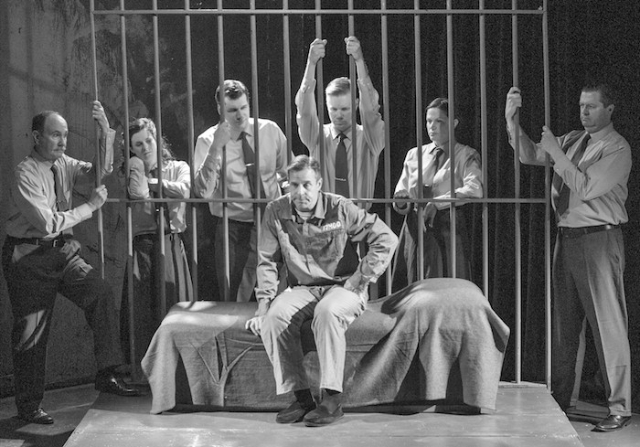 Bruno Richard Hauptmann, the "baby killer," the man tried, convicted and executed for the 1932 kidnapping of the Charles Lindbergh baby, is vividly personified by George Seegebrecht in City Lit Theater's new production of Hauptmann by John Logan.
Although you know the outcome of the play before it starts, director Terry McCabe creates a tense and engrossing version of the story of the man who may have been executed for a crime he did not commit. Hauptmann, a German immigrant, was almost certainly denied a fair trial in 1930s America, between two wars against Germany.
For most people born in the mid-20th century and beyond, memories of the Bruno Hauptmann story and the kidnapping of the Lindbergh baby are lightly airbrushed chapters in American history. And like the Leopold-Loeb case in Chicago, it's a story that's endlessly fascinating and often reprised and reinterpreted.
Both stories are part of playwright Logan's oeuvre. His play Hauptmann, premiered in Chicago in 1986, profiles Hauptmann and gives us a look at Lindbergh, the fair and handsome American hero. Logan's first play Never the Sinner, produced last November at Victory Gardens, profiled Richard Loeb and Nathan Leopold from their crime through their trial. That was the first "trial of the century."
McCabe, who directed the 1986 production of Hauptmann, also directs City Lit Theater's 30th anniversary production in the same location. The now-defunct Stormfield Theatre staged Hauptmann in the current City Lit location on Bryn Mawr. Stormfield also staged Never the Sinner in the same location.
The play introduces us to Hauptmann and his wife as well as Charles and Anne Lindbergh, the elite couple whose 20-month-old baby, Charles Jr., was kidnapped in March 1932. But the story is mostly Hauptmann's and Seegebrecht successfully steers us through events, letting us witness the unfortunate police questioning, the ridiculous court testimony and colorful (and biased) newspaper reporting that was typical of the day. (I wish City Lit's photographers had used real 1930s press cameras—those fabulous old Speed-Graphics, instead of smartphone cameras.) Even well-known journos like Damon Runyon and H.L. Mencken reported on the 1936 trial in Flemington, NJ.
The other six members of the cast portray the aviator-hero Charles Lindbergh (Ryan David Heywood), his wife Anne (Kat Evans), Hauptmann's wife Anna (Sheila Willis), plus guards, cops, reporters, witnesses and the judge. Jerry Bloom, who was in the 1986 cast, does an exceptional turn playing four different experts while not moving from the witness chair, but modifying his posture, manner and voice to create each one as a distinctive character. It's a low-key example of Bloom's acting versatility. Brian Pastor and Robert Kaercher complete the cast.
James Dardenne's set design is a raised platform that serves as Heuptmann's death row cell plus six straight-back chairs that are moved around the playing area as it changes from home to police station to courtroom. Margaret Lorinczi's lighting contributes to the dramatic changes. Songs by Fred Astaire provide musical interludes and music for Charles and Anne's dance scene early in the play.
Logan was a successful playwright in Chicago for about 10 years. Another of his works is Riverview: A Melodrama With Music (1992), about the gone-but-not-forgotten amusement park at Belmont and Western. But he's probably better known as a screenwriter for films such as Gladiator (2000) and The Aviator (2004), several Star Trek scripts, plus James Bond films such as Skyfall and Spectre. He also created the television series, "Penny Dreadful," for Showtime and Sky.
Hauptmann continues at City Lit Theater, 1020 W. Bryn Mawr Ave., through July 10. Performances are Friday-Sunday plus two Thursdays (June 30 and July 7). Tickets for $29 can be bought online or by calling 773-293-3682.
Reposted courtesy of Nancy Bishop and Third Coast Review.