White Man on a Bus by Bruce Graham
Curious Theatre in Denver Produces
By:
Susan Hall

-

Jun 12, 2016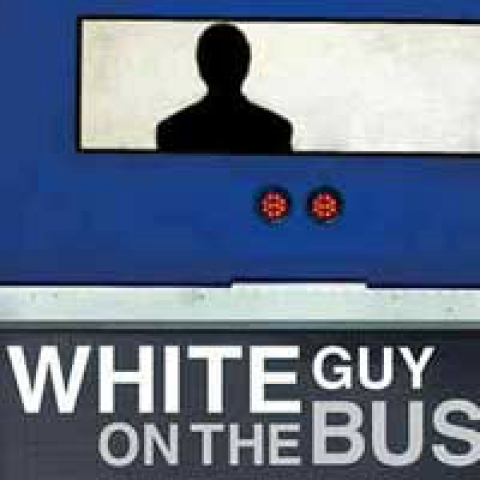 White Man on a Bus
By Bruce Graham
Directed by Chip Walton
Curious Theatre
Denver, Colorado
June 10, 2016
Cast: Rachel Bouchard (Molly), Dee Covington (Roz), Jada Dixon (Shatique), Sam Gregory (Ray), Andy Waldschmidt (Christopher).
Ray, played in a towering performance by Sam Gregory, is standing alone in a multi-tiered set. He is stage left as as the curtain rises. Mottled light makes him look lonely, eerie and ominous. He is a figure who is neither white nor black.

When the lights come up we are in his posh suburban home, where Ray, a prosperous 'numbers' man in finance, is trying to persuade his wife to let him accompany her to the National Teacher Awards. Roz is a champion teacher, voted number one in her state. She teaches in a ghetto school where she tries to help young African Americans.

Dee Covington in the role of Roz makes exaggerated jokes about her students going nightly to 7-11s and robbing them.
Christopher, their surrogate son, is defending his PhD thesis on the image of the African-American male in advertising. He has found that, contrary to social reality, African-American males must be portrayed as CEOs-in-command in commericals.

The first level of the set, brilliantly designed by Michael Duran, is Ray and Roz's home, where Christopher and his new fiance appear from time to time. On the second level, is an urban bus whose destination we do not know. The third level is the apartment of a young African American woman struggling to bring up her young son alone.

Ray wants to sell his home, retire from work and move to Tahiiti. Roz says that he can't paint like Gauguin, and anyway she wants to teach as long as she can. As the story unfolds, we discover that it might have been better for the family to head for the South Seas.
Time is juggled to create mystery, but that sometimes creates confusion in the first act. As Ray rides the bus, he zeros in on the young African American woman. We don't know why, but she gets him quickly. Why are you on the bus? Don't you have a car? It's not a BMW and it's not a Lexus. It's a Mercedes. Why is Ray on the bus?
The woman turns out to be a perfect target for Ray. Most mothers can make terrible decisions when the well-being of their children is at stake. Jada Dixon is outstanding in tis role.
Vengeance is one theme of the play. We most often associate this with films. Live on stage, its consequences are felt in more depth and with horror.
Some of the truest and most wrenching comments about race are made on stage in this play. "If Bernie Madoff had been hung in Central Park 'till he died you wouldn't need the SEC." "Killing is really easy to do."
Curious Theatre in Denver is committed to mounting plays with a powerful punch. Acting and production are first rate. This play will linger long in the hearts and minds of audiences fortunate enough to see it.