Heathers The Musical a Smash Hit
At Broward Center for the Performing Arts
By:
Aaron Krause

-

Jun 14, 2016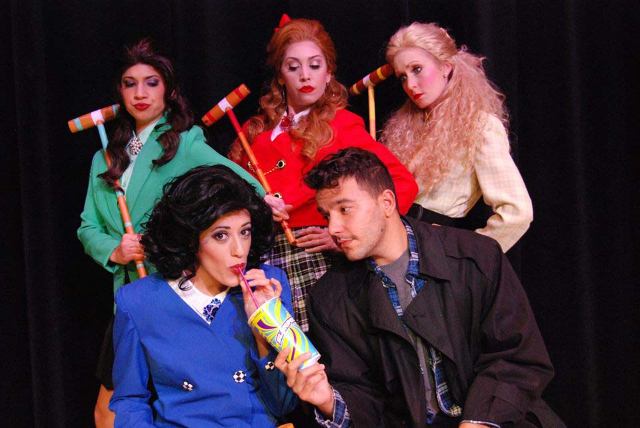 The adjective "Beautiful" seems out of place in a show dealing with homicide, suicide, school bullying and peer pressure.
That's especially true in light of the recent mass shooting in Orlando that left about 50 dead and about the same amount injured.
Some may feel uncomfortable watching a comedy about homicides in the wake of the tragedy. But the stage adaptation is more sensitive, heartfelt and soulful than the film. The play, which offers more emotional depth than the film, illuminates the problems of violence in the country. It doesn't make light of it, unlike the movie, which seems to take on a flippant, casual atmosphere following the death of each character.
The lyric "Beautiful" fits right into the musical adaptation of the 1989 cult classic "Heathers" if you look at the heart of the darkly comic, electric, fun show.
At its core, the musical version carries an inspiring message that should speak to us, especially in these hate-filled, divisive times.
Regardless of the groups into which we fit, irrespective of our race, religion or appearance, beauty radiates from within us. That's the ultimate message with which the tale seems to leave us.
"Heathers The Musical" is receiving a heart-felt, hard-charging, vivacious and comic production by the Carbonell Award-winning Slow Burn Theatre Company through June 26 at the Broward Center for the Performing Arts in Ft. Lauderdale.
The young, dynamic actors comprising the cast have strong, expressive voices, backed by a vibrant live orchestra that, unfortunately, renders some lyrics incomprehensible.
Cast members are convincing as high school students navigating a particularly awkward time in a person's life. The thespians are led by director and choreographer Patrick Fitzwater. His smart staging and equal emphasis on the heartfelt and humorous are commendable.
The actors perform on scenic designer Sean McClelland's brightly-colored set featuring a few lockers and boxes that give the actors objects on which to stand. This allows them to be more easily highlighted at key moments.
Lighting designer Becky Montero uses appropriate colors, such as red to symbolize the bloody after-effects of violence and blue to reinforce tender, somber moments. The lighting also nicely focuses the actors and is harsh when it needs to be.
As many know, the story centers on a powerful clique of popular girls all named Heather at an Ohio high school in the late 80s and what happens when power shifts.
The musical adaptation never comes across as preachy.
In the stage play, fans of the film can still enjoy the many guilty thrills and dark humor. Memorable lines such as "Did you have a brain tumor for breakfast" remain.
Musical book writers, composers and lyricists Laurence O'Keefe and Kevin Murphy have also kept the line, "Dear diary, my teen angst bullshit has a body count," stated by heroin Veronica Sawyer.
In the aftermath of a shooting at a gay bar in Orlando early Sunday that left about 50 dead and wounded about the same number, many may consider the line offensive, insensitive and revolting.
Still, theater and other art forms reflect life. The line is brutally honest in today's post-Sept. 11 world of with gun violence, terrorists and incidents of bullying leading to mass school shootings and suicides.
A musical, with its songs, has a way of heightening the emotions of its characters. "Heathers The Musical," which played Off-Broadway in 2014, burrows into its characters' souls with its music, featuring songs that were nominated for an award.
This isn't the type of musical with memorable, hummable and tuneful songs. But the show's mix of in-your-face numbers with softer, gentler music deepens mood and enhances what we know about the characters from the film.
We even get a glimpse into another side of the villain and "Chief Heather," the one with the last name of Chandler.
Sawyer and rebel J.D., after poisoning her, write a suicide note to make it look like she took her own life. In the note, they imagine a side of Chandler the bitchy bully might have tried to conceal:
"Believe it or not, I knew about fear;
I knew the way loneliness stung.
I hid behind smiles and crazy hot clothes;
I learned to kiss boys with my tongue.
"But oh, the world, it held me down,
No one thinks a pretty girl has feelings.
No one gets her insecurity.
I am more than shoulder pads and makeup.
No one sees the me inside of me.
The song is titled, appropriately, "The Me Inside of Me."
In another song, the musical, as opposed to the film, offers a more sympathetic depiction of the bullying football players' fathers.
In a mini-spree that brings to mind the infamous Bonnie and Clyde, Sawyer and J.D. have killed Ram Sweeney and Kurt Kelly. They are played as macho big shots by Justen Fox-Hall and Domenic Servidio. Both could be more convincingly intimidating in their parts.
The killing-duo, again, made the boys' murder look like a suicide. This time, the suicide note suggests they shared a homosexual relationship which, of course, was not nearly as accepted in the late 80s as in 2016. But at least in song, the fathers encourage tolerance of people who are gay.
At the end of the musical, at least one character proudly carries the flag symbolizing LGBT pride.
In the Slow Burn production, Abby Perkins excels as Sawyer. In the role, the actor brings to mind Tracy Turnblad, the optimistic, bubbly go-getter from "Hairspray." Perkins invests Sawyer with that same charming vibe, making her a bright-smiling, idealistic young woman determined to bring people together.
Perkins, in a well-rounded performance, also conveys the character's sympathetic, tender nature. She grows convincingly horrified by the killing spree she and J.D. have undertaken.
As J.D., Bruno Faria imparts a similar charm with a rebellious flavor. As the musical progresses, Faria's J.D. grows increasingly unstable. By the end, the charm and nice guy mentality is gone; he's brimming with a dangerous confidence and determination to kill. As played by Faria, J.D. seems like the mentally unstable student who has appeared way too often in the news – a student whose unspeakable act of terror we never saw coming until it was too late.
Leah Sessa's Heather Chandler has a supremely confident demeanor. She stands with her hands on her hips defiantly and assumes other confident, commanding poses. When she moves, she does so slowly, slyly and sneakily like a subtle snake which can unleash poison at any moment.
Sessa's voice is sharp, drips arrogance and at times takes on a mocking tone.
This Chandler is merciless.
At one point, Sawyer asks Chandler why she's so intent on hurting her.
"Because I can," she says in an uncaring, casual voice.
Audience members openly rooted for Sawyer during the reviewed performance. At one point in the show, she vomits.
"Lick it up!," Sawyer demands of Chandler quietly but confidently, as though the mean girl were her slave.
An invigorating sense of "girl power" pervades Sawyer's world during these and other moments.
Applause from the audience followed, the "lick it up' line, as though to root on Sawyer with the words "You go girl!!"
No doubt, the applause would've grown in intensity if the vomit had the effect that water had on the Wicked Witch of the West.
If Chandler is such an evil witch, Heather Duke, as played by a fierce Cristina Flores, is the Wicked Witch of the East. She takes over as head of the "Heather" clique following Chandler's demise.
Popularity, it seems, comes in various guises.
Sunny Gay plays Heather McNamara, who is quite the opposite of Chandler. Gay plays her with all the necessary fear and vulnerability.
McNamara may belong to the clique of popular Heathers, but she bears similarities to Dunnstock (cruelly nicknamed "Martha Dumptruck"). In the beautifully metaphorical and poetic song "Lifeboat," Gay reveals with touching sensitivity how lost the young woman feels within.
Trull, as Dunnstock, deftly conveys not only the girl's cheeriness, but awkwardness and vulnerability. The performer's versatile belt is on full display during the song "Kindergarten Boyfriend. In the song, a wistful, blue Dunnstock softly recalls a romantic experience during those early schooling years with a boy who broke up with her.
But Dunnstock's eternally optimistic outlook allows her to find inner strength while recalling her romantic moments from the past. In a strong, determined, even happy-sounding voice, she sings poetically of not letting go of the memory. She'll end the real life she's living of bullying and harassment and fly "to a new kindergarten where nap time is centuries long."
It's not giving much away to reveal Dunnstock survives an ensuing suicide attempt. Afterwards, Sawyer displays her characteristic concern, taking her under her wing.
Sawyer, no doubt, hopes to convince Dunnstock how beautiful she really is.
Heathers the Musical
Through June 26. 7:30 p.m. Thursday-Saturday and 2 p.m. Sunday.
Amaturo Theater at Broward Center for the Performing Arts
201 S.W. 5th Ave., Fort Lauderdale
Tickets are $45. Call (954) 462-0222(954) 462-0222 or visit http://slowburntheatre.org.