Chris Thile At Tanglewood
A Musical, Comedic Extravaganza
By:
Philip S. Kampe and Maria Reveley

-

Jun 16, 2019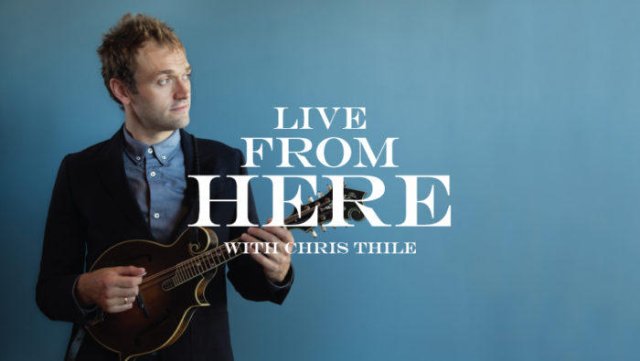 The opening night of the 2019 Tanglewood Popular Artist series began with a bang, thanks to host Chris Thile and his band of characters.It included a comedian, a trio of bluegrass singers, an indie piano player from Hudson, New York and a zany cast of weekly characters.Like predecessor, Garrison Keillor they, keep the audience on their toes.

The weekly show is aired on American Public Media radio. Using New York City as the home base, versus St. Paul, Minnesota, makes the picking of guests easier. There is a large variety of acts that originate in or near the metro area.

Tanglewood, traditionally ends the season before the shows summer hiatus. We are fortunate to be able to host the season finale, as, like the first show of the season, the last live show should leave the audience wanting more.

Chris Thile (pronounced Teel E) became the host of 'Live From Here' in October 2016, after 'A Prairie Home Companion' finished its run. Thile was a member of the bluegrass quintet, the Punch Brothers and the acoustic trio, Nickel Creek, before becoming the host of the American radio variety show. It's known for its musical guests, mainly folk and Americana musicians, comedians and humorous skits that often focus on drama.

In 2015 Keillor decided on his successor, handing over duties to Thile.

Thile is well known for his mandolin skills. The 2012 MacArthur Fellow has branched out into many facets beyond the mandolin. He is a singer-songwriter, composer and now a radio personality.

The audience at the Koussevitzky Hall followed the captain's orders and repeated 'Ay Yi' in unison a half dozen times throughout the evening. This was our first encounter with Captain Thile, so it took a couple of ay yi's before we joined in.

The evening was full of world-class acts, featuring pianist-composer Ben Folds, a female trio, 'I'm With Her', stand-up comedian Tig Notaro and comedic correspondent, Tom Papa.

Add a few sketches to the program and you have the new version of 'A Prairie Home Companion.' In Keillor style, Thile jammed with his guests for close to an hour after pulling the plug on his radio show. The crowd went wild.
It was a great evening of entertainment. 'Ay Yi' Captain, until next season.