Queen of Conspiracy World Premiere
Josh Hartwell Delivers at Miners Alley Playhouse
By:
Susan Hall

-

Jun 17, 2019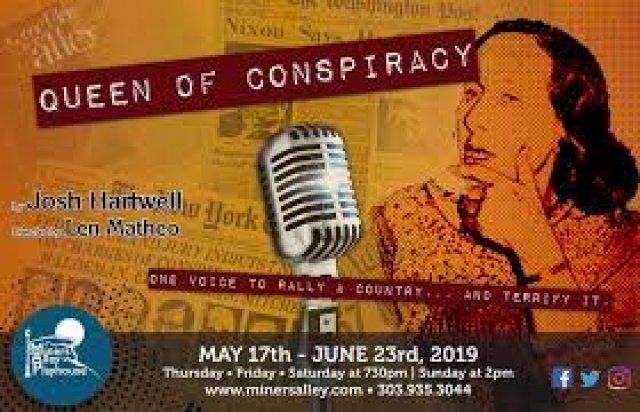 Queen of Conspiracy
World Premiere
by Josh Hartwell
Miners Alley Playhouse
Golden, Colorado
May 2 to June 24, 2019
Leo Mateo, the artistic and Executive Director of the Miners Alley Playhouse, is a fan of the podcast form. One day, he heard about Mae Brussell, a prominent conspiracy theorist who lived from 1922-1988. Her radio broadcasts were extremely popular. She dove into JFK's murder, giving herself as a birthday present 26 volumes of the Warren Commission report. She joined forces with Jim Garrison, the New Orleans District Attorney who was obsessed with the assassination. She followed up with a spotlight pointed at the Bobby Kennedy and Martin Luther King, Jr. assassinations, the Watergate trials, and so on.
The essence of conspiracy theory is to draw lines between people and events. They criss-cross and merge to create a story that often diverges from what's reported in the popular press. Reporters on a beat don't have time to delve the way Brussell did. From a purely statistical point of view, these events are random, not meaningfully related. Yet we humans are not great at reasoning objectively about probability. We often find connections which are statistically probable to be improbable.
Russell was cautious about her conclusions. She had grown up in Los Angeles where she was a member of the family that founded I. Magnin, an upscale clothing store. She was levened by her father, a well-known Los Angeles reform Rabbi to the stars.
Mae knew about glamour and how to sell a story. Fixated on a world gone awry, she assumed that the causes for America's demise were hidden from view. In her view connections were not being made.
Mateo admits that the current climate in this country provoked him to commission a play on Brussell. He reached out to the first rate playwright Josh Hartwell. The result is an entertaining and provocative theatrical event. Rather than hammering home the universality of his theme, Hartwell's touch is a light. Fully developed characters engage and amuse.
The stage at Miners Alley is a long rectangle. The audience sits very close to the action. The central portion has been created in two tiers for Queen of Conspiracy. In the back is Brussell's office, set very much as pictures show it. A big photograph of John Lennon dominates the wall.
At her desk, Brussell, played with subtly and humanity by Abby Apple Boes, pursues research She delivers radio broadcasts and plays ping pong with Henry Miller, reminiscent of the snap, "My mama plays ping pong with King Kong's Ding Dong."
We move back and forth between the office and the home of Rachel. She is daughter of Olivia, who abandoned the child early on to pursue her fascination with Brussell. The daughter, now in her early twenties and a yoga instructor, is forgiving. She wants to move on with their relationship and not rehash the past or her mother's absence. Olivia, however, has a gift to deliver: Brussell's audio tapes and all the conspiracy insights she has gleaned over the years.
Heather Lacey stepped into the role at the last moment and is commanding. Moving back and forth across the stage, challenging her daughter, Olivia is more interested in whether or not her glass of bourbon is full than making an emotional connection to her daughter.
Rachel, the dynamic and varied actor Chloe McLeod, has done well without a mother, but relishes the opportunity to reconnect. Under Mateo's direction, this key relationship is touching. The actors' lines emerge full of humor, pathos and surprise. Secrets open up moment-to-moment. Conspiracy pervades and crops up in unexpected places.
William Hahn as both Miller and a college professor is splendid. His Miller is as good as his Prof. The Prof, however, is ditzier and an unusually engaging character. Frank Zappa, played by Damon Guerrasio, feels like a superb guitar player. He actually brought an early computer to Brussell to help her work. She kept the computer but never used it.

Relationships between Rachel and her 'finance', played by the subtle and then wild Sinjin Jones, are full of surprising revelations. The flow of dialogue moves smoothly from character to character over a subterranean river of anxiety and terror.
This world premiere play should be performed widely. It helps us understand some of the traumas we have experienced, and are experiencing right now, in a thoroughly entertaining evening of theater.