Judy Collins and Stephen Stills Share Memories
Lost Love Rekindled at Tanglewood
By:
Charles Giuliano

-

Jun 18, 2018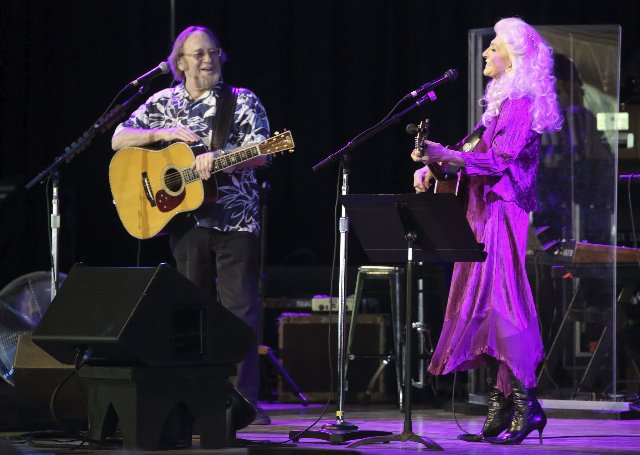 In 2010 Crosby, Stills and Nash performed at Tanglewood. This past weekend two thirds of them returned to The Shed. David Crosby headlined on Saturday night. On Sunday afternoon Stephen Stills bookended the launch of the 2018 season paired with Judy Collins.
It was scorching hot in the mid 80s as clusters of folks sought shelter under shade trees. Unlike for Tommy, on Friday night with Roger Daltry, there was a lot of open space on the manicured lawn.
There were numerous awkward memories of their two year relationship that started in 1968. It resulted in breakup songs. His "Suite Judy Blue Eyes" charted with the debut album of Crosby, Stills and Nash. Their set concluded with the song which was well received by the audience.
In poignant and revealing terms it seems that she was more devastated by the breakup conveyed by the solo "Houses." In it she conveyed the longing of imagining him in homes they shared that allowed him to stay in sun and surf chasing the changing seasons. It was an ironic comment on his fame, success, and rockstar lifestyle.
They discussed the difficulty and success of remaining friends for some 50 years. As Still commented that was possible because "We married other people."

She recalled how they met when a producer put together a new studio band for her including a couple of Nashville cats. Stills was a part of the group. Collins remembered the sense of excitement "Then I heard him sing." Conveying a sense of loss and memory they performed Sandy Denny's "Who Knows Where the Time Goes."
Recently, they met when paired at an AARP concert with unusual contract clauses as Stills conveyed. Both are now in their 70s. Out of that encounter came the seeds of the current tour and an album titled for a Leonard Cohen song "Everybody Knows" which will be released on September 22.
There was a tribute to Cohen. Collins is responsible for his career. She recorded his songs then dragged the gravel voiced poet on stage to perform "Suzanne." After that the Canadian artist was widely admired. His "Halleujah" has become an anthem often performed by various artists during memorial tributes.
Stills offered an apology to all Canadians for the insults of our "Toddler in Chief." Collins commented "Leonard was so smart. He had the good sense to die the morning of the election."

It would be nice to report that after all these years they are making beautiful music together. At best the program was hit and miss. While stretching for the high notes, overall, the silver-maned Collins has aged more gracefully than her partner. He had fine licks on guitar, particularly in his solo "Bluebird," but vocals were rough.
Trying to evoke a sense of rage and protest he performed a Buffalo Springfield classic. "For What It's Worth (Stop, Hey What's That Sound)" (often referred to as simply "For What It's Worth"). It was recorded in 1966 and reached #7 on the Billboard charts.
It wasn't enough to save Buffalo Springfield which is widely regarded as one of the best folk rock bands of its era. The band also included Neil Young who occasionally joined Crosby Stills and Nash. Richie Furay went on to co-found Poco with Jim Messina and Rusty Young.
In 1970 Stills toured as a solo artist in support of "Love the One You're With." He was a firebrand and raging rocker. In a memorable concert at the Old Boston Garden I recall him scrapping with cops who were attempting to prevent fans from charging the stage. It was a tense confrontation and signifier of the prevailing zeitgeist. Instead of police promoters learned to hire private security for concerts.
There was none of that passion yesterday as Stills offered a rough-voiced, ragged and bland walk through of an iconic masterpiece. One felt that he has performed it so many times that it has become moot and rote.
It was significant when he commented that the format of the current tour means that he doesn't have to perform his own songs. Perhaps that is merciful as it spared us too many embarrassing then and now comparisons.
Given his so-so performance the highlights of the concert were scored by the more consistent Collins. A classic folk singer she is known for crystalline vocals with poignant, evocative and thoughtful lyrics.
It was a bit odd when she introduced "Both Sides Now" with remarks about the raunchy Mae West. She quoted her as saying "Restraint is OK as long as it doesn't go too far."
Given her pure as the driven snow persona she told another West anecdote. It seems she encountered a friend with a fabulous fur coat. She asked how she got it. Her friend said "I met a man with $10,000." Which was a lot of money in those days. Later West, in an elegant fur coat ran into that friend who asked how she acquired it. With that saucy swagger West answered "Why honey, I met ten thousand guys who each gave me a dollar."
She introduced another Joni Mitchell song with a story about the Clintons. "When I met them they said that they named Chelsea after my song. Then I heard that they said the same thing when they met Joni." The audience much enjoyed her version of "Chelsea Morning."
A capella she sang a song addressing the issues of immigration. It told the tale of an illegal Maria whose daughter is a dreamer. There was a stunned hush as the audience absorbed the timely lyrics about hard working migrants seeking a better life. It was a moment for pause and reflection on a crisis that is dividing the nation.
For encores they returned with songs about each other. She sang solo on "Steve's song." On twelve string guitar she joined him as the band kicked up and rocked out with "Suite Judy Blue Eyes." How sweet it was.