Laramie Project
20th Anniversary of Matthew Shepard's Death
By:
Nancy Bishop

-

Jun 19, 2018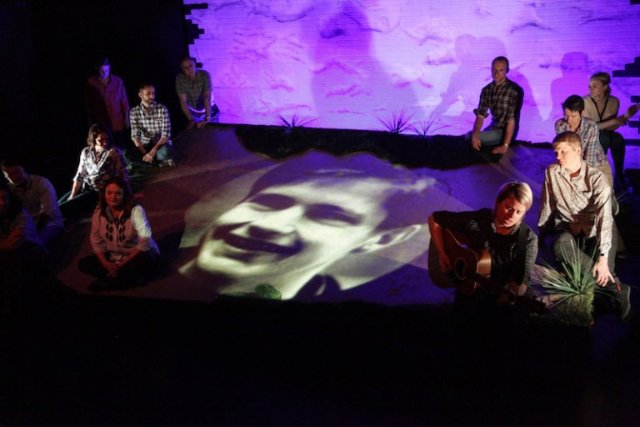 This is the 20th anniversary of Matthew Shepard's death at the hands of two young thugs in Laramie, Wyoming. There was a great outpouring of sympathy and support for Shepard and for the gay community at the time, with many wishes for a time of healing and an end to hate.
Now, 20 years later, it's right to ask what has changed. Yes, many legal rights have been secured for the LGBTQ community. Many gay, lesbian and trans people have gained visibility in public life. But hate? The current occupant of the White House has made it acceptable to hate or arrest anyone who appears to be "the other"; he has unleashed a new era of vigilante hate crimes.
AstonRep Theatre Company marks the anniversary with a stirring production of The Laramie Project by Moises Kaufman and members of the Tectonic Theater Project. It's a documentary-style play that gives voice to members of the Laramie community—a roster of more than 60 citizens played by 12 actors. Derek Bertelsen directs the actors, who move skillfully from character to character with changes in voice, body language and an occasional accessory addition.
Varied political and social positions are expressed in the play but many Laramie residents repeat that Laramie is a "live and let live" community. That may seem a laissez-faire attitude meaning let anyone live the lifestyle they choose. But in this case it also means ignoring the symptoms and voices of hatred. Today, we can ask, is "live and let live" really viable? Or do we owe our community and our vulnerable citizens our own voices and actions to counteract the hatred?
Matthew Shepard was kidnapped from a Laramie bar and taken to a remote area and viciously attacked by Aaron McKinney (Peter Surma) and Russell Henderson (Dana Anderson) on October 6, 1998. He was found brutally beaten and tied to a fence 18 hours later, suffering from hypothermia. He was in intensive care in a Ft. Collins hospital and died on October 12.
A month later, Kaufman and 10 other members of the Tectonic Theater Project went to Laramie to document the story by interviewing people in Laramie. They visited six times and conducted more than 200 interviews. The play draws on those interviews as well as company members' journal entries and news reports. The play documents their visits to Laramie, interviews with residents, statements by public figures and elements of the trials of McKinney and Henderson.
The 12 actors make The Laramie Project come alive with fine performances as both Tectonic Theater members and Laramie residents. Among them are notably Alexandra Bennett, who plays a Baptist minister, the hospital CEO and the head of the university theater department. Matt Harris plays Moises Kaufman, Matthew's academic adviser, and Jedediah Schultz, a university theater student whose parents believe homosexuality is wrong and disapprove of his performing in Angels in America. Ray Kasper plays Doc O'Connor, a colorful limo driver, as well as a Laramie police detective, and Harry Woods, a local gay man. Woods' monologue about watching support for Shepard grow at the end of the university homecoming parade is one of the more moving moments of the play. Sarah Pavlak McGuire is Reggie Fluty, the policewoman who responds to the 911 call and finds Matthew's body. Amy Kasper plays Reggie's mother, Marge, who supports her daughter when she learns that Matthew was HIV positive and Reggie was exposed to his bodily fluids. (Kasper also plays the Republican governor of Wyoming and a Unitarian minister.)
A documentary play may sound too educational to be entertaining but The Laramie Project is both. Kaufman uses the many documentary elements to weave an engrossing story over the course of the two-hour-plus play.
Jeremiah Barr is responsible for the minimalist set design and props strategy, with lighting by Samantha Barr. Uriel Gomez handles costume design and accessories. Krista Hansen's work as dialect and vocal coach supports the nuances of character change that the actors achieve.
The Laramie Project script was also produced as a 2002 film directed by Kaufman, with a cast including Steve Buscemi, Laura Linney, Amy Madigan, Dylan Baker, Lois Smith, Bill Irwin, Peter Fonda and Terry Kinney.
The Laramie Project by AstonRep continues through July 8 at Raven Theatre, 6157 N. Clark St. Tickets are $25 for performances Thursday-Sunday.
Aleatoric Theatre Company also staged The Laramie Project this month at the Factory Theater on Howard Street. (Their production closes June 17.) See theatreinchicago.com for information.
Posted courtesy of Third Coast Review.