Ken Moffett at 81
First Contemporary Curator of the MFA
By:
Charles Giuliano

-

Jun 22, 2016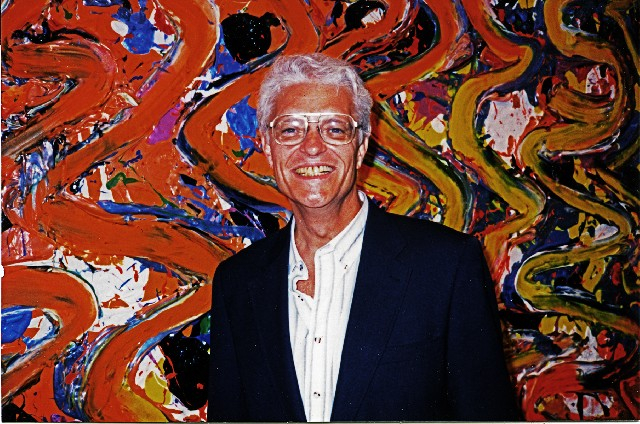 Lucy Baker, an artist and former wife of art historian, critic and curator, Kenworth Moffett, has posted on facebook the following.
"Kenworth W. Moffett died yesterday at 10:40 AM peacefully in Stamford, CT, after a prolonged battle with heart problems, though he put up a valiant fight for decades ,to survive to write and exhibit the artists he loved so much, he succumbed at age 81. Despite his ongoing battle , he was Director of 2 Museums , Museum of Art Fort Lauderdale (Now NSU Museum Fort Lauderdale), then MCA Denver (then MoCAD ), and was Curator of Contemporary Art at The Museum of Fine Arts, Boston, prior to that, while simultaneously, also a full time Professor of Art History at Wellesley College, in Wellesley, Mass. Ken's writing was published internationally in magazines, books, & journals, throughout his career. He is survived by daughter Kay, and wife Cynthia."
In the 1970s, when I was active as an art critic in Boston, he was the founding curator of contemporary art for the Museum of Fine Arts.
It was the time of the Boston Visual Artists Union. The organization invited Perry T. Rathbone, the director of the MFA, to speak to a packed meeting of artists. This took place at Parker 470 a factory scaled gallery just across the tracks from the MFA but a world apart.
The museum had just mounted a sprawling avant-garde show called Elements, curated by Virginia Gunter, which evoked interest and controversy.
Rathbone was under attack from all sides and would be ousted because of the inflammatory Raphael incident when a purloined painting was returned under duress to Italy.
As a journalist and advocate I was among those pressuring the museum to become active in modern and contemporary art in the final decades of the 20th century.
It seemed at the time that the straw that broke the back of the conservative museum was a guerilla exhibition or conceptual performance piece Flush With the Walls. It was a humorous attack on the vulnerable underbelly of the staid MFA staged in its sumptuous marble walled basement men's room.
There seemed to be cause and effect when not long after the stunt and his appearance at the BVAU Rathbone called me at the Herald Traveler with the breaking news of the appointment of Moffett.
It appeared to be a gracious concession at the time. Several years ago that was a part of an extensive dialogue with author Belinda Rathbone who was researching a book on her father,. She conveyed that his effort to create a contemporary program had been in the works for some time.
For the activist arts community the appointment of Moffett proved to be a mixed blessing. Harvard trained and then a full professor at Wellesley he espoused a narrow view of contemporary art advocating the formalism of then dominant critic Clement Greenberg.
His efforts on creating a contemporary collection and programming largely focused on formalism, color field painting and the sculpture of the British artist, Anthony Caro. The MFA acquired a major Cubi sculpture by David Smith.
Early during his tenure there was a failed attempt to acquire the Jackson Pollock masterpiece Lavender Mist.
As a critic I treated Ken with the respect he deserved. That was not the case with some colleagues and there was mounting pressure to oust him. There was also an internal conspiracy when curator of American Art, Theodore E. Stebbins, Jr., sought to expand his portfolio. With limited success Moffett was replaced by Amy Lighthill.
Later when Ken became director of the Ft. Lauderdale Museum of Art (1987-1997) we met for lunch each year when I visited my Mom in nearby Palm Beach.
For some time I pursued an interview with him. This occurred in 2015. There was a mutual interest in capturing a complex era. It proved to be a long, insightful and intriguing discourse.
Below are links to the three part series for Berkshire Fine Arts.
Article on Boston art by Kenworth Moffett
Thomas Messer on Contemporary Art in Boston