Into the Woods Launches Barrington's 25th Season.
Sixth Production of a Stephen Sondheim Musical
By:
Charles Giuliano

-

Jun 23, 2019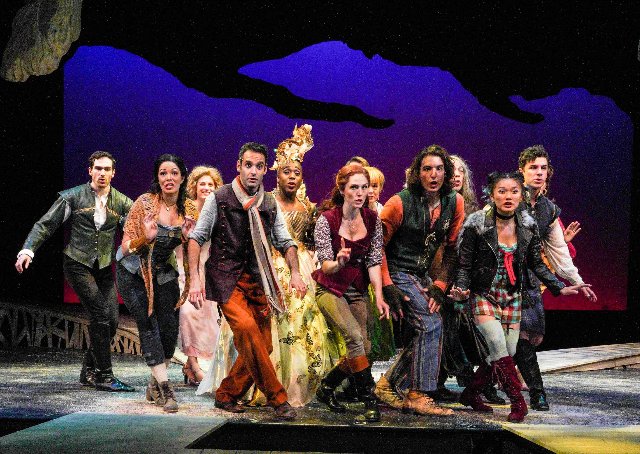 Into the Woods
By Stephen Sondheim and James Lapine
Directed by Joe Calarco and music-directed by Darren R. Cohen
Orchestrations, Jonathan Tunick
Choreographed by Mayte Natalio
Scenic design, Brian Prather; Costumes, Jen Caprio; Lighting, Sherrice Mojgani; Sound, Matt Kraus; Wigs, hair and makeup, J. Jarad Janas; Puppet, Brandon Hardy
Cast: Mykal Kilgore, (The Witch), Mara Davi (The Baker's Wife), Zoë Aarts (Lucinda), Leslie Becker (Jack's Mother/Giant's Wife), James Cella (The Steward), Sarah Dacey Charles (Cinderella's Stepmother/Granny/Cinderella's Mother), Dorcas Leung (Little Red), Pepe Nufrio ( Rapunzel's Prince), Megan Orticelli (Florinda), Jonathan Raviv (The Baker), Amanda Robles (Cinderella), Thom Sesma (Narrator/Mysterious Man), Clay Singer (Jack), Anna Tobin (Rapunzel) and Kevin Toniazzo-Naughton ( Cinderella's Prince/The Wolf).
Barrington Stage Company
Boyd-Quinson Main Stage
Pittsfield, Mass.
June 19-July 13
For its 25th season, yet again, Barrington Stage Company has opened on the Boyd-Quinson Main Stage with a big lush production of an enormously entertaining musical. Into the Woods is the sixth musical by Stephen Sondheim (and James Lapine) to be presented by BSC.
Barrington Stage Company, has pulled out all the stops to launch a season of celebration. There is the typically functional modular set by Brian Prather. Concealed in the pit Darren R. Cohen conducts eleven musicians in a score with more than eighty musical interludes. Sound by Matt Kraus and lighting by Sherrice Mojgani are particularly vital in the second act creating special effects of earth shattering, deadly movements of the slain giant's wife. Much care is taken to enhance the magical, spooky ambiance of what happens in the woods.
The familiar fairy tale characters are suitably costumed by Jen Caprio. She goes all out to create the witch performed by the deliciously arch and amusing Mykal Kilgore. By far he is the most outrageously dominant character in a uniformly gifted cast of Broadway performers.
Pulling it all together is superb direction from BSC regular, director Joe Calarco, and choreography by Mayte Natalio.
For all of these terrific production values there are the usual difficulties of fully comprehending the always challenging manner of Sondheim and Lapine. Characters often bookend the stage with complex exchanges of songs that are less than lyrical, full of word play, speculation, introspection and critical thinking. The songs are more about process than conclusion and resolution. One does not exit an evening of Sondheim humming catchy tunes. The unique qualities of Sondheim's songs make them favored by cabaret performers.
The title song "Into the Woods" sets the premise of this musical based on familiar fairy tales. Because of amplification songs were often muddled and difficult to hear and comprehend. This was less a factor in solo performances as reflected by audience response.

There were compelling moments including the smarmy and playful "Hello, Little Girl" between the Wolf and Red Riding Hood. There is the sense of her learning in "I Know Things Now" and delusions of "A Very Nice Prince" between Cinderella and the Baker's Wife. The witch is humanized in "Stay with Me" a duet with her daughter Rapunzel. There is odd reflection in "Agony" which explored the plight of the princes. The blame game is explored in act two through "Your Fault." The Witch has a decisive moment and wows the audience with "Last Midnight." When things fall apart there is poignant melancholy and a glimmer of hope through "No One Is Alone."
Sondheim has conflated several classic from Cinderella to Little Red Riding Hood. The Witch has cast a spell on the Baker and his Wife that has rendered them barren. There is the tale of Jack and the Beanstock. He has climbed up and stolen from the Giant who is then slain. A prince, oddly costumed in a kilt, aspires to climb up Rapunzel's hair and rescue her from confinement.
The book conflates these tales into the mélange of a first act that has a happy ending. With all the loose ends seemingly resolved we wonder how possibly there will be a second act? That is the moment in fairy tales when the characters, having overcome obstacles, live happily ever after. Not so with Sondheim. Some interpreted the disasters that followed as an analogy for AIDS or circumstances of his formative years. Having performed tasks to give birth the Baker's Wife seems disinterested in raising a child. That reflects the attitude of Sondheim's mother.
With dire consequences the second act is wildly inventive and presents intriguing adventures. Humanistically, the characters manifest as both better or worse. The humble are exalted and the exalted are humbled. Nobles are less regal. Jack's crimes have caused havoc for the village and kingdom. The Giant's widow is stomping about seeking vengeance. We never see her but hear her earth shattering steps as homes and characters are shattered.
There are numerous reversals. The Prince (Kevin Toniazzo-Naughton) who has put the slipper on Cinderella (Amanda Robles) is off in the woods shagging the Baker's Wife (Mara Davi) who is now a young mother. Oh my. It's hard to imagine Prince Charming as a philanderer. But is also liberates Cinderella to evolve beyond a goody two-shoes fairytale princess. Now wronged by a cheating husband she becomes her own woman so to speak. In the woods to be sure. It's all about the friggin' woods.

The yin and yang of Into the Woods makes it compelling. The transition from predictable and enervating into something else is provocative. The Sondheim approach is less the "once upon a time in a kingdom long ago" of Disney than an existential "what if?" The players morph from caricatures to characters.
The individual transformations are intriguing. There is a plot to trap the Giant's Wife where Jack (Clay Singer) will bop her upside the head with a big stick. But Red Riding Hood, played with terrific dimension and nuance by Dorcas Leung, presents the moral dilemma of cold blooded murder. Isn't she justified to be vengeful? Didn't Jack climb the beanstock with false pretenses, steal from the giants, and kill her husband? Isn't it Jack, a murderer and thief, who is responsible for mayhem in the village.
People like Jack, from fairy tales and never never land, are not necessarily nice people. As the Prince puts it he was raised to be charming but not sincere. Sondheim stands on its head childish clap trap about Cinderella and The Prince as idealized Ken and Barbie. What happens when Ken cheats on Barbie? Children are raised to act nice in a world that isn't. They grow up to realize that bad things happen to good people. Adults get trampled by giants and Trumped by presidents.
Much about Into the Woods is absolutely delicious. The Witch of Kilgore was just wonderful. Costumes and wigs greatly enhanced the character. The mess of fuzzy hair and haggy nose sparked our imagination. When she got her wish, and drank milk from the cow, her powers disappeared. That's when she morphed from Witch to RuPaul drag act. Work it baby, twirling like a queen, in a ballroom sequence of Pose.
The cast had many fine moments. There were nice transitions between the straight, suited narrator (Thom Sesma) and his other side as a tattered, mysterious stranger and long lost father. Jack had lots of fun with his wonderfully crafted and expressive cow. Kudos to puppet designer Brandon Hardy.
While at times a rough and tumble romp Into the Woods ultimately we were seduced and enchanted by Sondheim/ Lapine's magical mystery tour.