Ferrin Gallery in N Adams and NY's Heller Gallery Collaborate
Melting Point Features Glass and Ceramic Artists
By:
Charles Giuliano

-

Jun 24, 2021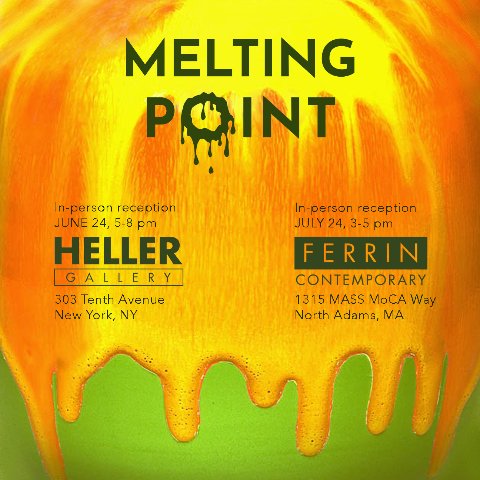 Ferrin Contemporary in the Berkshires and Heller Gallery in Chelsea have joined forces to produce this dynamic exhibition. With 100 works from 22 artists, MELTING POINT is a group exhibition of glass and ceramic artists whose use of the melting point is central to their practice.
The MELTING POINT is the degree when solid becomes soft, eventually becoming liquid and a boiling point is reached. Used metaphorically, as the planet warms we are finding ourselves closer to the melting point both physically and socially.

The artists featured in the exhibition are masters of their materials and known for their deliberate use and control of extreme heat to achieve form and surface. Likewise, several artists also use the melting point as a metaphor in their work to express their political beliefs and sound the alarm using the fragile materials of glass and ceramic.

Melting Point includes work by Raymon Elozua, Peter Christian Johnson, Steven Young Lee, Courtney Leonard, Beth Lipman, Lauren Mabry, Gregg Moore, Katie Parker & Guy Michael Davis, Paul Scott, Sally Silberberg, and Robert Silverman represented by Ferrin Contemporary, and Stine Bidstrup, Nancy Callan, Sydney Cash, Amber Cowan, Morten Klitgaard, Laura Kramer, Pamela Sabroso & Alison Siegel, and Norwood Viviano represented by Heller Gallery, presented between both gallery locations.
RECEPTION WITH ARTISTS:
Heller Gallery
Thursday, June 24, 5 - 8 pm

Ferrin Contemporary
Saturday, July 24, 3 - 5 pm
First Fridays, July 2 - August 6, 5-7 pm