An Afternoon With Audra McDonald
Perfection at Tanglewood
By:
Maria Reveley & Philip S. Kampe

-

Jun 25, 2018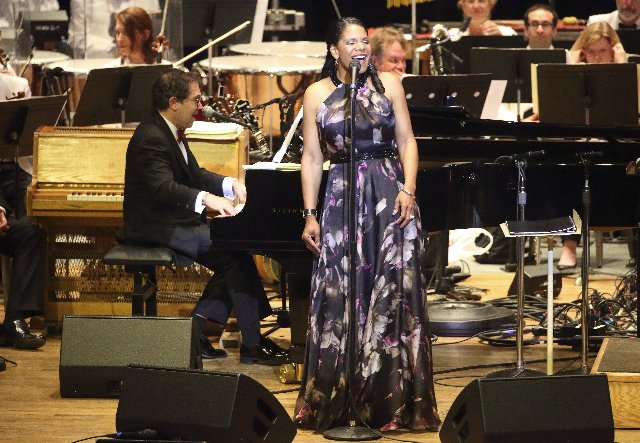 There are good reasons Audra McDonald has won more Tony Awards (six in all four acting categories) than any other performer. They include superb voice, acting, passion and dedication.
At Tanglewood last night, McDonald once again brought everyone to their feet as she rewarded the audience with a concert that let us know who she is and what she stands for.
She was backed by the Boston Pops, conducted by Andy Einhorn, with a trio of her own musician (Brian Hertz on piano, Mark Vanderpoel on bass and Gene Lewin on drums). McDonald led a journey through the Great American Songbook.
Given her talents, McDonald could be a diva; but instead is down to earth, funny and relatable. Her range is such that she can soar to operatic heights and also come down to earth. She can stun with vocal range while conveying the emotions of lyrics.
Driving her art is a compassion for others evidenced by the songs she chooses and how exquisitely she conveys their feelings.
In support of Gay Pride Day she started with "I Am What I Am," from "La Cage aux Folles." As with many of her renditions, McDonald's interpretation of Jerry Herman's anthem acknowledged being one's own "special creation."
In singing "Chain of Love" from "The Grass Harp," the Broadway musical derived from a Truman Capote novella, McDonald pointed out that there are beautiful songs in 'flops.' Her story-telling skills in this song, by Kenward Elmslie and Claibe Richardson, poignantly communicates the generous heart of a spinster who knows that romance isn't the only way to experience the raptures of love.
Barbara Cook, who appeared in "The Grass Harp," was saluted by McDonald as her ultimate mentor in interpreting music. "She taught me everything I know about interpreting songs." Another song in tribute to Cook, was the brilliantly set up "Vanilla Ice Cream" from "She Loves Me" by Sheldon Harnick and Jerry Bock.
As she jokingly shared, singing "I Could Have Danced All Night" from "My Fair Lady" is an example of how a Broadway singer earns her "soprano card."
McDonald admitted to avoiding popular songs rather adamantly, so she turned parts of "I Could Have Danced All Night" into a sing-along with this Lerner & Lowe favorite but keeping the parts to herself that let her voice shine.
Sharing family stories, McDonald invited the audience to know more about her. Her eldest daughter is 17, she has two teen stepsons, and a new 20 month old daughter with her husband, Will Swenson, currently acting in the Berkshires. McDonald and her husband call their daughter The Wild One, kidding that they are saving for three college tuitions, and one bail sum. And to add to her humility, McDonald let the audience know that when her eldest daughter was small, she told her mother her singing "made her ears cry." It's hard to be a diva with that comment from your daughter!
McDonald supports contemporary musical theatre composers and lyricists. Accordingly she sang Jason Robert Brown's "Stars and the Moon" from the show "Songs for a New World." It proved her point of paying attention to newcomers.
As an interpreter, McDonald excels with Stephen Sondheim's work. As she sang "Children Will Listen" from "Into the Woods," by Sondheim and James Lapine, McDonald transported the audience.
One of her strongest statements came when she talked about what's most important in life. Her rendition of "Make Someone Happy" from the musical "Do Re Mi" with music by Jules Styne and lyrics by Comden and Green, was a passionate cry for personal caring and love. Love is the answer.
Her voice soared with "Climb Every Mountain" from the "Sound of Music." As an encore she performed "Somewhere Over the Rainbow" (from "The Wizard of Oz"). She made use of every nuance to bring unique interpretations of standards .
Yet again McDonald demonstrated why she is a virtuoso and star performer.