Images Cinema Event in Williamstown
Sneak Preview of Hudson Falls
By:
Images

-

Jun 29, 2021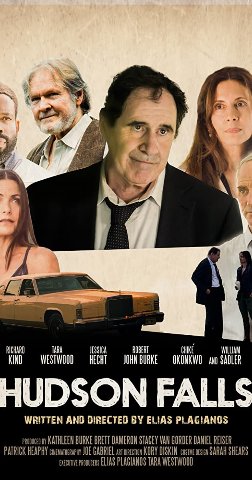 Images Cinema will host a "sneak preview" of the first episode of Hudson Falls, a new comedy/drama/mystery series, on Wednesday, July 21st at 7:30 PM. This special event will be a fundraiser for the nonprofit theater and will include an onstage conversation with the cast and the creator/producer of the show, independent TV/movie producer Elias Plagianos of Clarkstown, New York.
Hudson Falls boasts an exciting cast of acclaimed stage and screen actors, who are planning to celebrate the development of this series at the Images Theatre special event, which will begin with a wine & cheese reception. They include:
JESSICA HECHT — Williamstown Theatre Festival alumni, 2019 Emmy nominee as cast regular for the Netflix series Special; Tony Award nominee for A View from the Bridge; other roles include Breaking Bad, Friends and The Sinner.
RICHARD KIND — Actor and comedian; Tony Award nominee for The Big Knife; other roles include Curb Your Enthusiasm, Spin City, A Serious Man, A Bug's Life, The Goldbergs, Mad About You, American Dad, Big Mouth and more.
WILLIAM SADLER — Star of movies and television including the Bill & Ted films, The Shawshank Redemption, Power, Our Cartoon President, Hawaii Five-O and more.
TARA WESTWOOD — Star of movies and television guest roles including The Grudge, Blackjack: The Jackie Ryan Story, Law & Order, City On A Hill and more.
ROBERT JOHN BURKE — Star of movies and television including The Unbelievable Truth, Simple Men, RoboCop 3, Law & Order: Special Victims Unit, Gossip Girl, Allegiance, Person of Interest, Army Wives and more.
Images Cinema is located at 50 Spring Street in Williamstown, MA. Tickets to the fundraiser screening and onstage conversation with the cast and creator of the show are $25 ($20 for Images Cinema members). They can be purchased at www.imagescinema.org or at the theater box office. Funds raised at this event will go to support Images' mission of celebrating film as an art form, a source of entertainment and a means to build community.
Filmed during the pandemic, Hudson Falls delves into the secrets of a small upstate New York town. Ray, an old school private eye from the city (Richard Kind), takes on a seemingly mundane case in an effort to rekindle a relationship with his ex-wife (Jessica Hecht). Unfortunately, she has no interest in reconnecting, and that "easy job" lands him smack in the middle of a murder investigation involving a dead geneticist, a hometown craft brewer, the local university and the eccentric genius on the outskirts of town.
According to Tara Westwood, one of the stars and a co-producer:
"Hudson Falls was the first pilot production shot during Covid. The cast and crew members faced a variety of challenges and issues as they cooperated with the Screen Actors Guild developing breakthrough standards to keep everyone safe. At the Images Cinema discussion, I am sure the actors and Elias Plagianos will be forthcoming about what these concerns were—which had a traumatic impact on tens of thousands of people who earn their livelihoods in this sector for the past eighteen months (everyone from stagehands, to musicians, to makeup artists, to lighting engineers, to actors), in large measure unable to work."
As Elias Plagianos describes:
"The actors and creative team demonstrated their passion and commitment to practicing their craft during this distressed period. I'm looking forward to sharing stories about how—instead of being overwhelmed by the obstacles of working safely on set during Covid with no crew, being socially distanced, and communicating through face masks—we treated it as an opportunity to use the confines as an evolving experiment. We used an innovative camera produced by Canon which was easy to use with no additional crew members, and had a very intimate set where actors had the freedom to give very organic performances."
Meanwhile, Hudson Falls has all of today's hot buttons: LGBTQ, divorce, genetics, tech spying, and more.
Hudson Falls has been chosen as an award finalist at the upcoming SeriesFest, which is being held in Denver from June 24-July 11, where everyone can watch virtually at https://www.seriesfest.com/pilots/hudson-falls
Hudson Falls is also a winner of the New York International Screenplay Awards and has been named an Official Selection of the prestigious LA Shorts International Film Festival and is featured prominently on their website: https://www.lashortsfest.com/. (The LA Shorts International Film Festival ranks among the most respected and largest international short film festivals in the world.)
Hudson Falls will be seen on Amazon Prime.