Paper Stories, Layered Dreams: The Art of Ekua Holmes
Free MFA Admission July 17-18
By:
MFA

-

Jun 29, 2021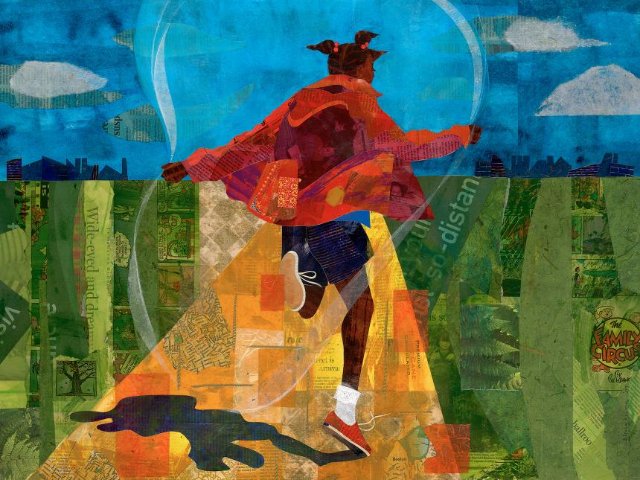 Ekua Holmes (born 1955) is an artist, community activist and lifelong resident of Boston's Roxbury neighborhood whose body of work explores themes of childhood, family bonds, memory and resilience. This summer, the Museum of Fine Arts, Boston (MFA), presents Paper Stories, Layered Dreams: The Art of Ekua Holmes, focused on her award-winning children's book illustrations, which reveal stories of self-determination, love and community. Paper Stories, Layered Dreams features more than 40 colorful works—vibrant collages that showcase Holmes' distinctive vision and commitment to positive Black imagery and representation—and interpretive materials that include a video interview with the artist and a group of wall texts written by teen participants in the MFA's Curatorial Study Hall program. Paper Stories, Layered Dreams is the latest in a series of MFA exhibitions dedicated to the art of children's book illustration, following Make Way for Ducklings: The Art of Robert McCloskey (2016–2017) and Winnie the Pooh: Exploring a Classic (2018–2019).
Access to the exhibition, on view from July 17, 2021 through January 23, 2022, is included with General Admission tickets to the Museum. As a special gift from Citizens, the lead sponsor of the exhibition and a longstanding partner, the MFA will offer free admission during the opening weekend on Saturday, July 17 and Sunday, July 18. Advance tickets are required and will be available to reserve online starting at 10 am on July 13. Citizens is additionally supporting public programs related to Paper Stories, Layered Dreams, which will take place throughout the run of the exhibition.
"Paper Stories, Layered Dreams: The Art of Ekua Holmes" is sponsored by Citizens. Additional support from the Benjamin A. Trustman and Julia M. Trustman Fund, Ailene M. Robinson and Thomas E. Lewis, the Shelly and Michael Kassen Fund, the Susan G. Kohn and Harry Kohn, Jr. Fund for Contemporary Prints, and the Eugenie Prendergast Memorial Fund.
Holmes' early interest in art was encouraged by her mother, who gave her free rein to collect colorful ephemera, street objects and discarded jewelry to inspire her creativity. During visits to her grandmother's house, Holmes would sit at "Nana's" desk cutting and taping junk mail and magazine photos to create new images. Growing up in Roxbury and attending the Elma Lewis School of Fine Arts as well as studio classes at the MFA, where she recalls being the only student of color in the room, Holmes was profoundly influenced by what she saw as a lack of positive Black images and believed that art could fill this void. Her artworks, which demonstrate her commitment to themes of hope and optimism, reflect her vision of the world as influenced by these life experiences, familial connections and friendships.
"I fell in love with making art because of the images in children's books. Now I am part of the future when some child may fall in love with making art because they are looking at these books," said Holmes. "It's exciting and humbling. Young people coming to the MFA will see that these illustrations are paintings, they're collages—and really understand how they're put together and how these images contribute to the power of storytelling."
The exhibition is organized into two sections beginning in the Clementine Brown Gallery, which features Holmes' independent studio art and her first major illustration project, Voice of Freedom: Fannie Lou Hamer, Spirit of the Civil Rights Movement (2015) by Carole Boston Weatherford. This section also presents a selection of portraits and images of life in the city—artworks that show that Holmes' imagery and method of working flow between her personal and published works.
The second section of the exhibition in the Herb Ritts Gallery focuses on recent illustrations from a selection of Holmes' many published book projects: Out of Wonder: Poems Celebrating Poets (2017) by Kwame Alexander and the recently released Black Is a Rainbow Color (2020) by Angela Joy. The Stuff of Stars (2018) by Marion Dane Bauer is featured through a site-specific installation by the artist and a display of materials and tools used by Holmes for this digitally produced publication. A selection of Holmes' luminous illustrations for the recently published Saving American Beach (2021) by Heidi Tyline King, documenting the extraordinary life of environmental activist MaVynee Betsch, is being exhibited for the first time.
"Illustrated books for children can be extraordinary and powerful vehicles for young people to explore the world. For many, children's books also provide the first introduction to art. Contemporary children's book publishing is broadening and transforming at a rapid pace and responding to the longstanding need for children's literature to be reflect the lives and experiences of all readers. Holmes' distinctive artistic vision is at the forefront of this positive change," said Meghan Melvin, Jean S. and Frederic A. Sharf Curator of Design. "Her richly detailed visual narratives captivate and challenge audiences of all ages, inviting all to see the world anew."
Each of the published books that feature Holmes' illustrations will be available for browsing throughout the exhibition. Books will also be available for purchase from the Linde Family Wing Bookstore and Shop, located next to the exhibition galleries.
About Ekua Holmes
Ekua Holmes' work is collage-based and her subjects, made from cut and torn papers, investigate family histories, relationship dynamics, childhood impressions, the power of hope, faith and self-determination. Recalling a quote from American artist Romare Bearden, "I do not need to go looking for 'happenings,' the absurd or the surreal, because I have seen things that neither Dalí, Beckett, Ionesco nor any of the others could have thought possible; and to see these things I did not need to do more than look out of my studio window," Holmes has looked out of her window for the subjects of her collages, too. Remembering a Roxbury childhood of wonder and delight, she considers herself a part of a long line of Roxbury imagemakers. In this spirit, she supports those who have a calling in the arts as well as keeping her own studio practice ignited. She has created and led workshops, been a visiting artist and lecturer, and held artist residencies in public and private institutions throughout New England. In her first public art initiative, she received a Now + There Public Art Accelerator Fellowship and launched The Roxbury Sunflower Project (#RoxburySunflowerProject), now in its fourth year, in which she facilitated the planting of 10,000 sunflower seeds in her native Roxbury.
For her work in illustrating children's literature, Holmes is the recipient of a Caldecott Honor, Coretta Scott King's John Steptoe New Talent Award, Robert Siebert and Horn Book awards for Voice of Freedom: Fannie Lou Hamer, Spirit of the Civil Rights Movement by Carole Boston Weatherford, her first illustration project. In 2018, she won the coveted Coretta Scott King Award for Illustration for the book Out of Wonder: Poems Celebrating Poets. In 2019, she won the 2019 Coretta Scott King Award again for her illustrations in The Stuff of Stars, written by Marion Dane Bauer.
Holmes currently serves as Commissioner and Vice Chair of the Boston Art Commission, which oversees the placement and maintenance of public works of art on and in city of Boston properties. She is also currently Associate Director at the Center for Art and Community Partnerships at MassArt, where she manages and coordinates sparc! the ArtMobile, an art-inspiring, art-transforming vehicle retrofitted to contribute to community-based, multidisciplinary arts programming currently focused in Mission Hill, Roxbury and Dorchester. Holmes received her BFA in Photography from MassArt in 1977.