BEMF's Global Early Music Performers
Performers from Italy and France to Slovakia and Mexico
By:
David Bonetti

-

Jul 03, 2017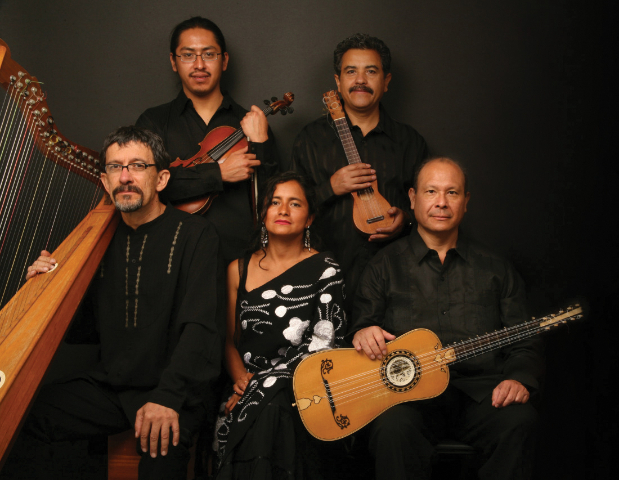 Boston Early Music Festival – Part II
The Boston Early Music Festival is a cornucopia of musical treats for lovers of music made before, more or less, Mozart and Haydn. In addition to two operas - the big Centerpiece Opera, "La Carnaval de Venise" by French composer André Campra, and the pair of little nothings, intermezzi, by Neapolitan composer Giovanni Battista Pergolesi, which I reviewed in a previous piece for Berkshire Fine Arts – (http://www.berkshirefinearts.com/06-25-2017_boston-early-music-festival-goes-to-venice-for-carnival.htm) - there were 18 other concerts given by international groups and soloists invited to perform by the festival, two mini-festivals for keyboard and organ and too many Fringe Concerts to enumerate here.
In addition to the two operas, I went to seven other concerts, including the BEMF-presented evening of Handel's oratorio "La Resurrezione." That's nine musical events in seven days, including two operas. By many standards that made me a shirker, a lay-about. But it was a rich experience for me and it took a few days after the festival ended to begin to make sense of it. Mea culpa: I did not attend any Fringe Concerts.
As a reviewer of opera and vocal music, I tried to focus on the offerings that featured singing, which was the majority of the works presented – early music is heavily vocal in nature – but it meant that I missed some highly touted concerts like the Kristian Bezuidenhout/Rachel Podger concert of sonatas by Mozart for fortepiano (Bezuidenhout) and violin (Podger). I did hear music from the Renaissance and Baroque era by composers from Italy, France and Germany with detours worth making to eastern Europe and Mexico. Because, thanks to its Centerpiece, the theme of the festival was "Carnival," I tried to attend other concerts that took carnival as its theme, discovering that some of it was a little false advertising, which drew no complaints from me since the music making tended to be so satisfying. Also because of the theme, much of the music I heard was secular in nature, and much of it was bawdy. Imagine: people in the 17th century often had sex on their minds! Shocking!!
I will address the concerts I attended in the form of a diary.
Day 1, Monday, June 12: "Musica Globus," Solamente Naturali. Jordan Hall, 5 p.m.
The first concert I attended violated both criteria I had set for myself. It was instrumental and had nothing to do with carnival, Venetian or otherwise, but since I had postponed going to the Campra spectacle until the end of the festival, I was restless, wanting to get started, and on the recommendation of BEMF's marketing director Brian Stuart, I chose violinist Miklos Valent's survey of Eastern Europe fiddle music seen and heard through the eyes and ears of German composer Georg Philipp Telemann, who spent a few crucial months in Upper Silesia.
I am glad I went. The program was different from the usual Italian/French/German early music fare, and the performance, led by an exuberant Valent, was energizing. In addition to Silesian influenced works by Telemann, the works played, primarily country dances codified by learned transcribers, were from the Polish, Slovak, Anatolian, Ashkenaz and Hungarian traditions and showed how musical ideas spread among different peoples living in close proximity, a project similar to what master gambaist Jordi Savall and his group Hesperion XXI have been pursuing in recent years. The Solamente Naturali players were able to "git down" musically and provided a rollicking introduction to the festival as a whole. And there was a little bit of singing as well: Violinist Dagmar Valentova did her best fishwife imitation on a couple of numbers.
Day 2, Tuesday, June 13: "Motets for the House of Guise," music by Marc-Antoine Charpentier, Ensamble Correspondances, Jordan Hall, 8 p.m.
The second concert also violated one of my criteria: This concert of 17th century French sacred music had nothing to do with carnival, but it was vocal, splendidly so. I tend not to gravitate toward religious music, but the BEMF has presented operatic music by Charpentier in recent years, including its Grammy winning disc "La Descente d'Orphée aux Enfers" (Orpheus's Descent into the Underworld), and I wanted to hear live some of his sacred music to see if I could tell the difference.
There were a number of differences that were immediately evident. Instead of being about gods and goddesses from the ancient world and mortals who ill-fatedly interact with them, the motets were Christian and abstract: no stories told. The texts were in Latin rather than French. And although Charpentier's sound-world was similar in both his sacred and profane works, the tradition of polyphonic sacred music from the middle ages still was evident in his religious music.
Ensamble Correspondances was making its American premiere at the festival and it seemed a little nervous at the start, at least its director Sébastien Daucé did. Before the concert started he spoke about substituting something on the program, which was inaudible to me and my guest, and the opening instrumental piece sounded tentative. Quickly, however, the group got over its jitters and sang persuasively, the three female voices in "Savle Regina" excelling in the tart tonality that characterizes early music. In "Miserere des Jésuites," a powerful, resonant bass was joined by the three females and then all seven singers in a beautiful harmonization. The rapturous applause the group received allayed whatever nervousness it faced in its American premiere at its most prestigious early music festival.
Day 3, Wednesday, June14, afternoon, "Il San Vito," music by Bernardo Pasquini, Concerto Romano, Emmanuel Church, 5 p.m.
The festival is starting to heat up for me: Today, I will attend two concerts. Of course, totally devoted festival attendees will have attended nine concerts by the end of the evening, not to mention maybe the Centerpiece Opera and uncountable early-in-the-day Fringe Concerts, compared to my four – but who's counting? Having started off in Eastern Europe and then turning Westward toward France, both afternoon and evening concerts I will hear Wednesday are by Italian groups playing Italian music.
Concerto Romano brought to the festival something of a premiere: Bernardo Pasquini's turn-of-the-17th century oratorio "Il San Vito" was being given its first modern performance. Which is remarkable – although Pasquini remains known among specialists for his instrumental works, his operas and oratorios have been forgotten, in the case of "Il San Vito," for more than 300 years. It would be nice to report that it deserves its oblivion, but the opposite is true. The work was lively, melodious with rich harmonies and varied rhythms, and provided many opportunities for vocal expression. We were privileged to be the first to hear it after all these years.
To innocent ears, the music and singing might sound like opera, and that tells a tale. Opera was forbidden in Rome during the reign of Pope Innocent XII, and composers turned to religious texts, creating oratorios to be sung both in the structures built expressly for the form during the Counter-Reformation also called oratorios and later in the private palaces of princes and cardinals. As anyone who has read the Bible or tales of early church history knows, there are many situations in those texts that are as dramatic as any god and goddess-populated allegorical work that formed the basis of Baroque opera. The story of San Vito (St. Vitus), his loyal followers Modesto and Crescenzia, and the Emperor Dioclesian and his daughter Valeria, who remain faithful to the old gods, is not the first that pops into mind, but Pasquini and his librettist Domenico Filippo Contini made the material both a moral and physical drama. And they tweaked the original story to make Dioclesian's son a daughter so there could be romance. Oh, those Italians!
One of my favorite underexplored episode in music history is that of the Roman cantata and oratorio. There are hundreds of them, by composers like Alessandro Scarlatti, Alessandro Stradella and the young German Georg Frideric Handel, whose Roman oratorio "La Resurrezione" was a festival highlight. To have this newly exhumed oratorio by Pasquini performed just a day before the Handel was very heaven for this critic.
Concerto Romano gave a stylish and idiomatic performance of the work, a product equally of passion and deep understanding. Director Alessandro Quarta led his forces with balletic grace. Dramatic soprano Paola Valentina Molinari portrayed the Christian martyr as a determined but sweet man, an exemplar of the new age, at times, as in the aria, "Mio Gesu, che dagli'alti tuoi giri," singing with melting beauty. As Dioclesian baritone Mauro Borgioni was a convincing man of authority. His deeply resonant, dramatic voice was one to strike terror into hearts less brave than Vito's. As his daughter, Valeria, soprano Sonia Tedla Chebreab sang with a high, lyrical voice, but she was able to show her anger, turning into a spitfire when Vito rejected her love for his god. As Modesto, tenor Luca Cervoni, and as Crescenzia, alto Alberto Miquélez Rouco, sang with sweetness in their few moments in the limelight.
Day 3, Wednesday, June 14, evening, "Carnivalesque: Sex, Lies, and … Musical Tales in 16th-century Venice," Micrologus, Jordan Hall, 8 pm.
At last! Both my criteria are met: A concert featuring vocal music about the carnival in Venice. And, If it hadn't been for the two Pergolesi intermezzi, it would have been the best time I had during the entire festival. As it was, it was a tie.
Micrologus, a group that explores popular Italian music of the middle ages, highlights the one of the three parts of the early music equation that tends to get short shrift. When I lived in San Francisco, there was an hour-long radio show produced by an early music record store in Berkeley known as A Musical Offering, called "Chapel, Court and Countryside," after the three sites where the music was played. We hear music from the chapel and the court – the sacred music of the church and the keyboard solos, instrumental ensembles, madrigals, opera and dance of the court – but we neglect the popular art of the countryside (and of the urban street as well). That might be because no one wrote it down, and there was no one like Alan Lomax going out with a tape recorder to catch vanishing sounds in 1500. Anyway, it is this third, largely missing music that Micrologus plays that completes the picture.
The group's co-founder and director soprano Patrizia Bovi has led the research for some 30 years into rediscovering what music was written down and figuring out how to play it. In her notes, she writes that all the characters that became codified later in commedia dell'arte first appeared in the 15th century. They included Scaramella or Scaramouche, a lampoon soldier; the ugly, pug-nosed old woman who is either a procuress of an obstacle to true love between two young people; that pair of young lovers, here known as Giannolo and Rosina; the classic unhappy wife; the villainous old man; and Feragu, the forerunner to Don Juan, the man who lives for the chase but is unwilling to settle down.
You put them all together and you get some bawdy songs, some so raunchy they would cause a rhythm and blues singer to blush. Of course, songs attacking women are the most vicious. One example, from "Una vecchia sempiternosa," will suffice: "A blathering old hag/Full of farts, unpleasant,/grim, ugly, grief-stricken/without sincerity/Goes around shitting here and there/and thinks nobody's looking./Her name is Tarsia/And she's got blood on her beard." Talk about shaming! There was no Facebook or Twitter in the 16th century, but to have local troubadors singing such a song in your village might have been enough to keep poor Tarsia indoors for the rest of her life.
Bovi and her merry band, four singers, many also playing instruments, and six instrumentalists, put this material over with vigor and zest, lutenist Crawford Young providing the few moments of calm in a number of welcome interludes. The instrumentation – pipes, tabors, recorders, a sordellina, rebec, bray harp, viol, dulcimer and lute – and the voices were harsh, guttural, tart, acidic, grating on the ear of those used to smoothed over sounds, the Guarneri String Quartet, Renee Fleming, etc., prevalent today. There is little sweetness or creamy voluptuous to this sound just as there was little sweetness and smoothness to the historical period.
Some of the songs are text-heavy, and in one, about an unhappy wife, "Io son malmaritata," Bovi spoke-sang the text like a co-conspirator, a precursor to Schoenberg's sprechtstimme. In general, Bovi, who also played the harp and created the program, gave such an earthy, visceral performance I came to think of her as the Anna Magnani of early music singers. She was aided and abetted by her colleagues. The Sorini brothers, Simone and Enea, each with his own distinctive hair style and approach to music, were eager collaborators. The concert was electric and at intermission there was a stampede at the CD counter to buy their recording, with a slightly different cast, of the program.
Day 4, Thursday, June 15, afternoon. "Laberinto en las guitarra," Tembembe Ensamble Continuo, Jordan Hall, 5 p.m.
I'll hear two concerts again on Day 4. The evening concert, Handel's "La Resurrezione" - a big deal - I've already reviewed for Berkshire Fine Arts, so I direct you there if you're interested in reading what I had to say - (http://www.berkshirefinearts.com/06-25-2017_boston-early-music-festival-goes-to-venice-for-carnival.htm.). But in the afternoon I heard a program of largely 17th and 18th century Latin American guitar music interpreted by the Mexican group Tembembe Ensamble Continuo that was refreshingly different from the festival's main menu items. The group, co-founded by Baroque guitarist Eloy Cruz, who played masterfully throughout the program, is dedicated to the traditional Mexican music called son, which he never defined, but a detour to Wikipedia gave me some facts. The Spanish word for sound – well, d'oh – son is a percussive dance music that is pervasive throughout Mexico. A synthesis of Spanish, indigenous and African traditions, it has morphed into regional variations.
I realized as I listened that although I had planned a different focus – vocal music and music about the carnival – I ended up with another sub-focus – traditional, demotic music. Solamente Naturali's dance music from Eastern Europe, Micrologus's vulgar 16th century Italian folk music and Tembembe Ensamble Continuo's exploration of Mexican guitar music are all examples of music real people, peasants, workers, tradesmen and women, not priests and cardinals, counts and kings, listened to, although the latter might have listened when they thought no one was watching.
The afternoon was infectious. In addition to guitars and percussion, there was singing – some of the songs were as bawdy as those Micrologus sang - and dancing, most memorably by Ada Coronel, who did a little dance in which her body remained stiff while her feet tapped out rhythms, like a restrained form of flamenco. At the end she was joined by one of the male musicians, their clicking heels becoming a percussion instrument of its own. And Wikipedia told me that son was an integral part of carnival season.
Day 5, Friday, June 16. "Canti Carnascialeschi: A Florentine Carnival," Cinquecento. Emmanuel Church, 5 p.m.
Cinquecento – the Italian word for 16th century – plays music from that century, but unlike Micrologus, it visits the chapel and the court as well as the street, if not exactly the countryside. Their concept for the concert was a visit to Florence during its carnival, which starts out with a drop-in to the cathedral where music by the Flemish composer Guillaume Dufay is heard. Then it's out to the street, to hear bawdy, carnivalesque songs. One sample, by Giovanni de Nola: "We are doctors, O lovely ladies,/with roots we cure wounds./Come on now, virgins: this is your chance,/do not lose it./For your wounds, large and tight/ You will get big and small roots…." A program note reminds listeners that the Italian word for doctors – medici – is the same as Florence's ruling clan. Naturally, there's some music flattering to the Medicis and secular music, but one feels that Cinquecento, an acapella group of five male singers, is happiest in church, where its close harmonies and pure tonalities can soar. The group, led by counter-tenor Terry Wey, produced some beautiful singing, but it was fudging the issue of carnival in its program, which is OK – violating the rules is very carnivalesque.
Day 6, Saturday, June 16. Pergolesi's "La serva padrona" and "Tracollo e Livietta" Jordan Hall. 8 p.m. Reviewed previously.
Day 7, Sunday, June 17. Campra's "Le Carnaval de Venise," Emerson/Cutler Majestic Theatre, 3:30 p.m. Also reviewed previously. Both can be found at http://www.berkshirefinearts.com/06-25-2017_boston-early-music-festival-goes-to-venice-for-carnival.htm