Constellations by Brit Nick Payne
Geffen Playhouse in LA
By:
Jack Lyons

-

Jul 04, 2017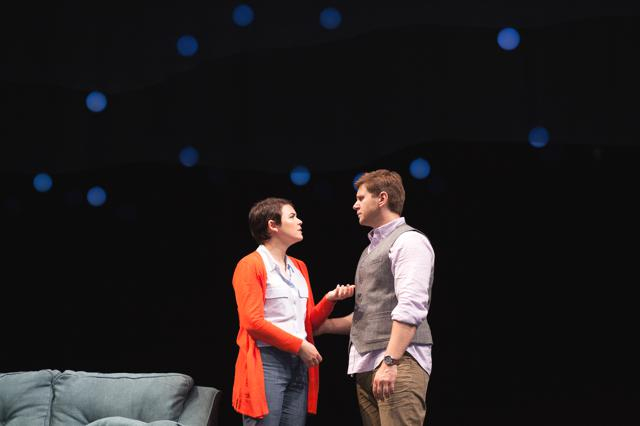 What are the odds of a play whose premise is underpinned with quantum physics, bees, and the seductive power of love that brings two disparate souls together turning the result into a riveting evening of intellectual theatre? Pretty slim, I'd say. And then I saw the play.
"Constellations", a poignant drama written by British playwright Nick Payne, is deftly staged by award-winning director Giovanna Sardelli that validates the acting gifts of its two stars: pixie-like Ginnifer Goodwin and handsome leading man Allen Leech (best known for his six year run in the TV blockbuster series "Downton Abbey", as the family chauffeur).
Two handers – plays that have just two characters – are becoming more popular these days in the age of budget restrictions, except for musicals. These production caveats now place the burden of entertaining the audience squarely on the talent of playwrights, performers and directors, without the benefits of all the bells and whistles of money infused and promotion-driven productions. Most of the time bold, creative, artists pull off the delicate balance of engaging and entertaining the audience at the same time (last year I reviewed the winning two hander "Heisenberg", in New York, which opened today with the original NY cast at the Mark Taper Forum).
"Constellations", the play now on stage at the Geffen Playhouse, in LA is another good example of insightful writing in the hands of a stellar director and her two star performers. The compelling story of Marianne (Ginnifer Goodwin), a quirky, Cambridge University academic, who specializes in in Quantum Physics, and Roland (Allen Leech), a non-college educated bee keeper, who meet at a Bar-B-Que party at the home of friends would seem implausible in a traditional play. In this dramedy of sorts, both are shy guests and tend to stay in the background to observe the other guests.
From the moment the stage lights come up, the opening dialogue is repeated several times. The same words, only with different emphasis and timing leading one to think that a stage glitch had just occurred. No. The repetitive dialogue in intentional. Marianne, we discover, lives in several alternate parallel universes. If the play was meant to be read, not performed, the dialogue would come across as a classic quantum physics theoretical essay, except that it's being performed by live actors on a stage. The obscure world of quantum physics is the world that Marianne inhabits. Roland is a creature of the outdoors and nature, and he is clueless as to quantum physics, but nevertheless, is strangely drawn into this odd coupling and its relationship. As Marianne and Roland are two lonely people, could love be in the air? You bet it is. Remember it's the most powerful force on our planet.
The set design by Takeshi Kata envelops the actors in a way that lends credence to the parallel universe concept. Goodwin and Leech perform in front of a huge 'cyc' that displays the cosmos with twinkling stars and planets, and their parallel universe moments are cued by the dialogue. With so many stars and planets, each possibly, with a story of their own to tell. There are as many choices in life as there stars is in our universe is the message that playwright Payne is selling. Who knows? Our life journeys are all about making multiple choices. The "what if" factor is real constant that has to be considered. Director Sardelli skillfully and seamlessly navigates some tricky waters in doing justice to playwright Payne's murky, but compelling tale of love of among the mis-matched quirky set as viewed through the lens of quantum physics.
The real beauty to this intriguing and poignant production lies in the hands of its two stars, their onstage chemistry and in their stunning 'in-the-moment' performances. There are some spoiler alert moments, but you will not get them from me. You will just have to come to the Geffen Playhouse and see for yourself. Enough cannot be said about Goodwin and her tic-filled, intense portrayal of Marianne. Leech is her equal when it comes to the heart-rending twists that fate has handed these two lovers. Three hankies for the women, one for the gentlemen – yes if you have hearts, that is.
Director Sardelli leads the technical team of scenic designer Takeshi Kata, lighting designer Lap Chi Chu, costume designer Denitsa Bliznakova, and Original Music & sound designer Linsday Jones.
"Constellations", performs at the Geffen Playhouse and runs through to July, 23, 2017.

Reposted courtesy of Jack Lyons and Desert Local; News.