Coming Back Like a Song at Berkshire Theatre Group
World Premiere of Juke Box Musical
By:
Charles Giuliano

-

Jul 04, 2018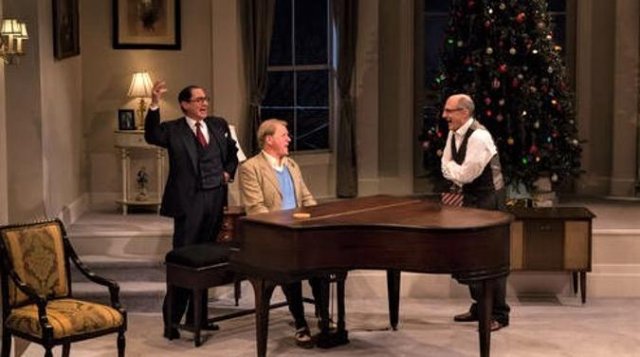 Coming Back Like a Song
By Lee Kalcheim
Directed by Lee Kalcheim
Musical Direction by Daniel Mollett
Scenic design, Randall Parsons; Costumes, David Murin; Lighting, Oliver Wason; Sound, Nason Leigh.
Cast: David Garrison (Irving Berlin), Philip Hoffman (Harold Arlen), David Rasche (Jimmy Van Heusen)
Berkshire Theatre Group
Main Stage
Stockbridge, Mass.
June 28 to July 21
World Premiere
It's Christmas Eve in 1956. There is a large decorated tree in the rear flanked by windows revealing falling snow. It is the living room of an elegant New York apartment precisely designed by Randall Parsons and lit by Oliver Wason.
With no curtain we contemplate the stage at about eye level in a mood of heightened expectation. The key prop is a grand piano with the keyboard obscured from our view.
Having attended an ASCAP holiday party three composers have arrived at the home of Irving Berlin for more drinks, lots and lots of classics from the Great American Songbook, and anecdotal snippets of their mutual admiration, friendly rivalry, professional and private lives.
These giants of Broadway and Hollywood wonder about their continued success and relevance in the era of Elvis Presley and the emergence of rock 'n' roll. They needn't have worried as their music continues to be revered and performed. The one new tune of the evening, and oddly its highpoint, is the racous collaboration "I Hate Rock 'n' Roll."
During an enervating, draggy, juke box musical we come to meet Irving Berlin (born Israel Beilin, a Russian Jew, 1888-1989), Jimmy Van Heusen (born Edward Chester Babcock; January 26, 1913 – February 6, 1990), and Harold Arlen (born Hyman Arluck; February 15, 1905 – April 23, 1986).
Taking turns at the piano they perform what is indeed a selection of hits from the golden age of The Great American Songbook. The songs are fabulous but the performances were mediocre and at times, particularly Philip Hoffman as Harold Arlen, just awful.
As a hard drinking, foul mouthed, womanizer friend of Frank Sinatra and Palm Springs ratpacker, Van Heusen's anecdotes and attempts at song, knocked the wind out of the production. He refers to women as broads and it's hard to see the difference between a high priced hooker and a well kept socialite. To Van Heusen they look and act the same.
As Berlin, David Garrison, performed the role and persona effectively. He fit the physical description of Berlin in a neatly tailored suit (designed by David Murin) with slicked back, dyed black hair. He had the appearance and manner of an accountant or banker.
There was a warmth and empathy evoked by Philip Hoffman as Harold Arlen. He is enduring yet another holiday without his wife Anya (Taranda). They married in 1937 and she died in 1970. She remained in NY while he worked in Hollywood. That put a strain on their marriage and she became a long term convalescent. When Arlen calls her Berlin gets on the phone to sing a chorus of "Always."
In bits and pieces we learn about these giants of American music, their triumphs and tragedies.

In 1912, Berlin married Dorothy Goetz, the sister of the songwriter E. Ray Goetz. She died six months later of typhoid fever. The family opposed his marriage to an heiress and Roman Catholic, Ellin Mackay. In 1925 when they met he composed "Always." Royalties to the song were her wedding gift. The divorced father who disowned Ellin reconciled when the Berlin's first child, Irving Berlin, Jr., died on Christmas a month after his birth.
With flimsy connective tissue we focus on all that great music.

It is interesting to learn that Arlen's song "Over the Rainbow," a hit for Judy Garland, was cut from the film three times before the final edit of "Wizard of Oz." If Arlen made her career with that song he also saved it in 1954 with the film "A Star s Born" and a Garland hit "The Man That Got Away." It was yet another song that the studio initally rejected.
There are references to the simplicity and success of Berlin as the king of Tin Pan Alley. He had the uncanny gift to make songs tuneful and simple while keeping his thumb on the heartbeat of America. He composed our alternative National Anthem with "God Bless America" rendered by the less than svelte Kate Smith. A Russian Jew composed the iconic "White Christmas."
We learn that Berlin was an insomniac and workaholic as well as a devoted family man. He is said to have dashed off a song a day with a legacy of some 1,500 songs. He attended rehearsals and returned the next day with new songs.
He played almost entirely in the key of F sharp so that he could stay on the black notes and owned three transposing pianos so as to change keys by moving a lever. Though Berlin eventually learned to write music, he never changed his method of dictating songs to a "musical secretary." Regarding his unique and intuitive creativity Berlin said he "does not believe in inspiration."
Woven into the scenario are several calls to and from Sinatra. The Chairman of the Board wants Van Heusen to fly out to Palm Springs (pre Vegas) and play piano for his Christmas Party. An accomplished pilot Van Heusen doesn't trust commercial airplanes. "We're snowed in" is his answer.
We learn of their close relationship particularly during a combination of a failing career and unraveling marriage to Ava Gardner. He discovered Sinatra bleeding out from an attempted suicide. Wrapping the arm in a towel he managed to get a disguised Sinatra to the emergency room while avoiding the media. He never discussed the incident during interviews.
While inadequately represented in this three hander Arlen composed songs as iconic and beloved as those of his peers. Even in snatches they reminded me of hearing them as cabaret and jazz standards. He wrote Sinatra anthems like the title tune of his Capital records classic "Come Fly With Me." There have been so many versions of "All the Way" "Darn That Dream" and "Swinging on a Star." His "One for My Baby (and One More For the Road)" is the ultimate, late night, down on his luck, saloon song. Van Heusen was a master of pop tunes with a blues feeling.
The use of the piano was particularly problematic. From a production point of view it's economical as befits the concept of a no frills ersatz musical. Each of the three composers take turns but there is not a shred of difference in the playing. At best, the unseen Daniel Mollet is an adequate lounge player. But in a terrible gaffe by director Gregg Edelman there is an inexcusable incident of no hands piano playing.
It's mistakes like that which made this a less than memorable evening with The Great American Songbook.