Ambassador of Love
Celebrating Pearl Bailey at Goodspeed by the River
By:
Karen Isaacs

-

Jul 06, 2021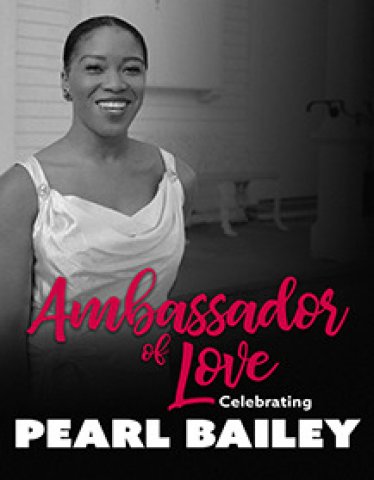 Ella Fitzgerald, Lena Horne, Sarah Vaughn are all names that music aficionados know well. But how many today remember Pearl Bailey?
You should for she was a consummate entertainer, singer, actress of the same period.
Ambassador of Love which is part of Goodspeed by the River through Sunday, July 18 will remedy that.
If you know Bailey's work, the show by Rashidra Scott will let you enjoy not only the music but her wisdom and if you don't know about her, you will discover this terrific entertainer.
Scott doesn't attempt to tell Bailey's full story or to imitate her inimitable style. What she does is pay homage to this performer who she says has been a role model to her.
Scott is aided by her musical director and fabulous pianist, Michael O. Mitchell.
Bailey (whose older brother Bill Bailey was a well-known tap dancer), began performing as a teenager in Philadelphia and later won, like Fitzgerald, the Apollo Theater amateur competition. From there she went on to perform in supper clubs throughout the country; first segregated clubs and later integrated ones that attracted "high society." She performed continually with the USO and had roles in films as well as recording 50 albums.
She also made her mark on Broadway starring in seven shows and originating roles in St. Louis Woman and House of Flowers. In 1967 she starred on Broadway with Cab Calloway in an all-black cast of Hello, Dolly! which won raves and huge audiences. So much so, that RCA recorded an original cast album of the company, a rare occurrence.
Scott offers nearly two dozen songs – some she introduced on Broadway and others became associated with her. I bet you know many of them.
She draws from two Broadway shows (St. Louis Woman and House of Flowers) composed by Harold Arlen for terrific renditions of "Legalize My Name," "It's a Woman's Prerogative" and "What Is a Friend For?" But she also shows us why Bailey was such a hit as Dolly Levi as she gives us "I Put My Hand In," "Hello, Dolly!" and "Before the Parade Passes By."
There's an excellent rendition of one of Bailey's hits, "Takes Two to Tango" and "Tired" plus familiar songs such as "It'll Get Worse," "Fifteen Years (And I'm Still Serving Time)" and "That's Good Enough for Me."
The show ends with a rousing rendition "Toot, Toot, Tootsie Goodbye" with Mitchell showing off his strut piano chops.
Scott so clearly admires Bailey, that she has downplayed one part of the Bailey persona. Even on such shows as The Ed Sullivan Show, Bailey projected a knowing sexuality often accompanied by a wink and a smile. She was playing a role using the lower tones of her voice and her gorgeous figure to make double entendres. It was always clear that one of her signature numbers, "It Takes Two to Tango" was not really talking about the ballroom dance.
But that is a small quibble in an otherwise enjoyable show.
Let's hope this show brings Bailey's life and talents once more to public attention.
For tickets visit Goodspeed.org.
This content is courtesy of Shore Publishing and Ziip06.com