Guys and Dolls at Stratford Festival
Actors Sing and Dance Up a Storm
By:
Herbert Simpson

-

Jul 07, 2017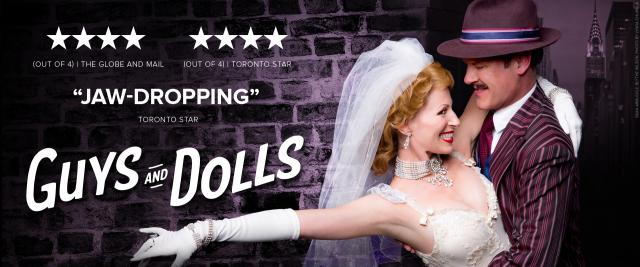 Guys and Dolls
Book: Jo Swerling and Abe Burrows adapting Damon Runyon stories
Score: Frank Loesser
Director: Donna Feore
Choreographer: Donna Feore
Stratford Festival of Canada
Through October 29, 2017
Director/choreographer Donna Feore seems to have solidified Canada's Stratford Festival's standing as not only the largest and finest classical repertory theater in this hemisphere but also Canada's greatest musical theater.

This season's superb Guys and Dolls may not be the astoundingly perfect production that her 2013 recreation of Fiddler on the Roof became, nor so daring a restaging as her A Chorus Line last season, but it may be more pleasing than either, and is certainly the all-around best version I've seen to date (and that includes the Broadway original).

Following and completing the late Brian Macdonald's transformation of Stratford's masterful Shakespearean repertory artists into first-rate, Broadway-level singers and dancers, also, Feore has now demonstrated a repertory of Stratford musicals worthy of filming, touring, or reproducing worldwide.
When Macdonald directed Stratford's first Guys and Dolls, some complained that his emphasis on dance diluted the show's comic and dramatic quality. But many marveled at how well he got classical actors to dance. Nobody seems upset now that McDonald's disciple/successor, Donna Feore, is knocking the audience out with production numbers that feature male dancers downstage soaring in perfect split-jumps above the singer/actors' heads beneath and behind them. We just gasp and applaud. I mean, aren't gamblers supposed to spin like tops while throwing the dice?
Guys and Dolls has been called the perfect musical because it is so distinctly colorful and affecting in script and settings, has many roles, none of them forgettable, and includes some 20 songs, every single one of which is different from the others, winning and memorable. Certainly Adelaide's comic Lament, "A Person Could Develop a Cold," is a legendary comic showpiece, but it develops into an even more stunning comment, and differs entirely from the mood, tone, and effect of her other show-stopping songs. She is the star of the show and not even the heroine.
It seems that almost everyone has a show-stopping song. And the action constantly moves to a change of place and tone and feeling. When, after we've been variously entertained by several couples, at least five major contenders for the star role, and much clowning, one of the big, oafish, slangy gangsters, stands up in church and sings a confessional song that brings the house down.
The gangsters' costumes are amusingly overly designed like a matched set, and the HotBox Dancers shift from theatrical to teasingly sexy. Dana Osborne's costume designs develop into a showcase of styles that seem to suit the songs more than the characters. But Michael Gianfrancesco's sets and props present dazzling changes of place and atmosphere really swiftly and almost magically. And Michael Walton's beautiful lighting struck me as too complex to even try to follow.
Sean Arbuckle's Nathan Detroit is a versatile character, not any kind of stereotype – almost understated at times, but solid in his acting, singing, and dancing. Evan Buliung is strongly supporting and rather realistic as Sky Masterson until he has to dazzle in "Luck Be A Lady."
Alexis Gordon's ladylike ingénue commands some attention for Sarah Brown for her singing but really takes over when she sings "If I Were A Bell."
Blythe Wilson clearly reflects familiarity with Vivian Blaine's iconic original Adelaide. She reproduces Blaine's famed delivery of "Adelaide's Lament" and some of her other singing. But Wilson also brings a sadness to Adelaide's disappointments and some very musical and very funny touches to her sexy dancing and singing. Hers is an entirely winning performance, and a less aggressively dominating one. But she's still the star of the show. And Steve Ross plays Nicely-Nicely Johnson with funny big-guy character-actor solidity – no effort at scene-stealing. Ditto his appearance for "Sit Down: You're Rockin' the Boat." Then he sings the hell out of it – no clowning, just vocal power. And it takes a while for us to recover.
Cast: Eric Abel, Gabriel Antonacci, Sean Arbuckle, Matthew Armet, Alex Black, Devon Michael Brown, Evan Buliung, Stephen Cota, Colton Curtin, Beau Dixon, Alexis Gordon, Alexander Herzog, Lisa Horner, Bonnie Jordan. John Kirkpatrick, Heather Kosik, Bethany Kovarik, Krista Leis, Jordan Mah, Lily McEvenue, Chad McFadden, Reid McTavish, Laurie Murdoch, Marcus Nance, Nicholas Nesbitt, Trevor Patt, Glynis Ranney, Sayer Roberts, Steve Ross, Brad Rudy, Cynthia Smithers, Natasha Strilchuk, Mark Uhre, Blythe Wilson
Technical: Set: Michael Gianfrancesco; Costumes: Dana Osborne; Lighting: Michael Walton; Sound: Peter McBoyle; Fight Director: John Stead
Reposted courtesy of Total Theatre.