Mark Morris at Jacob's Pillow
Bacharach/ David The Look of Love
By:
Charles Giuliano

-

Jul 11, 2023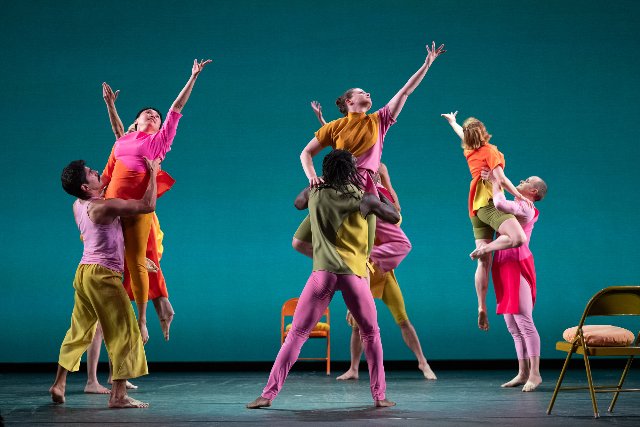 After a two years hiatus (Covid and renovations) the renowned Jacob's Pillow in Becket, Massachusetts, was launched with an hour long suite, The Look of Love by the Mark Morris Dance Group.
America's oldest and most respected dance festival runs for nine weeks ending on August 27. Performances run Wednesday through Sunday.
The venerable Ted Shawn Theatre looked the same yet refreshed. Having sweated out a number of performances we enjoyed the new AC. For the first time the theatre has an orchestra pit. It was put to immediate use with a seven piece band (four instruments and three vocalists) led by pianist Clinton Harris. In addition to piano, bass and drums the fourth instrument was trumpet. This limited the arrangements which were often too brassy. It would be enhancing to add another instrument.
A score of thirteen songs for ten dancers has been arranged by Ethan Iverson from the many composed by Burt Bacharach with lyrics by Hal David. His first hit, "The Blob" from 1958 was written for a campy horror film starring Steve McQueen. It's included but an odd fit in the mix of readily familiar hits. There was suitably spooky lighting by Nicole Pearce.
Several of the program's songs were written for Dionne Warwick with whom he had a productive relationship until a falling out in 1972. With a sultry, laid back, understated manner she best reflected his complex style.
Bacharach's music is characterized by unusual chord progressions, influenced by jazz harmony, with striking syncopated rhythmic patterns, irregular phrasing, frequent modulation, and odd, changing meters.
More than most contemporary choreographers, reaching across many genres and styles, Morris always focuses on a critical analysis and deconstruction of the music. Often what may appear to be quirky movements are visual articulations of nuances heard in the music. This approach encourages the audience to use all of their senses to appreciate the dance.
Bird-like fluttering of arms, for example, made no sense to the narrative but synched with a quick rhythmic flourish.
The series of sold out Pillow performances represent the East Coast premiere of the work. Bacharach attended a performance several months before his demise at 94 last February.
The evening commenced with a piano solo of "Alfie." I could hear the lyrics from the 1966 film, starring Michael Caine, in my head. It was a prelude to the curtain parting for an anthem "What the World Needs Now" which has never felt more relevant.
The five male and five female dancers circled with connected hands then partnered with turns and soft lifts. There was a wash of pastel colors (pink, yellows, apple green) in tunics, dresses, tights and shirts designed by long time Morris collaborator, Isaac Mizrahi.
There is wonderful story telling of love lost and gained in the music of Bacharach/ David. These shifts of anguish and yearning have been well defined by Morris.
We can't miss the gesture of rejection in "I'll Never Fall in Love Again" as a lithe, tall woman pushes off from a lover and is cocooned in self. While often literal Morris is never simplistic. As with the complex lyrics there is never an easy or obvious conclusion.

With "Walk on By" the dancers emphatically marched, eyes front, back and forth across the stage. We have all had that awkward moment of a chance encounter with a former lover.
I had to do some research to unravel the interpretation of the now iconic Warwick version of "Message to Michael." It was originally "Letter to Martha" and written for a male voice. Initially, Bacharach/David rejected her bid to record it which she did in France. Recorded as a B side it was aired in New Orleans, which the song references, and took off.
Morris uses pastel folding chairs and cushions as props. Seated then standing a dancer, surrounded by listeners or followers, lip-syncs the lyrics while a couple depicts anguished love center stage.
There was much accessible story telling. An arrangement expanded on the original as a repeated phrase finally led to the melody of "Raindrops Keep Falling on My Head." The puddle hopping dancers used pillows as "umbrellas."
We sorely missed Warwick during the quick, abrupt shifts of the rhythmic "Do You Know the Way to San Jose" and iconic "Walk on By." Here singer Marcy Harriell neither adequately evoked Warwick nor offered a fresh interpretation.
Of course, that's a tough assignment. Consider, for example, how Diana Ross bombed as Billie Holiday and Audra McDonald utterly nailed it.
Starting with Dance Umbrella in Boston, then Tanglewood and Jacob's Pillow, since the 1980s we have seen more performances by the Mark Morris Group than another other American company. I recall Morris in silver top hat and tails performing solo on stage at Emerson/ Majestic. His movements were fluid, expressive and often humorous.
That memory prevails and it's what channels when viewing the current dancers. His training is rooted in ballet, classical and folk dance. Whatever the music, there is a distinctive vocabulary and style reflected on stage. We come to imbibe the latest iteration of the familiar.
While the dancers have moments in which they are featured there are no virtuoso soloists. They are intricate pieces of the puzzle of an ensemble which Morris identifies as a "group" rather than "company."
The performance ended on a whimsical note with the breathy and evocative "I Say a Little Prayer." We left feeling hungry.
With the infectious and embracing music of Bacharach/ David The Look of Love will likely be regarded as among his most accessible and popular dances.
Reposted courtesy of Boston's Arts Fuse.