Inna Faliks Returns to The Barge
Splendid Music by Freidlin. Clara Schumann and Ravel
By:
Susan Hall

-

Jul 14, 2022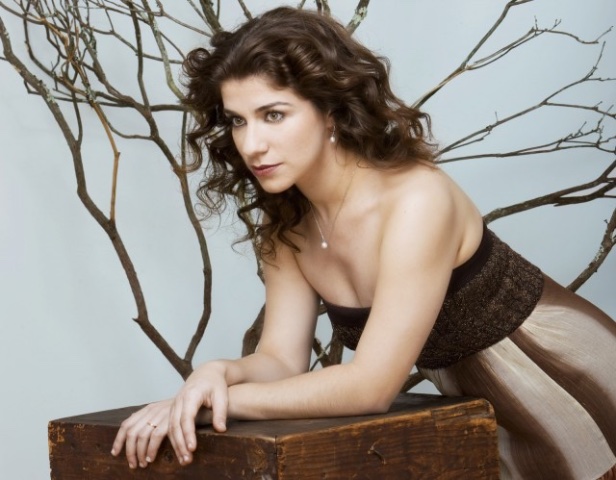 Inna Faliks is not only a pianist of the highest order. She programs to reveal new insights into the music she performs. She is especially striking as a commissioner of new music. She also honors living composers, some too seldom performed.
Her recent program at The Barge in Brooklyn, began with Jan Freidlin Ballade in Black and White, a work she commissioned. It is a wonderful work, playing around one note or a small grouping. Tones are chased, some in smooth rushes. Others jagged and indeterminate. You never quite know where you are. Yet Faliks roots us. The blurred arpeggios and scales form unusual, yet ear-catching moments. Sometimes notes hang out at the very tip top of the key board. Sometimes they are growling in the base. To the wide ranging dynamics, Faliks adds arreting rhythms and hesitations, which make us yearn for another note. Just one would be more than enough. Then myriads of notes erupt. This is an exciting work, made for Falik's many talents.
Faliks interprets like a conductor. She shows us lines and phrases as they interconnect, cross and diverge. She uses her exceptionally large hands to promenade on the keyboard. Wrists are held high, with her fingers high stepping at an almost right angle. She can create an unusual lightness.
Clara Schumann's early Piano sonata in G Minor is full of melody. Her chromaticism and unstable harmonies are revealed as Falik's performs. They are the most natural sounds and shapes imaginable. This is another of Falik's gifts: She commands notes and releases them to enrich the sound. She can comfortably double the speed of octave doublings and still retain the conversational style. We feel the presence also of Clara's husband, who she aimed to please with this piece. Faliks is always conversing.
Ravel's Gaspard de la Nuit bring us to another place. The piece is famous for its difficulty. Ravel wanted to create a work which was more difficult than Islamey by Mili Balakirev. Alexander Scriabin damaged his hands practicing this piece. Faliks is such a consummate technician, that its difficulty is never perceived. Instead we are led through pyrotechnicss, always performed in service of the music.
The Barge is one of New York's most charming venues. You rock on the boat as you watch perfumers rock against the lower Manhattan buildings. Boats pass by outside, traveling up and down the East River. Faliks fits in this grand, yet soothing setting.