Napa's Auberge du Soleil
Gordon Huether's L'Esprit du Soleil
By:
NAPA

-

Jul 15, 2022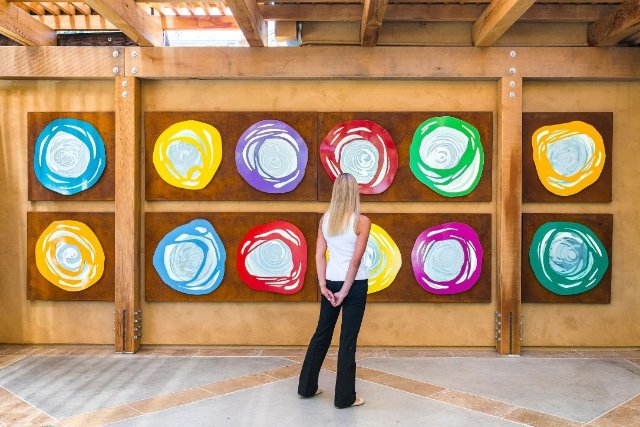 Auberge du Soleil, Napa Valley's quintessential adult getaway, and renowned local artist, Gordon Huether, today unveiled "L'Esprit du Soleil" (The Spirit of the Sun), a commissioned multi-panel art piece designed especially for the newly remodeled entrance to the award-winning hotel and its Michelin Star Restaurant. The work features 12 individually crafted abstract suns, installed in two contiguous five panel rows, with each panel crafted in a distinctly different color. The vibrant colors convey life, vitality and the abundant natural beauty that can be found in the Napa Valley.
"L'Esprit du Soleil" becomes the most prominent permanent piece added to the property's extensive collection on display in public areas and throughout the private outdoor sculpture garden featuring over 100 works by 60 California artists.
"Creating a statement piece of art made specifically for the entrance of the property is something we've wanted to do for years," said George Goeggel, Managing Partner at Auberge du Soleil. "We wanted a bold work that would encourage guests to pause and contemplate as they arrive to check into the hotel or on their way to dine at the Restaurant. Given Gordon's long-standing history in Napa Valley and his impeccable reputation as a world-renowned sculptor, I knew he was the perfect artist to take this rough concept and reimagine it into a beautiful interpretation of light, color and the sun."
L'Esprit du Soleil is fabricated with 12 individually laser-cut 'suns', each powder-coated with a different color, and laminated to half-inch thick acrylic and applied to an etched mirror base. The suns are set against and framed by Corten steel and illuminated by LEDs for a completed dimension of 20'W x 14'H.
"I was really excited to work on this project at Auberge du Soleil where the vibe aligns with the earth, the sun and the landscape," said Huether. "George always considers the art component of whatever he's involved in. I was inspired knowing that long-time returning guests and first time visitors alike will discover the unexpected with this piece where each unique color is meant to display radiant light from the sun. L'Esprit du Soleil adds another dynamic layer of richness to the property; the piece is going to look different every time you see it with the constant change of light throughout the day, every day, and as the material changes gradually over time."
Since the property opened in 1981, art has served as a key pillar of the guest experience at Auberge du Soleil. The Main House public space, which features the fine dining Michelin Star Restaurant, casual Bistro & Bar, and La Galerie Guest Reception, along with the property's acclaimed outdoor sculpture garden set within the 33-acre hillside olive grove, showcase more than 100 works by 60 California artists.