¡FUÁCATA!
Actors' Playhouse at Miracle Theatre
By:
Aaron Krause

-

Jul 17, 2021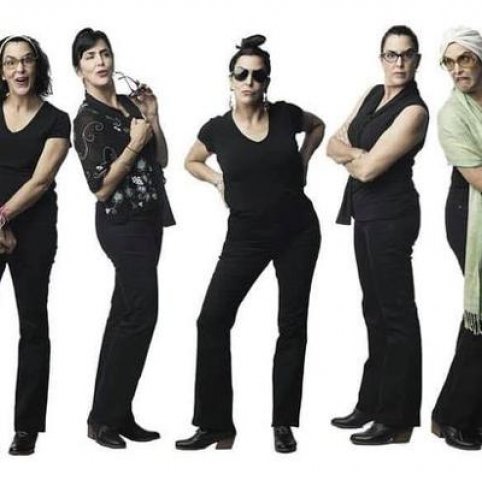 By her admission, Elena Maria Garcia is the type of person who will easily complete 10 tasks if someone designates that many for her. So, it is not entirely shocking that the three-time Carbonell Award-winning South Florida actress plays more than 20 characters -- sometimes more than one at a time -- in her one-performer show. Its title is ¡FUÁCATA! or A Latina's Guide to Surviving the Universe.
As though inhabiting so many characters in one show weren't enough, Garcia knows what to do if offstage distractions occur. In fact, she has experienced, and dealt with, such distractions during her show's two previous productions. So, for an upcoming production, folks should consider themselves forewarned: Turn your cellphone off--and keep it off during the show's duration. Also, for goodness' sake, arrive on time. Otherwise, FUÁCATA!
Garcia, a first generation Cuban-American and long-time South Florida resident, said that word, in English, basically means a backhanded slap designed to awaken the receiver from stupidity.
But while she might not strike you, Garcia could make you feel conspicuous if you're late, or your cellphone rings mid-show. Of course, Garcia hopes none of that will happen this time around, when Actors' Playhouse at the Miracle Theatre in Coral Gables presents ¡FUÁCATA! or A Latina's Guide to Surviving the Universe from Aug. 18-Sept. 12.
Zoetic Stage originally produced the show in 2017. That company's artistic director, Stuart Meltzer, co-wrote ¡FUÁCATA! with Garcia. The play brings more than 20 women, mostly Latina, to life by weaving together tales of love, marriage, immigration, and identity, using eccentric stories and whimsical music.
Garcia said that during the previous two productions, the show riveted audiences.
"That is what's so much fun, them taking that journey with me," she said.
During the journey, audiences will encounter everyone from a drunk college student to a victim of human trafficking to a "typical Miami girl." With the exception of a scene involving the trafficked person, the play is highly comedic. In fact, Garcia said that she wants audiences to laugh together, feeling as though they are once again "back in the herd, back as a community."
Due to the pandemic, "we've been isolated, but we're so much stronger when we're together," Garcia said.
Speaking of sticking together, Garcia said that Hispanics hail from many different countries. But, it's important for Latinos not to fight amongst themselves.
"We can't be each other's enemy," the actress, educator, writer, and the wearer of many other hats said. "We'd be so much stronger if we'd all get our s--t together."
In her show, not all of the characters are Hispanic. And, as an audience member, you don't have to be Hispanic to relate to the material. For instance, one of the Hispanic characters is the matriarch of her family.
"The minute she shows up, the audience loses their mind," Garcia said, adding that they recognize the woman as their mother or grandmother.
The response from audience members has been "super positive," she said, adding there have been repeat attenders.
Actors' Playhouse Artistic Director David Arisco is also apparently fond of ¡FUÁCATA! It will open the award-winning, professional, nonprofit company's 2021-22 season.
"Elena Maria Garcia is one of the funniest actors that I've ever seen on stage, and I couldn't have asked for a more resonant and hilarious show to reopen our Mainstage with," he said.
While most of the show has remained the same since its 2017 debut, the play changes during an improvisational part in the middle. That's when a character named Graciela walks offstage and into the audience seating area. This character might dance with an unsuspecting patron, or good-naturedly "mess" with one. So, if you arrive late, or your phone begins ringing mid-performance, you might have to deal with Graciela–with the spotlight on you. Once, someone's phone started ringing, and the patron wouldn't answer it. Garcia said she told the person to answer the phone. As a matter of fact, she said she wouldn't continue with the show until the audience member answered it. "Tell them you're in a show," Garcia told the person.
While some people prefer to sit back and watch, Garcia said she knew she wanted to become a performer when she was five. At the time, her mother was vacuuming, while Garcia watched 1939's The Little Princess starring Shirley Temple. Garcia requested that her mother turn off the vacuum, so she could watch the movie. "I want to be her!," Garcia told her mother, pointing at Temple.
While mom dismissed her daughter's stated dream, Garcia's family eventually accepted her passion for performing. In addition, family members inspired the characters in ¡FUÁCATA! Actually, the play is autobiographical, Garcia added.
She wrote the piece after The Adrienne Arsht Center for the Performing Arts of Miami-Dade County commissioned her to write a play. Garcia said that staff at the Arsht wanted a piece that allowed her to use her strengths. They include character work, physicality, and comedy.
"We just started writing," Garcia said, referring to herself and Meltzer. "It's almost like our muse told us what to do."
She'd create characters, and if one or more didn't "feel right," she would axe them.
Garcia, who has been involved in theater since 1981, with a strong background in improv, has already portrayed her dream character. Specifically, it is Bananas Shaughnessy from John Guare's surrealistic comedy-drama, The House of Blue Leaves. The character, once a fun-loving woman, has suffered a nervous breakdown, and her husband threatens to send her to a rest home.
Garcia said she likes the role so much because Bananas makes audiences laugh, cry, and root for her.
Maybe audiences will see Bananas, or even one of their own family members, in ¡FUÁCATA!
Ticket prices for the upcoming production range from $30 to $75. You can purchase tickets by calling (305) 444-9293, or by visiting www.actorsplayhouse.org. Tickets will also be available at the box office, located at 280 Miracle Mile in Coral Gables. The theater offers 10 percent off all weekday performances for seniors and $15 student rush tickets to any performance 15 minutes prior to curtain with identification. Group discounted rates are offered for ten patrons or more through the group sales department at (305) 444-9293 ext. 1 or on www.ActorsPlayhouse.org. Preview performances will take place at 8 p.m. on Aug. 18 and 19. The show will open at 8 p.m. on Friday, Aug. 20. Meanwhile, the final performance will take place on September 12. Evening performances will take place at 8 p.m. Wednesday through Saturday, and 3 p.m. Sunday.