Most Happy in Concert at Williamstown
Directed by Tony Winner Daniel Fish
By:
Charles Giuliano

-

Jul 17, 2022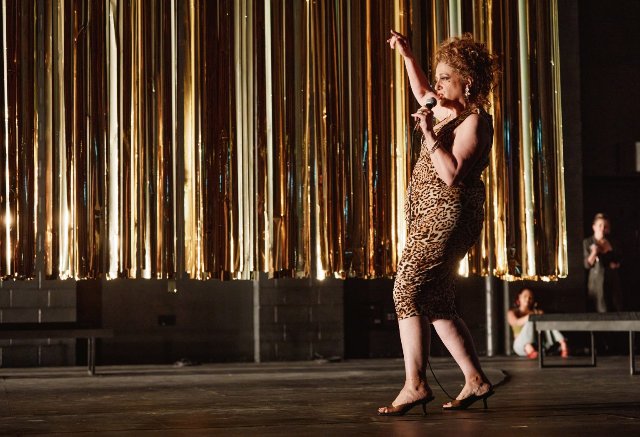 Most Happy in Concert
Songs from Frank Loesser's "The Most Happy Fella."
Music and lyrics by Frank Loesser
Conceived and directed by Daniel Fish
Choreography by Jawole Willa Jo Zollar
Music arrangements by Daniel Kluger and Nathan Koci
Vocal arrangements by Nathan Koci and Daniel Fish
Scenic design, Amy Rubin; Costumes, Therese Wadden; Lighting, Thomas Dunn
Orchestrations by Daniel Kluger
In association with Fisher Center at Bard College.
Cast: Tina Fabrique, Maya Lagerstam, Erin Markey, April Mathis, Mallory Portnoy, Mary Testa, Nicole Weiss (7/19 and 7/20), Kiena Williams, Gwynne Wood (understudy)
Musicians: Owen Broder, Julie Dombroski, Nick Frenay, Annabelle Hoffman, Patrick Laslie, Dan Pugach, Zach Brown, Hector Falcon, Sarah Haines, Robert Jost, Shu Odamura, Saki Uetsuhara
Williamstown Theatre Fesival
Main Stage
July 13 to 31
Performances: 7:30 p.m. Tuesdays through Thursdays; 8 p.m. Fridays and Saturdays; 2 p.m. Thursdays and Sundays; 3 p.m. Saturdays
The Most Happy Fella is a 1956 musical with a book, music, and lyrics by Frank Loesser. The story, about a romance between an older man and younger woman, is based on the 1924 play They Knew What They Wanted by Sidney Howard. The show is described by some theatre historians and critics as operatic. The original Broadway production ran for 14 months and has enjoyed several revivals, including one staged by the New York City Opera.
It was broadcast in a live telecast of the Ed Sullivan show on Sunday, October 28, 1956, the night of Elvis Presley's second appearance on that show. That broadcast was seen in some 168 stations in North America with an estimated audience of 56.5 million viewers.
Brooks Atkinson, theatre critic (The New York Times), called it a "music drama", noting Loesser "has now come about as close to opera as the rules of Broadway permit."

In an abbreviated season the Williamstown Theatre Festival is presenting a deconstructed, staged version of the musical reinvented as Most Happy in Concert.
Recovering from two years of Covid, and labor disputes last season that drew unfavorably coverage, the WTF season has been cut back to three productions, two in the Nikos Theatre, and one on the Main Stage.
While WTF is putting all of its eggs into one Main Stage work, it has opted for a high voltage, supercharged production with Broadway potential.

Most Happy is conceived by director Daniel Fish, along with Daniel Kluger and Nathan Koci—his musical collaborators from the Tony Award-winning Bard SummerScape production of Oklahoma!—giving audiences a new way to experience the songs of an American musical treasure.

While Fish struck gold with the perennial, seemingly quaint and dated Oklahoma, his attraction to Most Happy is one of Broadway's richest and most ambitious scores. Frank Loesser also wrote Guys and Dolls but this is regarded as his masterpiece.
In three acts packed with songs he explored a wide range of genres pushing the envelope from standard Broadway fare to beyond. While researching and workshopping the new musical, with a variety of performers, the number of songs has been reduced by about half.
As Mallory Portnoy who was in Oklahoma and now again with Fish puts it "Most Happy in Concert: (is) an original piece celebrating seven unique female and non-binary performers, singing the songs of Frank Loesser's The Most Happy Fella—a score that hauntingly and beautifully explores the horrors and joys of love, connection, and loneliness."
Never having seen a previous production the music was unfamiliar. An exception was "Standing on a Corner" watching the girls go by. It was a Top 40 standard way back when. The ensemble of seven women clustered center stage to deliver it in a compelling manner.
But that also raised a key issue. This production has an all female cast. It was disorienting hearing women singing songs, written for men, about women.
That reversal emphasized a couple of points. Having male songs sung by women makes us reevaluate the meaning of often poignant lyrics. Also, Fish has focused on the music rather than their placement in a cohesive narrative. The songs are presented as they would be sung by jazz and cabaret performers. In that context we listen for what is done with a song and not its gender specificity.
Fish goes out of his way to remind us that this is not a revival of a Broadway musical. It has been given a new life that we must accept on its own terms. For the most part his radical approach is moving and powerful. He chucked the original arrangements cutting the band loose in a manner that evoked the great jazz orchestras. It would be fascinating, for example, to hear what my friend, the late Stan Kenton, would have done with this. He wrote stunning, brassy arrangements of Broadway and pop music.
Down the line, this iteration and sophisticated arrangements would seem to be a natural fit for the Pops at Tanglewood or other symphony orchestras. One thinks of evocative film and theatre nights with Keith Lockhart and John Williams.
But the director is likely fishing for another Tony before any of that. Perhaps a cast recording is in the works. It all hinges on how the radical new work is received at WTF and immediately beyond. No doubt NY producers are in the audience.
Listening to the pit band last night they went above and beyond with exotic touches for woodwinds, brass, and crisp, punchy percussion when called for. Some of the most compelling moments came, however, when the women each performed solo or sat side-by-side on a bench and sang a capella. It as thrilling to hear the harmonies of those seven magnificent voices.
Much about this cutting edge WTF production centers on what it is not. Fish ditched the libretto which may reflect not wanting to be bogged down by a dated book from the 1950s. Although he kept it with Oklahoma famously knocking the rust off its corny pipes.
Here the treatment is more radical and remains to be seen if it's suitable for Broadway.
Other than props it's presented on a bare stage. Not that it's anything new. Consider Thornton Wilder's Our Town from 1938 which may or not have a set. For a 2010 WTF production Nicholas Martin opted for a construction of stacked chairs. Portnoy shares that she was a WTF intern with a small role in that memorable production.
OK, a bare stage, which tends to be an avant-garde signifier. But what then to make of an obtrusive, glittery, gold curtain of thin, fluttering, mylar strips? We assume that it was designed by Amy Rubin. At intervals it is raised and lowered creating an in front of and behind look dividing the space horizontally. It is several times lowered to create a gold wall. Then raised and rotated. Finally it was lowered and literally washed over the performers seated on a bench.
What was that all about? It became a distraction as we wondered what the curtain, an eighth character, was going to do next. There was also lighting by Thomas Dunn that didn't make a lot of sense. A large, square practical was lowered that emitted an area of orange color over a performer. Mostly there was ambient colored light and for one song, with no apparent reason, clear white light. There was no use of spots even when we looked around and discovered a song being delivered incongruously by a performer in the rafters.
The costume decisions by Terese Wadden seemed clear and then were not. Initially, the seven women wore variations of street clothes. That entailed, for some, cutoff jeans and sneakers, boots or heels. The look was causal contemporary tailored to the age, size and shape of the eclectic ensemble of performers.
Then Portnoy, a tall, lean, young woman was transformed on stage. She changed from leather jacket, razor slit, tight jeans and boots into a glittery, slinky, gold ball gown. The transition seemed to be from tough and street smart to ultra glamour. Suitably, she delivered a torch song.
The dress matched the curtain.
Ok, that made sense, until one-by-one the other women exited the stage and returned in similar gold gowns. One of the women removed her dress and slung it over her arm. Yet again, what was that about?
Of course the most important point, and let me be perfectly clear, the music was magnificent. These ladies have chops and delivered. All of their songs were terrific but the evening lacked a show stopper. Part of that was difficulty connecting the dots of what Most Happy in this iteration is "about." We lacked the requisite aboutness.
The women, for example, are not identified with names of the original characters; neither on stage or on line.

There were highlights starting with the first number "Oh My Feet" (Maya Lagerstam). As the opener this novelty song made us think we were in for an evening of musical comedy. Such was not to be.
The musical started with several women clustered, seated on a bench, or the floor. Later a performer languished on the floor. From an aisle seat I could hear but not see one or two performers obstructed by the proscenium.
While Jawole Willa Jo Zollar is credited as choreographer her function is better described as assisting the performers through instinctive, natural movements. As such, there were no dance production numbers that we associate with a standard Broadway musical. She served in that function, notably, with the Fish production of Oklahoma.
Our initial awareness of Mary Testa was riveting in "My Dear Rosabella." She is a three time Tony nominee including for her role in Oklahoma. In this context she is first of seven equals. Does she have the marquee presence to carry the show and fill seats? In New York, perhaps, but not in the Berkshires as on opening night there were too many empty seats.

The title tune, "Most Happy Fella," originally for Tony, was an enjoyable ensemble piece as was "Standing on the Corner." There was a raucous delivery of "Abbondanza" by Portnoy. The standard "Joey Joey Joey" made its bones. "Young People" (Tina Fabrique) was poignant and timely. So much so that it was reprieved.
Overall I much enjoyed having this experience. In that sense WTF more than delivered its mandate to present provocative, new theatre. But, a caveat.
You might be like the woman I heard while exiting the performance. "I came for a musical and got that damned gold curtain in my face."

Song List
Ooh! My Feet! Maya Lagerstam
I Know How It Is April Matthis
Seven Million Crumbs Mallory Portnoy
My Dear Rosabella Mary Testa
I Don't Know Tina Fabrique
Maybe He's Kinda Crazy Erin Markey, Mary Testa
Somebody, Somewhere Kiena Williams
The Most Happy Fella Mary Testa, All
I Don't Know (Reprise) Tina Fabrique
A Long Time Ago Mallory Portnoy, Tina Fabrique
Standing on the Corner All
Joey, Joey, Joey April Matthis, Mallory Portnoy, Kiena Williams, Tina Fabrique
Soon, You Gonna Leave Me, Joe Maya Lagerstam
Rosabella Mary Testa, All
Abbondanza Mallory Portnoy, All
Such Friendly Faces/ Aren't You Glad Kiena Williams, Erin Markey, April Matthis,Mallory Portnoy, Mary Testa,Tina Fabrique
Don't Cry Tina Fabrique, April Matthis, Erin Markey
Fresno Beauties April Matthis, Mary Testa, Erin Markey, All
Big D Mallory Portnoy, April Matthis, Erin Markey, Tina Fabrique
How Beautiful the Days All Young People Tina Fabrique
Warm All Over Kiena Williams, Maya Lagerstam
Young People (Reprise) Tina Fabrique
I Love Him/I Know How It Is Maya Lagerstam, April Matthis, Mary Testa, Kiena Williams
Like a Woman Loves a Man Mallory Portnoy, Mary Testa, Erin Markey, Maya Lagerstam
Please Let Me Tell You Kiena Williams
Nobody's Ever Gonna Love You All
I Cannot Leave You Money Mary Testa, Tina Fabrique, April Matthis
What Other Wish April Matthis, Tina Fabrique, Mary Testa
My Heart Is So Full Of You Mary Testa, Kiena Williams
Finale