Ring of Fire: The Music of Johnny Cash
Through August at Chicago's Mercury Theatre
By:
Nancy Bishop

-

Jul 19, 2015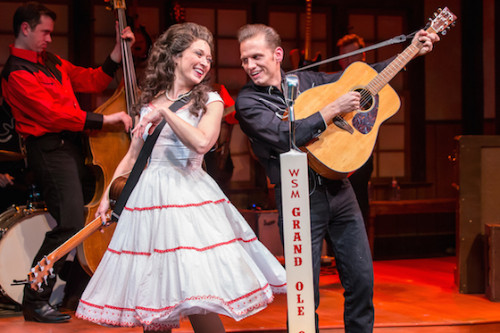 Ring of Fire: The Music of Johnny Cash, now extended through August at the Mercury Theatre on Southport, deserves to be called a jukebox musical. It's a rousing evening of Johnny Cash's music--some 30 songs by Cash and other songwriters--performed by a talented band of Chicago musicians. It's a musical tribute with almost no storyline to complicate the musical evening.
The Cash persona is most ably performed by Kent M. Lewis, who really sounds like Cash and almost inhabits his personality. He serves as a narrative voice too, particularly when Michael Monroe Goodman portrays the younger Cash. Sometimes the distinction between the two Johnnys isn't clear. But both are outstanding singers and musicians.
Cory Goodrich is excellent in the female roles and ably plays June Carter Cash, Johnny's second wife and singing partner. Goodrich has a strong voice and plays the autoharp sweetly, as well as acoustic guitar. She does a bravura turn on the Geoff Mack/Hank Snow tongue-twister travel itinerary, "I've Been Everywhere," which could serve as speech therapy for any slow talkers.
Been to Reno, Chicago, Fargo, Minnesota, Buffalo, Toronto, Winslow
Sarasota, Wichita, Tulsa, Ottawa, Oklahoma, Tampa, Panama
Mattawa, La Paloma, Bangor, Baltimore, Salvador, Amarillo, Tocopilla
Barranquilla, and Padilla, I'm a killer.
The backup musicians are an outstanding group of Chicago string players. Greg Hirte is an accomplished fiddler, playing those fast bluegrass-like melodies. He also plays mandolin and guitar. The talented Austin Cook is occasionally on keyboards but mainly plays bass fiddle and guitar. Musical director Malcolm Ruhl is also fine on the bass fiddle and played just one song on the resonator guitar (aka the dobro). I would have liked to hear more of the distinctive sound of the dobro to give an edge to the Cash melodies. Billy Shaffer comes on in act two to play percussion. Barry Funderburg's sound design and the theater's excellent sound system provide depth and richness to the country songs of past and present.
Ring of Fire was created by Richard Maltby Jr. with orchestrations by Jeff Lisenby. This version of the show, directed by Brian Russell, was originally produced last year at Theatre at the Center, Munster, Ind. The current production has been refined and trimmed down for the Mercury Theatre presentation.
Ring of Fire is two hours of solid music and a wisp of story. If you want to know about Cash's tortured life, you're better off finding a DVD of the 2005 film, Walk the Line, starring Joaquin Phoenix and Reese Witherspoon, which tells the Johnny-and-June love story along with some of the Cash addiction and family problems. Or read the 2013 Cash biography (Johnny Cash: The Life) by Los Angeles Times music writer Robert Hilburn.
Ring of Fire: The Music of Johnny Cash is playing through August 30 at the Mercury Theater, 3745 N. Southport. Performances are at varying times Wednesday through Sunday with two shows on Thursday, Saturday and Sunday. Tickets are $25-$65, and are available online, by phone at 773-325-17 00 or at the theater box office.
Reposted courtesy of Nancy Bishop and Gapers Block.