Lela & Co. by Cordelia Lynn
At Chicago's Steep Theatre
By:
Nancy Bishop

-

Jul 20, 2017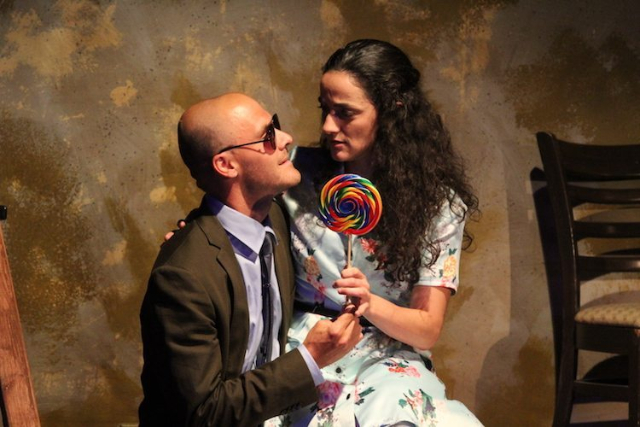 Lela & Co. sounds like a chic boutique, a business story. And it is. It's a horrifying story of a woman alone in a conflict zone. The business theme is part of the new Steep Theatre production of a play by Cordelia Lynn, creatively staged and fiercely directed by Robin Witt.
Steep's U.S. premiere of Lela and Co. is set in some unnamed wartorn region of the world—perhaps central Europe. It's Lela's story, beginning with her birth, when she learns that a woman's role is "to sing the songs, the early songs and the late songs, the songs of sleeping and the songs of mourning. That's how it works here, women wake you up and they put you to sleep, they bring you into life and then they ease you into death."
Lela, played by Cruz Gonzalez-Cadel, is sprightly, flirty and innocent. The playwright calls her play a monologue. But Lela tells her story with interruptions from the men in her life: her sometimes brutal father, her scheming brother-in-law, her businessman husband, and a sweet English peacekeeper. The men's parts are all played by Chris Chmelik, who manages to represent all the personalities with voice and gesture and no resort to funny hats or wardrobe changes.
Lela tells her story from birth through childhood and adolescence. (There's a story of what happened to the frosting on her 13th birthday cake: "the messiah of all birthday cakes … this giant paradise of pink icing"). And although she's still a teenager, when she's 15, brother-in-law jay and her sister Elle decide it's time for her to be married off to Jay's businessman friend and live with him in the city by the sea, far from her mountain home and family. And then the business story begins.
Her husband, at first successful at his dealings with foreign visitors, soon needs to earn money in other ways. And so he creates the Lela service business, just one or two men a night at first, and then dozens, night and day. Lela is locked in a small room with a mattress, and she frantically tries to keep her space clean and fresh. She has a child, a daughter, and she doesn't know whose it is—and doesn't care. And the war goes on outside. One of her regulars is a young English peacekeeper, with whom she forms a friendship. At the end, Lela is home again, in her mountains. But things are never the same.
Lynn's script, based on a true story of one woman's experience, provides frequent bits of humor. Lela is constantly interrupted and undermined by men. Gonzalez-Cadel's performance is riveting, ranging from sweetness to quiet anger to despair as her life becomes more and more horrifying. Chmelik also excels playing the men in Lela's life.
Joe Schermoly's scenic design transforms the Steep performance space into a cabaret, which allows Lela and her men to wander amongst the chairs and tables, often seeming to speak directly to audience members. Targeted lighting design by Brandon Wardell and Thomas Dixon's sound design keep us focused on the changing story.
Cordelia Lynn is an English playwright. Lela & Co. was first performed at the Royal Court Theatre in London in 2015. Lynn was awarded the 2017 Pinter Commission to support her work on a new play.
Lela & Co., 100 minutes with no intermission, continues at Steep Theatre, 1115 W. Berwyn, through August 19. Tickets are $25-35 for shows Thursday-Sunday.
Reposted from Third Coast Review.